Despite a changing world, the automobile industry remains the nation's economic backbone. But not enough ethnic minorities, particularly Latinos, own dealerships, and the National Association of Minority Automobile Dealers (NAMAD) is on a mission to change that, led by Damon Lester, a charismatic 43-year-old Philadelphia native. A graduate of Temple University, Lester arrived at NAMAD in 2002 as Vice President of Operations, quickly rising to become President in 2006. Diversity among dealerships is his chief undertaking.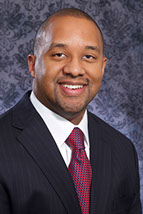 "Our mission is to achieve parity in the automobile industry. Currently, minority dealers represent five percent of all the ownership within the industry. That means that our of the 18,000 new car dealerships nationwide there are only 1100 that are minority owned," Lester said to LATINO Magazine. That means only 5% of automotive dealerships in the U.S. are minority owned, and that includes Puerto Rico where nearly all are minority-owned. NAMAD data shows that even while the number of minority-owned dealerships went down slightly last year from the previous year, the number of dealerships owned by Hispanics has gone up. Currently there are 529 Hispanic auto dealers, compared to 502 in 2013. "Parity is important particularly when 30 percent of new cars and trucks are purchased by minorities," Lester says, noting that Latinos represent 12 percent of all new cars and truck purchases. "Minorities weren't even allowed to become dealers until the civil rights movement, so you're looking at us coming late and having access late to the table. Ninety five percent of minority dealerships are first generation, compared to the average majority dealership being third or fourth generation, so we're trying to build that generational wealth and legacy within the automobile industry because it's been able to provide a lot of opportunities and a lot of jobs in our communities, just like with non-minority communities."
One way NAMAD does this is to advocate for dealership diversity with the 18 automobile manufacturers in the United States. "We're consistently trying to preach the business case for diversity and why there's a need to have an increase in minority dealerships and how that's becoming more important because of the changing demographics, with the country expected to become minority/majority by 2045. We try to really push that if the manufacturers want to increase their market share, they have to embrace diversity as part of their business plan," says Lester. "And diversity is not just something to make them feel good to do."
As a former accountant, Lester is all about the numbers, and he uses those numbers to make a case for diversity among the auto dealers.
Hispanic buying power, for instance, is at $1.5 trillion, representing 12 percent of the market. "We provide dealers with data to show them here's why diversity makes sense for you. If Hispanic buying power is at 12 percent, there should be 12 percent ownership within the dealers. Parity should be at least what the buying power is."
Dealerships do cost money, and NAMAD estimates that the entry point to become a dealer with a good-size store is a minimum of a million dollars, a daunting amount of money for anyone, but certainly for many minorities who don't have easy access to capital. "Historically, we've always had an issue with access to capital. It's been an issue and a challenge," says Lester, who adds that the recession made access to capital harder and it continues to be so. "That's where really a lot of our challenges come into play because there are a lot of programs to increase minority representation but because of the recession a lot of those programs dried up or they were changed to include stricter guidelines now. So we're trying to overcome those barriers from pre- and post-recession."
Lester makes his case directly to automobile manufacturers: "We ask them to have some sort of financing mechanism or diversity initiative programs set in place which would bridge that gap of capital by way of a loan to the minority candidate to give them an opportunity to get into the running of the dealership. We are also meeting with athletes, actors, and entertainers to talk with them about the business case of diversity and parity and the need for capital, and the investment opportunities to become a dealer, and we can use that to marry up an operator with that particular investor."
NAMAD is based in Largo, Maryland, just outside of the nation's capital. Members pay $500 a year in dues, and $150 for each additional dealership. Lester envisions that the organization will become more visible, with more sponsored ads, television commercials, and a greater use of social media, which would be used for such things as how to purchase a vehicle or other helpful tips.
NAMAD also sponsors an annual conference, and this year's was held in Miami with a record number of attendees. The conference offers workshops and seminars, and features a popular gathering which allows dealers to interview with automobile manufacturers for potential opportunities.
Lester is optimistic about the future for minority-owned auto dealerships: "The economy has been extremely high with record-breaking new car sales. We saw 17.5 million new car sales last year and this year they're predicting more and we've seen a consistent increase. The industry is at an all-time high. Everything seems to be working full cylinder for the auto industry."
Patricia Guadalupe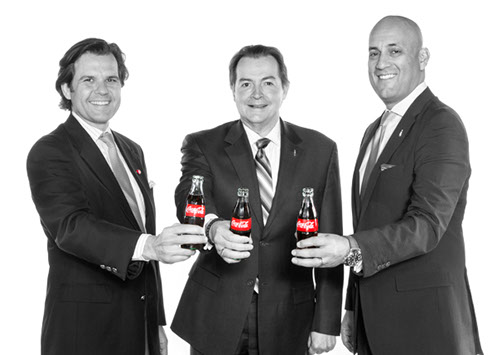 For decades, Coca-Cola has recognized the importance of Hispanic consumers. The Office of Latin Affairs, led by corporate icon Rudy Beserra, is one of the only Fortune 100 departments dedicated to the Latino community that reports directly to the President of the company. Coca-Cola works in confidence with the United States Hispanic Chamber of Commerce (USHCC) to help us maintain the pulse of this fluid and growing community. We are proud to have supported the USHCC from the beginning as one of their first corporate partners.
Although there are many organizations that advocate on social and community issues impacting the Latino community, only the USHCC actively promotes the economic growth, development and interests of more than 3.2 million Hispanic-owned businesses, that combined, contribute over $486 billion to the American economy every year. It also advocates on behalf of 250 major American corporations.
 The USHCC works tirelessly on behalf of our nation's Hispanic business men and women that together play a critical role in broadening the prosperity of our country. Through our partnership with the USHCC, Coca-Cola utilizes company initiatives and efforts to benefit the Hispanic community. We actively engage with a strong network of over 200 local chambers and business associations across the country, from Orange County, California to Orange County, Florida.
 Much like the USHCC, we understand the value of supplier diversity. The Coca-Cola Company was inducted into the USHCC's Million Dollar Club, which was created to honor and celebrate the commitment of corporations and their procurement executives who recognize the value of Hispanic Business Enterprises (HBEs). Coca-Cola believes in the importance of integrating HBEs into their overall business practices. It has increased opportunities for first- and second-tier Hispanic suppliers around the nation, helping drive small business in America.
 Likewise, our affiliation with the USHCC is an opportunity for Coca-Cola employees to become civically engaged. Many members of our Coca-Cola family serve on the board of directors of local chambers. Even our own Bea Perez, Vice President and Chief Sustainability Officer, started her career as an intern at the USHCC. Today she inspires us with her leadership, heading a department that has made major strides in sustainable development and transparency.
 The USHCC believes that like our businesses, our country can prosper, but we need to seize opportunities to implement them in the upcoming year ahead of the 2016 presidential election. To that end, the USHCC has invited former Florida Governor Jeb Bush to speak at the 2015 National Convention, and hosted Q&A sessions with 2016 presidential candidates Senator Ted Cruz, Governor Martin O'Malley, and Senator Bernie Sanders.
 Whether it's in the halls of Congress, the White House, local communities or in corporate America, the USHCC continues to place America's Hispanic business community where it rightfully belongs: at the forefront of our nation's economic agenda.
 Through every trial and triumph, through our nation's economic downturn and now its return to prosperity, Coca-Cola's journey with the USHCC has stood the test of time. Our shared story as a business community is a quintessentially American story, and the best chapters are being written in our lifetime, before our very eyes.
Latinos will drive the future of the U.S. economy and the USHCC and many of the local chambers will continue to play key roles helping to increase prosperity for all Americans and The Coca-Cola Company will continue to serve alongside them for many years to come.
 Peter Villegas is the Vice President, Office of Latin Affairs, for Coca-Cola.

It has been a particularly busy and enriching time for Thomas Savino. Currently the interim CEO of the National Society of Hispanic MBA's (NSHMBA), Savino is overseeing a whole new strategy for the organization and preparing for its annual conference, which this year will take place on October 8-10 in Chicago. The event will bring together thousands of Hispanics from around the country, and in many ways kicks off a new era at NSHMBA.
NSHMBA was formed in 1988 with a pledge to become the "premier Hispanic business organization for Hispanic business professionals." Currently, the organization is still devoted to ensuring that more Latinos earn MBAs, but under the leadership of Savino, NSHMBA is looking at Hispanics in a new light, identifying opportunities for education and professional development.
It's a daunting strategic change but one that Savino is fully capable of steering. He has been a member of NSHMBA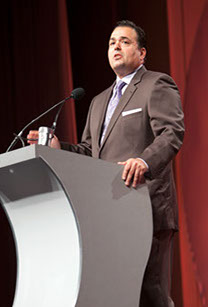 for nearly two decades. In that time, he was a chapter officer in Connecticut and a two-year National Board Member. When the former CEO of NSHMBA departed unexpectedly for a new position, Savino stepped in to become the interim CEO.
His background in management consulting certainly plays a pivotal role as he takes on these challenges. Savino was the Managing Director of TMS Consulting, with experience with project orientation and problem-solving. "Coming into this role we have a lot of pilot projects that have just started," he said. One of those "pilot projects" is university chapters. When NSHMBA was exploring whether it was necessary to become more involved with universities, it received some surprising feedback. "We were taken aback by the demand," says Savino, who will oversee this program and evaluate its efficacy as it grows.
Of course there are many ways for NSHMBA to serve Hispanic undergraduates, and they are evaluating both career fairs and coaching for students when it comes to choosing a major, or even applying for a job or graduate program. Savino and his team are determining the best way to partner with universities and students to create the strongest chapters. Currently, there are university chapters in Chicago, Dallas-Ft. Worth and Los Angeles. "We want to purposefully take our time despite this great demand because it's a pilot program and we want to make sure we are learning," says Savino. As a first-generation college student, Savino is keenly aware of the many obstacles that face Latino undergraduates.
When it comes to NSHMBA's upcoming conference in October, Savino is optimistic that the event will already reflect some of the changes that have been brewing at the organization. Though he expects that only a modest number of undergraduates will be in attendance, it's a major objective for the organization going forward. For companies that are also planning to be in Chicago in October, Savino believes they also have a wonderful opportunity to think about their own needs when it comes to meeting people outside the MBA skill set. Potentially in the future, Savino notes, NSHMBA could host multiple conventions around the country.
Though Savino has only been at the helm of NHSMBA for only a few months, he is already reflective about his role as interim CEO. The need for an organization like NSHMBA is tremendous, he notes, adding, "It's a little humbling to see and feel it, and to know that the challenge we face is quite great still."
Since first becoming involved with NSHMBA almost twenty years ago, Savino has witnessed the organization grow from 300 to more than 30,000 members. Of course, that growth is still essential. "We're needed out there more than ever," he concludes.
Jessica Montoya Coggins