Washington, D.C. is best known for politicians. But for the last four decades, it has also been home to one of the preeminent Spanish-language theater groups in the country, the non-profit GALA Hispanic Theatre.
Co-founded by the husband and wife team of Hugo Medrano and Rebecca Read Medrano, GALA has become an integral part of the thriving artistic scene in the nation's capital, but it started very small. A native of Argentina, Hugo Medrano found himself in Washington, working as an actor. Rebecca Read Medrano, who grew up in Mexico City and Spain, had gone to New York City to pursue a dance career, but that was cut short when she fell and broke her leg. A friend suggested she go back home to Washington because there was a theater she might be interested in working at.
"So I came down here and that's where I met Hugo. He had long hair and I thought he looks like an interesting guy,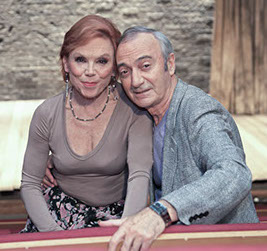 but he wasn't paying attention to me," she smiles. "He was busy spray painting some costumes. We ended up working together doing children's theater productions. This while he was a waiter at nights and I was working in the administrative office of that theater. And we would go around real early in the morning to the schools and do children's theater. That's where we got the idea to do GALA."
This was in the early 1970s when the arts scene in Washington was barely in its infancy, and the Kennedy Center had just opened. "I've always been interested in theater and the why of theater. Theater is born when there is a need to say something, to keep a culture, to keep an idea going," says Hugo.
The idea for GALA coincided with the large number of Latin Americans exiled in Washington. So far away from their homelands, they were united by a passion for drama. "We decided to start a group that wanted to do theater and artistic activities that represented the quality of the art of Latin America and Spain. We started with artists from different countries, such as Argentina and Puerto Rico and Venezuela, who yearned to do theater and continue what they had started in their own countries. And the audience yearned for it, too. We realized that when we put our first production together," Hugo told LATINO Magazine.
"We basically took over a house in Adams Morgan that had been in Rebecca's family and started a café-concert," he adds, explaining that a café-concert is a term that became popular during the Belle Epoque era in France, defining a place that's both a café and a place to put on shows. The gatherings included theater productions, readings, and chats, and were so successful that GALA ran out of space. The group spent some time in a space in downtown Washington, then at a space owned by a school, then went back to Adams Morgan, where they stayed for 18 years. But they wanted a permanent home. The couple kept eyeing a long-abandoned building just blocks from their home that coincidentally used to be a theater, called the Tivoli. Hugo and Rebecca thought the grand building designed in the Italian Renaissance architectural style would be perfect for GALA.
"We got the building for $4.2 million, which is amazing for us because we were a small group with $500,000 at that time," said Rebecca. "But we received a lot of support because our goal was to finally have a permanent place."
After a six-year renovation, the Tivoli reopened in 2005 to much fanfare as GALA's new home, with the first production a Federico García Lorca work, Yerma, a play about the actions of a rural Spanish woman obsessed with having children.
To open their 40th anniversary season this fall, GALA is bringing back Yerma, in a new contemporary adaptation by Fernando J. Lopez. "We have a special relationship with his work. I studied him a lot, and we started with Lorca. The audience loves it, and this particular play is very emblematic of Lorca and the theater in Spanish," says Hugo. The show opens September 10.
And while GALA has put on some productions in English, its co-founders say they remain committed to the core mission of productions in Spanish. "We've had some pressure to do works in English but we insist on continuing to present our works in Spanish," says Hugo. "There's a real necessity with the next generation to listen to their own language, the language of their parents, grandparents, to keep the language alive, to keep that culture and practice Spanish. It's very important because the real visibility we are going to have is through our language. As Latinos we can speak in English, but what makes us unique and different while at the same time uniting us is that Spanish language."
After 40 years, what's next? "Our kids who are already grown ask us when you are going to retire and I tell them never!" Rebecca chuckles. But it is something they do think about. "Not because we are tired but because there has to be a next generation to take over and find new things, but it's hard because young people nowadays don't want to stop making money to do art. In the arts, the salaries are never high. Hugo has been involved in theater since he was 16. Where do you find people like that these days?"
For its 40th anniversary season, GALA is also preparing a season full of flamenco, stand-up comedy, adventures for kids with Don Quijote, and a film festival. For more information and a full schedule, visit GALATheatre.org.
Patricia Guadalupe

In the 1960s during the height of the U.S. Chicano movement, poet and activist Rodolfo "Corky" Gonzales wrote the epic poem I am Joaquin (also known as Yo Soy Joaquin). The poem speaks to the struggles of Mexican-Americans to achieve economic justice and equal rights in the United States, as well as to the inherent conflict that comes with being a byproduct of two worlds and a mestizo heritage. The poem concludes with the prescient advice that if Chicanos stand together and demand acceptance, it will happen. While the poem was directed to a specific Latino community, by extension it is easily applied to the Latino community-at-large. Here's a key passage from the poem:
Yo soy Joaquín
perdido en un mundo de confusión:
I am Joaquín, lost in a world of confusion,
caught up in the whirl of a gringo society,
confused by the rules, scorned by attitudes,
suppressed by manipulation, and destroyed by modern society.
Half a century after this epic poem was written, voices like Donald Trump, Kelly Osborne and Ann Coulter denigrate Latino identity and reality—a critical reason why Latino shows matter! The more contemporary our Latino image, the more readily mainstream America can shift away from the bigoted images perpetuated by celebrity personas.
The 2015-2016 television season, which includes a number of Latino-led and Latino-inclusive ensemble casts, provides hope that new Latino television images can reflect and present a contemporary profile that we know exists and move away from the all-too-familiar harmful and narrow stereotypes.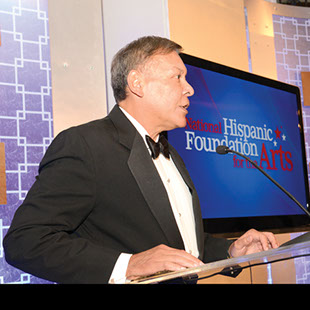 Returning for a second season on CW is Golden Globe winner Gina Rodriguez's Jane the Virgin, whose award-winning cast also includes Andrea Navedo, Ivonne Coll, Jaime Camil and narrator Anthony Mendez. HBO's freshman series The Brink—already renewed for a second season—co-stars Esai Morales as president of the United States. Netflix, which has received criticism for its lack of original Latino content, has green-lit Baz Luhrmann's hip hop music drama The Get Down, starring Jimmy Smits.
On the horizon, more Latinos have been cast on network and cable shows as series regulars than I can ever recall. At NBC, Jennifer Lopez leads the peacock network's line-up as an undercover police detective in Shades of Blue. Eva Longoria, Amaury Nolasco, Jencarlos Canela, Diana Maria Riva, Jose Moreno Brooks, Alex Meneses and Izzy Diaz create an ensemble cast exposing both the backstage and offstage telenovela antics in Hot and Bothered. America Ferrara headlines the comedy Superstore, about life events with worker/friends at a big box store. Audrey Esparza joins the new drama Blindspot, about a woman with no memory found naked in Times Square with her body fully covered in intricate tattoos. Rudy Martinez has been cast as a series regular on Heartbreaker, a medical soap that revolves around a female heart transplant surgeon. Nadine Vasquez stars in Love is a Four Letter Word, where three diverse couples test their modern marriages.
Over at FOX, Nicholas Gonzalez will voice an animated character on Bordertown and star in Lucifer, the L.A. version of Dante's Inferno. Adam Rodriguez has joined the uber successful Empire cast as a recurring guest star, playing Laz Delgado, the love interest to Taraji P. Henson's character Cookie. Natalie Morales—the actress, not the news reader—co-stars alongside Rob Lowe in The Grinder, about a TV lawyer who returns to his hometown to take over his family's law practice. Diego Boneta joins an ensemble cast on Scream Queens, an anthology series about a college campus rocked by a series of murders. Wilmer Valderrama joins the highly anticipated drama Minority Report, where precogs solve precrimes in Washington, D.C. Jaina Lee Ortiz will play a lead role in Rosewood, an investigative series that centers on a brilliant Miami private pathologist.
Meanwhile, CBS has added their own impressive list of Latino talent to their roster, beginning with Aimee Garcia in the TV reprise of Rush Hour. Diane Guerrero, of Orange is the New Black and Jane the Virgin, is set to star in Super Clyde, about a meek fast-food worker who finds his special calling. John Leguizamo will bring his brand of comedy to the role of a politically incorrect NYC cab driver in Taxi-22. Luis Guzman returns to television in a medical ER drama set in L.A. County called Code Black.
ABC has cast Ian Gomez in the The 46 Percenters, an anti-romantic rom-com about married couples who stick it out. Gabriel Luna stars in the new crime drama Wicked City, a true-crime procedural drama anthology set in noteworthy eras of L.A. Mix features Camille Guaty, Walter Perez and Joaquim de Almeida in an ensemble one-hour dramedy that explores the realities of multicultural and multigenerational modern-day families. Adam Rodriguez stars in a new U.S.-Mexico border drama Runner.
Robert Rodriguez's El Rey Network launches its second season of its hyper-reality/ horror series From Dusk Till Dawn with Jesse Garcia, Eliza Gonzalez, Wilmer Valderrama, Esai Morales, Danny Trejo and Demi Lovato.
American cinema tells a different Latino representational story, as evidenced by the August 2015 report "Inequality in 700 Popular Films: Examining Portrayals of Gender, Race & LGBT Status from 2007 to 2014," issued by the Media, Diversity, & Social Change Initiative at the University of Southern California's Annenberg School for Communication and Journalism.
The report found that for the year 2014, race and ethnic characters across the 100 top grossing films were 73.1% white, 4.9% Hispanic/Latino, 12% black, 5.3% Asian, 2.9% Middle Eastern and <1% other American groupings. The key finding is the harsh reality that these numbers remained static for race and ethnicity from 2007 to 2014. Yet these low Latino representational numbers are directly at odds with our 17.1% of the national population. In fact, in 2014, Latinos were categorized as 25% of frequent moviegoers, as described by the entertainment industry.
The foretelling crossroads outlined by Corky Gonzales challenges us to unite as a community and to demand inclusion in the American media mosaic. An industry friend reminds me that the entertainment business is often more interested in the appearance of Latino progress than in actual progress. But Gonzales's poem also chides us and asks us to not capitulate to crass cultural representations of our world.
Felix Sanchez is the Chairman and Co-founder of the National Hispanic Foundation for the Arts.