For more than two decades, Toyota, the world's largest automaker, has invested in and demonstrated a strong commitment to the Latino community from the business-to-business perspective, as well as on the consumer side, as a pioneer in Spanish-language advertising and marketing. Toyota has ranked as the top-selling brand among U.S. Hispanic consumers for the past 10+ years, and as of April 2015, Lexus is now the top luxury auto brand for Hispanics according to IHS Automotive.
"Toyota's foresight in engaging with the Latino community and evolving relationships on multiple fronts has earned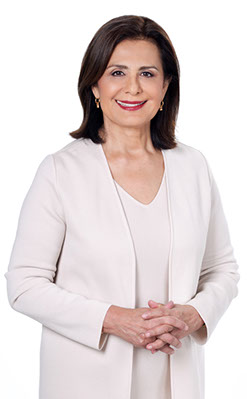 the company the distinction of best-selling automotive brand for Hispanics for more than 10 consecutive years," said Patricia Salas Pineda, group vice president, of Toyota's Hispanic Business Strategy Group. Pineda heads a management team charged with strengthening ties with the Latino community across the company's businesses in North America and the Toyota, Lexus and Scion brands.
Toyota's brand share of the U.S. Hispanic new vehicle market rose to 17.9% as of June 2015 from 16.9% in 2014, according to IHS. The Toyota Corolla alone has a 27% Hispanic brand share with one out of every four new Corolla models registered by a Hispanic consumer. And, Toyota is the top-selling truck brand for Hispanics in all but 14 states. With close to a quarter of U.S. Hispanic households earning more than $75,000 annually, spending in the luxury category has grown. The Lexus IS, with a 25% Hispanic brand share, has catapulted to the number one luxury vehicle choice for Hispanics, who buy one of every four models sold.
Pineda's strategies to help take Toyota, Scion and Lexus to greater prominence among U.S. Hispanic consumers include partnerships with national organizations that foster Hispanic empowerment, prosperity and diversity across the board.
In the world of supplier diversity and support of minority-owned businesses, Toyota has received accolades year after year, as evidenced by ranking number 36 among more than 1,600 companies in the DiverisityInc annual survey of companies with strong corporate diversity and inclusion initiatives. Toyota, the only automaker in the Top 50, has been on the DiversityInc list since 2006.
Bonnie Clinton, corporate manager of procurement at Toyota explains: "Toyota is committed to having a supplier base that more closely reflects the diversity of our customers and of our team members who build and sell Toyota vehicles in North America."
Toyota currently has more than 1,700 women- and minority-owned business partners and the growth of Hispanic-owned enterprises in this mix has been steady and strong. The company's long-standing procurement strategies have created jobs, spurred economic development and bolstered opportunities in Latino communities throughout the nation.
One example is Toyota's partnership with the U.S. Hispanic Chamber of Commerce since 1991. As the company continues to engage as a top sponsor of the USHCC Annual Convention in September, Toyota is also advancing to the highest level of the chamber's Million Dollar Club, which honors corporations that have demonstrated a growing commitment to supplier diversity. The honorees range from companies conducting from $25 million to more than $500 million in business with Hispanic-owned firms each year.
"By working with the Hispanic business community, Toyota aims to demonstrate that supplier diversity is not only a principled approach but a profitable business model, too," Pineda stated.
This year, Toyota welcomed its first-ever Hispanic woman-owned direct Tier 1 supplier to its network. Forma Automotive, owned by Rosa Santana, will work on assembling Tacoma truck beds and operate directly out of the company's plant in San Antonio, Texas. Santana joins a collective of on-site Latino suppliers based at Toyota Motor Manufacturing Texas who created a business model that is yielding supply chain benefits. The Compadres, as they call themselves, head companies that are Tier 1 suppliers engaged in various aspects of assembling more than 200,000 Tundra and Tacoma trucks each year.
The Compadres, now Compadres/Comadres with the addition of Rosa Santana, are made up by the following San Antonio-area minority business owners: Fernando Reyes, founder of Reyes Automotive Group, which produces injection molding and carpeting for Toyota pickup trucks; San Antonio attorney Frank Herrera, who owns Hero Logistics, which provides in-house logistics; Santana; Max Navarro, owner of Vutex, which assembles parts kits for conveyance to the assembly line; and Heriberto "Berto" Guerra Jr., chairman and CEO of Avanzar Interior Technologies, which manufactures vehicle seating.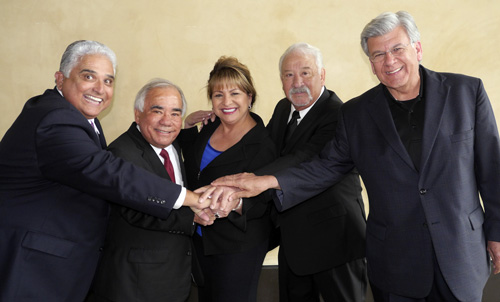 The consolidation of Toyota's North American operations in a new campus being built in Plano, Texas, has prompted opportunities to grow the minority supplier network in the Longhorn State. On a larger, nationwide scale, Toyota's annual Opportunity Exchange has been sparking business connections since 1990. With nearly 1,700 attendees each year — including more than 300 Toyota suppliers exhibiting at the event's trade show — Opportunity Exchange is among the largest events of its kind in North America and serves as a benchmark for supplier development both within and outside of the automotive industry. Most remarkable, however, is that millions of dollars in diverse supplier contracts have been generated over the years as a direct result of connections made at Opportunity Exchange.
"Toyota believes that networking, learning and harnessing the economic power of a diverse range of businesses will enable the company and the communities it serves to grow and flourish," commented Jim Holloway, general manager of purchasing for Toyota. "Opportunity Exchange helps build more than cars. It creates relationships and encourages productive conversations about real opportunities for business growth."
The 26th convening of the Toyota Opportunity Exchange (www.toyotaopportunityexchange.com) will take place at the Duke Energy Convention Center in downtown Cincinnati on November 9 and 10. Registration is free for women- and minority-owned companies and includes educational seminars, motivational guest speakers, networking sessions and a dynamic tradeshow
Targeted events like Opportunity Exchange have helped propel Toyota to the the highest levels of achievement in supplier diversity by a corporation. Since 2005, Toyota has been a member of the Billion Dollar Roundtable (BDR), a collective think tank and advocacy organization comprised of 21 U.S. companies whose annual spending with certified women- and minority-owned suppliers exceeds $1 billion a year. Toyota considers BDR membership a major milestone in the company's ongoing supplier diversity efforts.
"With over one billion dollars of business conducted with women- and minority-owned suppliers every year, we're building strong and successful relationships with some of America's most vibrant and progressive companies," Holloway added.
The Hispanic market, with a total purchasing power that exceeds $1.5 trillion, alone represents one of the most vibrant growth opportunities from the supplier and consumer perspectives. From the strategic angle of advancing Toyota's competitive advantage, Pineda stated, "In all aspects of our business, in building and selling world-class automobiles, it's our partnerships and commitment to diverse communities that are propelling us into the future."