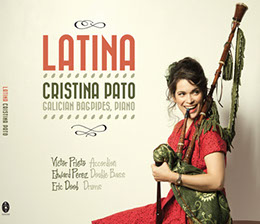 When it comes to creating a wholly distinctive aural personality, few of the world's musical instruments can top the Galician gaita for its sheer ability to command the attention of listeners and cast an unbreakable spell. On Latina (Sunnyside), Cristina Pato unleashes a torrent of emotions as her bagpipes, backed by accordion, bass and drums, survey an eclectic collection of Latin American and Spanish folkloric forms.
As a youngster growing up in Spain's most northwestern province, where bagpipes have been part of the local culture for centuries, Pato began playing the instrument as a young girl. She became a pop star two decades ago when the gaita experienced a surge of popularity in her native land due to the "World Music" craze. Setting the pipes aside, she traveled to New York to earn a Doctor of Musical Arts degree from Rutgers University, hoping to embark on a new career path. But word of her virtuoso skill as a piper crossed the Atlantic and led to opportunities to perform with a wide range of superstars, from cellist Yo-Yo Ma to saxophonist Paquito D'Rivera. The centerpiece of Pato's latest recording is the six part "Latina 6/8 Suite," an exploration of folk-based music idioms that include Venezuela's joropo, the Colombian currulao and Spain's fandango. Even the most jaded Latin music fan will be swayed---on Latina, the piper and her group have produced some of the year's most compelling new music.
Another instrument that fights to get the respect it deserves is the trombone. It has generally been overshadowed in most styles of Latin music by the trumpet, flute, piano, and a bevy of percussion devices. Doug Beavers, the son of a Spanish mother who grew up in the Bay Area and earned his stripes as a first class trombonist a decade ago in pianist Eddie Palmieri's band, proves that the 'bone, indeed, is both bold and beautiful on his powerhouse release Titanes del Trombón (Artistshare). Beavers enlists the talents of pianist Oscar Hernández of Spanish Harlem Orchestra fame, legendary salsa trombonist Reynaldo Jorge, and other greats on a session that ranges from Palmieri flavored, fire-breathing salsa and vintage Cuban forms to breezy Brazilian fare and luxurious bolero-style balladry. With a passion for crafting sophisticated arrangements, Beavers makes use of French horns, a tuba, strings, harp, and a glockenspiel to deliver a nuanced sound. It all works magically.
An artist well known to Latin folk music cognoscenti is Colombia's venerable Totó la Momposina, a vivacious exponent of the earthy African-derived rhythms of this South American country's Caribbean coastal region. Like such revered singers as Celia Cruz, Mercedes Sosa, and Violeta Parra, Totó has come to singlehandedly define an important family of regional styles. Her fame is still in ascension, and her latest release, Tambolero (Real World Records), should do much to gain the attention of new fans. The music's basic structure is fairly consistent: Totó exchanges vocal volleys with a chorus while a troop of percussionists playing tambores (hand drums) supplies a spicy rhythmic undercurrent. Occasionally, a Colombian gaita (in this instance, a bamboo flute) adds its mournful sonorities. The themes, such as "El Pescador" and "La Sombra Negra," may appear to be overly simplistic, but they document complex traditions still not well known outside of Colombia. The CD package, with detailed notes and historic photos, makes Tambolero extra-special.
Peruvian native and longtime New York City resident Gabriel Alegría titled his new release 10 (zoho) by his Afro-Peruvian Sextet as a way of celebrating his successful decade-long tenure in the U.S. as a trumpeter, bandleader, composer and exponent of his country's distinctive music traditions. It's not surprising that the Afro-Peruvian landó and use of the wood sound box known as the cajón are part of Alegría's focus as an arranger. Such conventional references, however, are but a small part of his broad scope of influences. The album's wildly diverse program of songs is what will pique the curiosity of potential listeners. From an arresting interpretation of "The Star Spangled Banner" and Broadway's "My Favorite Things" to Duke Ellington's "Caravan" and "Birdland," a fusion hit from the 1970s by Weather Report, Alegría and his crew deliver rhythm-saturated, orchestrally-enticing performances that are the definition of sonic joy.
Mark Holston