If you've ever turned on C-Span and looked behind your representatives during a hearing, you'll usually see several people directly behind them, sometimes whispering into their ears, handing them papers, or taking notes.
Those are the hard-working, dedicated staffers who are literally on hand to advise and assist Members of Congress, and they are just a handful of the thousands of working on Capitol Hill. Latinos are a small percentage of these staffers, but there's a group working to change that: the Congressional Hispanic Staff Association (CHSA).
CHSA was started in the 1990s by a group of Latino employees who realized they were underrepresented on the Hill, as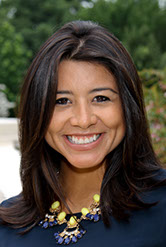 a way to get to know each other and navigate the often complicated world of the U.S. Congress.
"I am proud to say that CHSA is arguably the most active Congressional staff organization on Capitol Hill," says CHSA member Sergio Espinosa. "CHSA focuses on getting more Latinas and Latinos as permanent staff on the Hill, and once they are here, to help them get the tools to advance professionally."
It was a no-brainer to join the organizatiion once he arrived on the Hill, says Espinosa, Legislative Director for Rep. Gene Green (D-Texas) and a former CHSA Treasurer. "Getting involved with CHSA was an obvious decision for me, and I joined within weeks of my first day on Capitol Hill. It's important to have Latino staffers on the Hill because we want to have advocates from our community who will push for and defend policies and programs that are important to Latino families. This is not to say that a non-Latino staffer can't be a strong advocate for programs and policies important to our community, but more often than not, Latino staffers are going to have a personal connection with programs and policies and are immediate concerns for millions of Latinos in our country," adds Espinosa, a California native who was the first in his family to go to college. "I saw my parents work very hard to be able to provide for me and my sister, so coming to Capitol Hill was a natural extension of wanting to improve the lives of working families like my own."
A big piece of CHSA's mission is to increase the number of Latinos working in senior staff positions in Congress. The Legislative Branch is far removed from the actual demographics of the U.S. population, where 17 percent of the country's residents are Hispanic and represent the nation's largest and fastest-growing group. A recent study by National Journal found that members of Congress are actually more diverse than their own staffs. Hispanic members of Congress comprise about six percent of legislators, while Hispanic staffers are half that, and it's true on both sides of the political aisle. Democratic staffs are about 91 percent non-Hispanic white, with Republicans at 95 percent, and the number of Latinos in senior positions---chief of staff, legislative director, and communications director, for instance---is miniscule.
"We're nowhere near our numbers in the population of the country, and if we're not in the rooms where decisions are being made and we're not in the rooms where policy is being discussed, then our issues aren't going to be discussed,"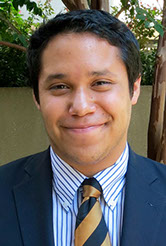 said Rep. Tony Cárdenas (D-Calif.), an advocate for greater number of Latino staffers on Capitol Hill. "We still have a long way to go. Congress is overwhelmingly male and white, so we need to support each other, mentor each other, and try to encourage each other to stay here [working on Capitol Hill.] This is where we make the biggest difference in the world, the U.S. Capitol, and there aren't enough of us to make a difference for everybody and especially for our community."
As Chief of Staff for Rep. Mario Díaz-Balart (R-Fla.) in 2003-2007, Omar Franco was one of just a handful of Latino senior staffers at that time. It's increasingly important, Franco says, to have Latino staffers on board as a growing number of congressional districts experience an expanding Latino population.
"There are so many districts around the country with burgeoning Latino populations, and nobody's going to understand that population as well as a fellow Latino," Franco tells LATINO Magazine. "Even if a member of Congress is not Hispanic, it behooves him to have somebody Latino on staff who can relate to that community. It's hugely important. It's the only way we're going to succeed as a community and move forward."
CHSA has partnered with the Hispanic Lobbyists Association (HLA) to help mentor and advise congressional staffers, particularly as they move up the career ladder to positions with greater responsibility and influence. HLA members consider it vitally important.
"To the extent that Congress is going to represent this country and represent it effectively, we need to have people who are advising the members, who are representing their staff and constituency. It can't be representative government if we don't have true representation," says Susan Santana, Assistant Vice President for Federal Relations at AT&T and HLA President.
CHSA has created a community on the Hill, says CHSA President Verónica Durón, to help one another and look out for each other that combine networking with professional development. "We bring in people to talk to our members, we have résumé and cover letter help and interview tips, and we've built a professional network base so that offices will reach out to us," says Durón, who works with New York Democratic Senator Charles Schumer. "A lot of what we do is increase awareness and let offices know that there is this talent base of Latinos who are available and have the opportunity to move up."
CHSA Vice President Francisco Bencosme says that CHSA has been "completely invaluable," from networking and help with résumés, to even little things that are very important on the Hill, such as making sure to have a strong, firm handshake. "I consider CHSA my family away from family," said the New York native and Wake Forest graduate who added that he became involved in a leadership role with CHSA to give back. "People help you and you turn around and help others. Capitol Hill is like no other place," says Bencosme, a staffer on the Senate Foreign Relations Committee. "Networking is important and minorities don't have too many networks and that's where CHSA helps."
Adds María Urbina, a senior staff member with Sen. Harry Reid (D-Nev.), "Growing the Latino community on the Hill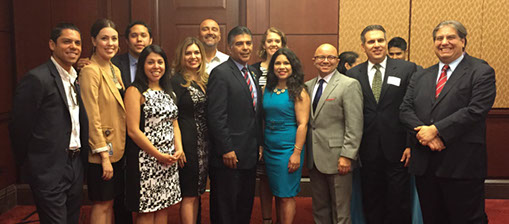 is important. It enriches policy discussions to be more reflective and inclusive of our communities. Reid's office is considered to be very proactive on the matter, creating the Office of Senate Diversity Initiative that serves as a pipeline and gateway for more Latinos and Latinas in Hill staff positions.
"This is one of the reasons why I am so proud to work for Senator Reid because he has been a champion of diversity in the Senate," says Urbina, who grew up in Nevada and is a graduate of the University of Nevada.
"The Senate is a special place. It's like being part of college campus, a think tank, and advocacy shop, mixed with rapid response teams. It's an enduring learning process and very dynamic."
Urbina credits the CHSA with giving her a sense of community, including after hours: "CHSA offers an array of activities, ranging from résumé review workshops to mentorship opportunities, but my most esteemed activity is playing on the softball team, the CHSA Chilidogs. I think it's one of the most authentic ways to form lasting friendships among CHSA members."
Marvin Figueroa, a senior policy advisor for Sen. Mark Warner (D-Va.), concurs that CHSA is a great way to meet people and to network. "We feel sometimes like we have to do things on our own, but the best thing to do is network. We (CHSA) have connections in offices, we can make phone calls and help people. We have talented people and all we need is a chance."
CHSA, adds Figueroa, is an important component of congressional life.
"Our very presence here shapes the conversation."
Influential Latina advocate Ingrid Durán (co-founder of D&P Creative Strategies, along with her partner Catherine Pino) is a past president of CHSA and credits her involvement with the group with helping her develop professionally after starting from the bottom of the totem pole on the Hill.
After a stint in the U.S. Marine Corps, Durán worked her way up from being receptionist for a Member of Congress to serving on the Banking Committee with the late and legendary Rep. Henry B. González.
"CHSA helped me meet other Latino staffers and it was a good way to network, and as CHSA president I was able to meet and network with members of Congress," says Duran. "It's a great organization that does great work and it was great experience for me that certainly helped me get to where I am today."
Patricia Guadalupe