It started as silent indignation and grew to a thunderous roar heard around the world. Little did Donald Trump realize what would happen on June 16, 2015 when he declared his candidacy for president of the United States. In a rambling, off-the-cuff speech at his own building in New York, Trump declared "When Mexico sends its people, they're not sending their best....They're sending people that have lots of problems....They're bringing drugs. They're bringing crime. They're rapists."
These words would be parsed and interpreted by many, including Trump (who later claimed he only referred to "illegals") but their meaning is clear. Trump openly insulted not just the undocumented, but all Mexicans, and all Latinos, and all immigrants by implication. Later, when MSNBC asked Trump to clarify his comments, he refused to apologize and doubled down with, "We have drug dealers coming across, we have rapists, we have murderers, we have killers." Trump later claimed that "tremendous infectious disease is pouring across the border."
Lisa Navarrete, spokesperson for the National Council of La Raza (NCLR), described Trump's comments as coming from an "…exceedingly silly man, who has no idea what he's talking about." That was the extent of the initial reaction. No immediate outcry from politicians, advocacy groups or spiritual leaders. No endless coverage on mainstream media as usually happens when derogatory comments are made about other ethnic groups. Only silence. But it was the calm before the storm.
Two days later, on June 18th, at the sold out concert of Mexican rock band Mana at the Los Angeles Staples Center, lead vocalist Fher Olvera decided to voice his anger. From the stage he spoke to the 18,000 fans in attendance: "He said we were trash, he said that the people who came from Latin America and Mexico are rapists, thugs and drug dealers," adding, "I have never heard a speech as violent, or as filled with hatred -- not since Hitler."
On June 19th, the Congressional Hispanic Caucus did call on Donald Trump to apologize for his comments but since mainstream media choose to ignore this, their request only got coverage on TheHill.com. There was no mention on social media about this, and so it went unnoticed. But when social media postings of Leila Cobo's Billboard article about Olvera's comment hit social media, it was on. Millions of Latinos on social media read, and shared, and unleashed their wrath on Trump.
Eighty percent of Hispanic adults in the U.S. use social media according to the Pew Research Center, more than whites (70%) and blacks (75%). There are more than 50 million Latinos in U.S. and two thirds are of Mexican decent, so the potential for rage was huge. Across the U.S., Mexico, Latin America, and even Spain, social media was ablaze with indignation that a U.S. presidential candidate would utter such irresponsible words and blame the country's economic woes on Mexican immigrants. With Mexico having the highest social media reach globally at 98%, according to ComScore, and Latin America coming in a close second at 95.8% , the international social media outrage exploded globally.
Adding fuel to the fire, Latinos finally began speaking up. On June 23rd, Univision anchor Jorge Ramos declared Trump "the Hispanic community's most hated man," on his blog. He pointing out that "It is hypocrisy to criticize Mexicans while, at the same time, you benefit from their work," and went on to ask, "Why does he speak of Mexicans with such hate?"
Still, when asked by reporters of mainstream media, who had finally began to cover it, Trump would not back down and apologize, stating time and time again that what he said was true, often adding that he loved Mexicans and that they would vote for him come election time.
Latinos were not buying it and had begun to fight back online with hashtags such as #DumpTrump and #Trumpendejo, and a fast and furious sharing of Trump memes. One was a pinata made in his likeness to take a swing at, which soon became a staple at Latino birthday parties. The furor coincided with the dramatic escape of drug kingpin El Chapo, and a photo purporting to show the fugitive in front of Trump Tower went viral. There was even a Twitter messsage supposedly from El Chapo himself threatening Trump. A corrido written about Trump by Los Tres Triste Tigeres said in part, "Univision ya los despidio, hasta NBC tambien gas le dio…ya que reconozca que se apendejo."
Then Trump's financial house of cards began to crumble. On June 24th, Latin Grammy winner J Blavin pulled out of performing on the Miss USA 2015 pageant, a joint venture owned by Donald Trump and NBCUniversal, telling Billboard: "It was going to be my first performance on national [mainstream] television, but we're talking about our roots, our culture, our values," and he added. "This isn't about being punitive, but about showing leadership through social responsibility. His comments weren't just about Mexicans, but about all Latins in general."
The following day, Univision pulled the plug on the Spanish broadcast of the pageant, scheduled to air on their UniMas network on July 12th. It was to be the first of a three year collaboration, but they acted decisively, canceling their telecast of the Miss USA pageant to protest Trump's offensive remarks about Mexicans. Officially, Univision stated they were "ending the company's business relationship with...Donald J. Trump, based on his recent, insulting remarks about Mexican immigrants."
In a flurry of successive public statements, the feud escalated with Trump announcing he would sue Univision for $500 million for breaking their five year contract. He also retaliated by banning Univision officers and executives from his golf course in Miami: "Please be advised that under no circumstances is any officer or representative of Univision allowed to use Trump National Doral, Miami—its golf courses or any of its facilities," Trump's letter began. "Also, please immediately stop work and close the gate which is being constructed between our respective properties. If this is not done within one week, we will close it."
On Sunday, June 28th, Felix Sanchez, chairman and co-founder of the National Hispanic Foundation for the Arts and an advocate for Latinos in media, was on CNN asking the questions that no one was addressing. Among Sanchez's queries were why RNC chairman Reince Priebus or other Republican contenders for the presidential nomination hadn't said anything about this. But Sanchez also questioned why Hillary Clinton had not come out stronger against it, and where Bernie Sanders stood.
Sanchez also noted the lack of Hollywood outrage, since only Latino actors had spoken out. Cristian de la Fuente and actress Roselyn Sanchez, both actors on Lifetime's Devious Maids, withdrew as the Spanish Language hosts of the Univision telecast of the Miss USA Pageant. In addition, music icons Ricky Martin, Juanes and Lila Downs (all Grammy winners) took to Twitter to voice their anger. Cuban music mogul Emilio Estefan told Billboard, " An attack on the Mexican community is an attack on all the Hispanic communities in the United States."
Meanwhile the Latino community's social media outrage spilled over into online petitions. One of those petitions was authored by Guillermo Castaneda, Jr. which urged NBC to side for "ethics, principles and values" by pulling the plug on Trump. In just under two weeks the petition had amassed over 260,000 signatures. This, and the increasing pressure by a few Latino leaders who understood that this was a seminal moment which needed to be addressed, because it would bring about a new day for Latinos in the U.S.
The pressure was mounting and NBC had to make a decision. Would they be willing to ignore the voice of a community that has $1.3 trillion annual buying power? Were they ready to ignore the social media movement that was crying foul and circulating petitions? The answer was no. NBC did the right thing.
On June 29th, the network issued this statement: "At NBCUniversal, respect and dignity for all people are cornerstones of our values. Due to the recent derogatory statements by Donald Trump regarding immigrants, NBCUniversal is ending its business relationship with Mr. Trump." NBC effectively cut all ties, severing a telecast partnership of the Miss USA telecast which had been in effect since 2002. But it went further than that and also cancelled Trump's participation in the show Celebrity Apprentice, which he had hosted for six seasons.
One of those individuals who had direct access and was instrumental in the decision is Alex Nogales, President and CEO of The National Hispanic Media Coalition (NHMC). The Thursday before NBC severed ties with Trump, Nogales was meeting with NBC's top brass to discuss their diversity performance for the multi-ethhnic media report put out each year by the NHMC. In attendance were Robert Greenblatt, Chairman of NBC Entertainment Chairman; Jennifer Salke, President of NBC Entertainment and other top executives. The timing of this annual meeting couldn't have been any better.
After the discussion of diversity, Nogales turned to Robert Greenblatt and said, "You know you have this problem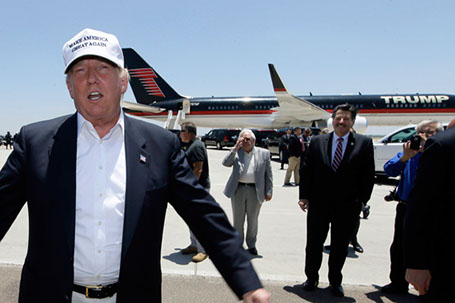 with Trump and it's not going to go away. It is going to require a lot of work on behalf of the Latino community, but we will continue to put pressure. And yes, we are friends, however I will be leading that parade because what Trump said crosses the line." Nogales closed with, "The time has come to know who are friends and who are not."
The NHMC also asked the PGA, which was going to have their Grand Slam of Golf Tournament at the Trump National golf club in Los Angeles, to cancel it. Trump was livid and had his attorneys call Nogales and threaten a lawsuit. Nogales in turn reached out to the Mexican American Legal Defense and Educational Fund (MALDEF) who immediately assured him it would be their pleasure to defend NHMC if in fact a lawsuit was filed. In the end, Trump and the PGA "mutually agreed" to part ways. Also, ESPN said it would remove it's ESPY Celebrity Golf Classic from Trump National to another Los Angeles golf club.
The next shoe to drop was Macy's, which carried a variety of Trump brand attire, such as shirts, necktines and cufflinks. Macy's was innundated with compalints from over 30,00 customers and a MoveOn.org petition to dump Trump gathered 700,000 signatures in a matter of days. Ironically, a photo showing that Trump's shirts were manufactured in Mexico was widely shared online.
Macy's, too did the right thing, responding with: "We do not believe the disparaging characterizations portray an accurate picture of the many Mexicans, Mexican Americans and Latinos who have made so many valuable contributions to the success of our nation. In light of statements made by Donald Trump, which are inconsistent with Macy's values, we have decided to discontinue our business relationship with Mr. Trump and will phase-out the Trump menswear collection, which has been sold at Macy's since 2004."
But that's not all. Mexican broadcaster Televisa, part-owner of Univision, severed all ties. Mega-billlionaire Carlos Slim, whose fortune dwarfs that of Trump, followed suit. Others dumping the Donald included mattress giant Serta, hair care provider Farouk Systems, and NASCAR, which anounced that its season-ending awards ceremony wouldn't be held at the Trump National Doral in Miami. PVH Corp., which manufactures Trump's clothing line, and Perfumania, which sells a scent called Success by Trump, also backed away. Celebrity restaurateurs Jose Andres and Geoffrey Zakarian pulled out of Trump's new hotel in Washington, DC, which was the scene of numerous protests. According to several news stories, the construction crew included Mexican immigrants. Even the FAA announced it was changing the name of three Trump related flight coordinates above Palm Beach International Airport.
How much did all of this cost Trump? One estimate, by Vice, is $78.5 million, but it could be considerably more. According to Vox, New York City is said to be reviewing Trump's real estate contracts, including a $230 million golf course deal. Many more companies, if forced to make a choice between Trump and the $1.3 trillion purchasing power of the Latino community, will join NBCUniversal and Macy's. Trump reported his net worth to be $8.7 billion, of which his name alone is valued at $3.3 billion. If the Trump brand becomes toxic, that number would deflate. Even for the Donald, it's not peanuts.
This was a major coup for the Latino community, dubbed by Felix Sanchez as the "Latino Spring." Trump's racist remarks served to unite Latinos, and many saw a silver lining in that. Actress America Ferrera expressed this in an open letter to Trump:
Dear Donald:
While your comments are incredibly ignorant and racist, I don't want to spend my time chastising you. Instead, I'm writing to say thank you! You see, what you just did with your straight talk was send more Latino voters to the polls than several registration rallies combined! You have made your thoughts on the Latino community clear and you continue to stand by them. And in return, we will do more than tweet about our indignation and beat piñatas of your likeness. We will silence you at the polls.
(The full letter can be read at http://www.huffingtonpost.com/america-ferrera/thank-you-donald-trump_b_7709126.html)
The response by Trump's fellow candidates became a litmus test for many Latinos. Three days after Trump's comments, on June 19, Hillary Clinton did not mention Trump by name, but made this lukewarm condemnation: "...a recent entry into the Republican presidential campaign said some very inflammatory things about Mexicans. Everybody should stand up and say that's not aceptable." Nearly a month later, at the NCLR convention in Kansas City, Hillary said, "I have just one more word for Trump---Basta!"
Jeb Bush first responded at a campaign stop in Nevada on June 29, saying, "I don't agree with him. I think he's wrong. It's pretty simple." Bush amplified his remarks a week later, saying "To make these extraordinarily ugly kinds of comments is not reflective of the Republican Party." Trump responded on Twitter, saying Bush likes "Mexican illegals because of his wife," though the comment was later deleted.
Himself an immigrant, Ted Cruz did not respond until June 30th, and then declined to criticize Trump. "I don't think he should apologize for speaking out against the problem that is illegal immigration," he said on Fox and Friends. The usually combative Marco Rubio was silent until July 3rd, when he made a statement that included: "Trump's comments are not just offensive and inaccurate, but also divisive."
Undaunted, Trump went on the offensive with a reality show-style visit to Laredo. He had originally been invited by the local border patrol union, which later withdrew the invitation. Nonetheless, on July 24th, Trump arrived in his 757 wearing golf shoes, khakis, a blue blazer, and a white cap covering his famous mane that read: Make America Great Again. "People say, 'Oh, it's so dangerous, Mr. Trump, it's so dangerous what you're doing!'" he said to the assembled press on the tarmac. "I have to do it. I have to do it." He was greeted by a handful of protesters braving the 100 degree heat and over 100 reporters traveling in buses with a police motorcade. When MSNBC reporter Jose Diaz Balart tried to ask a question, Trump cut him off with, "You know what, that's a typical case of the press with misinterpretation." When the unflappable Diaz-Balart asked to finish his question, Trump said, "No, you're finished."
Trump briefly toured the border, and then gave a ten-minute press conference at which he declared: "I'll bring the jobs back. And, you know, the Hispanics are going to get those jobs. And they're going to love Trump. They already do." Trump frequently cites a poll of GOP primary voters in Nevada, in which he was the choice of 31.4 % of HIspanics. But a Washington Post/ABC News poll showed just 13% of all Hispanics had a positive view of him, while 81% did not.
As this issue of LATINO goes to press, Trump has continued his meteoric rise in the polls and leads the GOP pack despite his crudely offensive remarks aimed at Latinos, veterans, and women. He appeared to have gone too far in his vicious personal attacks against FOX News anchor Megyn Kelly following the first presidential debate when he was disinvited from the RedState Gathering in Atlanta on August 7th featuring Republican presidential contenders by conservative leader Erick Erickson.
But Trump remains unrepentant. "I apologize when I'm wrong, but I haven't been wrong. I said nothing wrong," he said.
Whether or not Trump is done, the Latino community is certainly done with him. And Latinos have learned a valuable lesson. When we speak in unity, we are heard. We must not forget that when we stand up to those who do not know us, but demonize us, our numbers and economic power speak louder than words. We have now all experienced the power of unity, and we know it works. Let's use it to better our lives and the lives of our children.
As Alex Nogales's wisely said, "It a new time for us Latinos. It is a brand new day. No one will dispute the fact that we made this happen with the help of all Latinos."
Bel Hernandez Castillo