Where do all Latinos come together to celebrate their cultures and contributions to the American landscape? At GALA Hispanic Theatre, the premier Spanish-speaking theatre in Washington, DC. This stellar institution is celebrating its 40th anniversary as it brings the breadth of the Latino performing arts to audiences in the nation's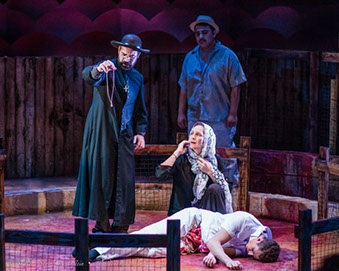 capital.
From April 7 through May 8, Nobel Prize winner Gabriel García Márquez's Chronicle of a Death Foretold has its DC premiere at GALA in an adaptation by Colombian Jorge Alí Triana. Directed by Puerto Rican José Zayas, the play challenges those who stage it and those who see it. "Adaptations of novels are puzzles that deserve to recreate the experience as a reader, but a director must make choices. The objective is for all to understand the collective message of the work," says Zayas.
Although based on a true story that occurred more than 60 years ago, Chronicle, with a touch of García Márquez's magical realism, highlights issues that still affect societies today. The piece reveals a conspiracy of silence, revenge, and strict moral codes in a small town in Latin America that lead to a tragedy, addressing topics such as machismo, politics, and the stigma of racism. "It looks at how we think and express ourselves, at a small town who fears the presence of an alien in its midst (Turkish Santiago Nasar), and the implications of political, social and religious beliefs on the fate of societies," explains the director.
Zayas uses 15 actors to create 50-characters who are in constant motion throughout the play. "The actors move simultaneously across the stage with the flow of the dialogue to tell a riveting and kinematic story," concludes Zayas.
Days after the close of Chronicle, GALA will bring together on May 10 several Latin American ambassadors and international diplomats, arts and business leaders, artists, city officials, and philanthropists to celebrate its 40th anniversary and to honor three extraordinary Latina leaders at its annual Noche de Estrellas benefit. The honorees are Mexican-American Dolores Huerta with the Arts & Social Justice Award; Puerto Ricans Olga Tañón for Excellence in the Arts and Carmen Delgado Votaw for Service to the Latino community. Diana Saez, founder of Coral Cantigas, will also receive a special recognition.
Noche de Estrellas will be held at the Hall of the Americas of the Organization of American States (OAS) to support GALA's youth education programs, which include the Paso Nuevo program, an arts and academic enrichment program for Latino teens in the District of Columbia that was recognized with a 2012 National Arts and Humanities Youth Arts Program Award by First Lady Michelle Obama.
The evening includes performances by Salvadoran flamenco dancer Edwin Aparicio, who curates GALA's annual Fuego Flamenco Festival and recently received the Order of the Civilian Cross from the King of Spain; Coral Cantigas; and Salvadoran poet Quique Aviles. Silent and live auctions will offer exotic get-aways to Mexico and the Caribbean, Broadway tickets, and more.
To close its 40th Anniversary Season ¡Viva los 40!, GALA will present El Paso Blue by Mexican-American Octavio Solis from June 2 through June 26. Directed by Puerto Rican José Carrasquillo, this wild and comic tale of lust, revenge, identity, and the blues pits together the funniest cast of characters on a sprawling manhunt across El Paso. For more information and to buy tickets: 202-234-7174 or visit www.galatheatre.org.