A showdown between and the government of Puerto Rico looms after Governor Alejandro García Padilla signed into law legislation that places a nearly one-year moratorium on debt payments, in essence giving a thumbs down to a congressional proposal of a helping hand with tight federal supervision.
Last month, after a day of debate that lasted into the early morning hours, the Puerto Rican Senate voted in favor of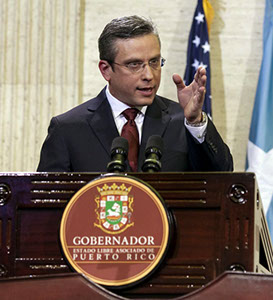 legislation for a unilateral moratorium on all government debt payments. The House of Representatives followed suit, voting for the measure at nearly 2 AM.
Island legislators say they were taking this drastic step because Congress has been moving too slowly, and when it does finally make a move, it's one that is roundly criticized. The island is $72 billion in debt and officials say they can't pay it.
"Our country needs its leaders to take action and that's exactly what we're doing. We're taking action. We're doing this as the correct step for Puerto Rico to deal with an imminent crisis. We decided we couldn't postpone it any further and we decided to do this tonight," said Puerto Rico Senate President Eduardo Bhatia in a press conference right after the vote.
Island legislators were aiming their criticism at the House Natural Resources Committee's draft proposal which allows for the island government to restructure its debt, but it also seeks a federal oversight board of five appointed members not accountable to the island government or its legislative bodies, does away with the federal minimum wage for workers 25 and under, and sets aside collective bargaining agreements and prohibits labor strikes.
The bill signed by the governor sets a "moratorium period" that would run through the end of January 2017, and would also set up a bank that would make some payments on an "case by case" basis during that moratorium. García Padilla said the move was necessary to be able to provide and pay for basic services and also pay government employees, including public school teachers. Island residents, he said, should have priority over creditors and bond holders.
"This legislation is nothing new," said Puerto Rico Attorney General César Miranda. "Other jurisdictions, such as New York, have implemented debt payment moratoriums. We could look at this as a way to put pressure on everyone to do something, including putting pressure on the government of Puerto Rico to act.
Under the law, the moratorium could be extended for several more months after January of next year. The debt would come due at the end of the moratorium but island officials say they expect this will give them some breathing room to renegotiate and seek help from Washington.
But former Puerto Rico Governor Luis Fortuño, currently a partner with the Washington law firm Steptoe & Johnson, says there are ways to tackle the island's situation, but this debt moratorium bill is not it. "When I took office we had a dire economic situation, but I sat down with everyone and negotiated, and we restructured our debt in a legal and transparent way."
"I am deeply concerned with this latest move, which is one of many that are eroding the island's credibility, not just in the marketplace but also with the business sector and shows further erosion of the rule of law," says Fortuño, adding, "I was somewhat shocked when I read some sections of the bill, such as even though it imposes a moratorium on payments on its obligations, it doesn't do the same for its legal and financial advisors. The government is still going to continue to pay its consultants. I've never seen anything like that before! It looks like consulting fees are more senior than constitutional obligations. This could be challenged successfully in court."
Representatives of the island's Government Development Bank (BGF) have been meeting for months with holders of Puerto Rico's multi-billion dollar debt, floating several ideas, including an overall restructuring for all debt holders, but nothing has been agreed to yet. The island government has also been lobbying for authority to file Chapter 9 bankruptcy as another mechanism to restructure its debt. The island is facing several large debt payments, including $422 million on May 1st and $2 billion on July 1st, and the BGF has just $562 million in cash-on-hand. Several bond holders on April 4th sued the bank, seeking an injunction against the bank's payments to other creditors and alleging that the bank favors some creditors over others, which the bank denies. BGF says it will fight the lawsuit, but calls it "further evidence of the price we all pay for congressional inaction."
Island legislators and government officials aren't the only ones lobbing harsh criticism at the congressional proposal; it is also being batted down by all sides of the political spectrum here in the states. "This process that they're proposing is completely undemocratic. It ignores the rights of 3.5 million Puerto Ricans on the island who are American citizens," says Carlos Mercader, a lawyer from Puerto Rico who is Executive Director of the advocacy group Latino Partnership for Conservative Principles, which calls the committee's handiwork "colonialism in its purest form."
"What Congress needs to do is help with talks between the island and its creditors so that a voluntary agreement can be reached. But this proposal is not the way to go," says Mercader.
"In Congress, the prescription for Puerto Rico's financial problems is a new layer of colonial oversight from Washington through a control board. Puerto Rico's problems stem from too much of the power to determine her destiny residing in Washington, a far-off Capitol," says Rep. Luis Gutiérrez (D-Ill.), a native of Puerto Rico. "This control board proposal just adds to those vast powers and with little transparency or authentic involvement by the Puerto Rican people."
The Center for Individual Freedom, a conservative group based in Alexandria, VA has been running a television ad in the Washington area opposing the congressional move, calling it "a bailout on the backs of savers on seniors."
Meanwhile, as all this swirls around, island residents say they are worried. "In fact we are all very worried. I know Congress had to do something, but this draft proposal is too drastic. It's going backwards," says Charlyn Gaztambide Janer, a public relations specialist in San Juan. "We are all very scared and mad. We feel like the U.S. Congress is overreacting to what is happening on the island and we worry about what will happen."
A poll conducted among island residents by Puerto Rico's largest daily, El Nuevo Día, found that a majority – 52 percent – feel that the situation on the island is "very bad," an increase from 46 percent three years ago. Nearly half – 46 percent – say they are "economically worse off" this year compared to last year, with most saying they will be either in the same economic straits or even more worse off next year. An overwhelming majority – 73 percent – said that things on the island are going in the wrong direction, with most saying they are either somewhat unsatisfied or very dissatisfied with their current economic situation.
By Patricia Guadalupe