Many leaders have sounded the alarm about the need to encourage young people to study science, technology, engineering and math (STEM) as an investment in the workforce of the future. Eighteen years ago, HACEMOS, the Hispanic/Latino Employee Association of AT&T, showed even greater foresight, hosting the first National High Technology Day.
"We wanted to spark an interest in students that STEM is a possibility for them," says Jomo Castro, HACEMOS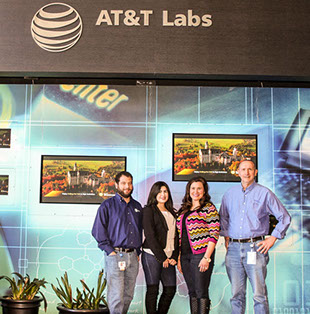 executive vice president. "Some might think that engineering is something for other people. We want to change that perception."
This year National High Technology Day reached 33 cities and included more than 2400 students. While each event is organized locally, the overall program seeks to engage young people in hands-on technical activities and interactive workshops designed to encourage them to consider careers in STEM.
"We want it to be interactive. We've learned that we get better results when the participants are actively engaged," says Castro. "Activities like a cup stacking game, for example, can be an introduction to coding. We'll see that light bulb go off when students realize that a computer is just a dumb box until they tell it what to do."
Initiated in 1998 by HACEMOS members in San Ramon, CA, the event began as a grassroots effort to encourage students to pursue STEM careers. Today that support continues, along with additional help from AT&T Aspire, the company's signature philanthropic initiative which drives innovation in education to provide students with the skills to succeed in school and beyond. Through Aspire, it's passed the $250 million mark on the plan to invest $350 million in education between 2008-2017.
Through Aspire Mentoring Academy, AT&T employees have provided more than 160,000 students with 1 million hours of mentoring. Through this initiative they're working with nonprofit education groups to connect students to mentors, provide opportunities to learn life skills and about diverse career paths at events like National High Technology Day.
They are collaborating with organizations like Communities in Schools and Junior Achievement to help the Aspire Mentoring Academy identify ideal candidates to participate in National High Technology Day. Eligible participants do not have to have an interest in STEM but rather, a need for inspiration. They may be facing challenges at home, at school, or both. While the program does not target any group exclusively, many participants are Latino.
"Criteria for nonprofits do include Title 1 schools that have low attendance, low grades, or a high percentage of students in the food program," Cinthya Allen, HACEMOS national president explains. "Once they come, those that need this exposure are sparked with creativity and an interest in technology that they didn't have before."
To make sure the program continues to be successful, surveys are distributed to students each year for their feedback, which validate the effort. According to Castro, when asked if they would be more likely to pursue a career in STEM as a result of the event, 84 percent of respondents said yes, while 98 percent said that the event had been a good use of their time.
There have been tangible results as well. This year, students at Shawnee Mission High School in Shawnee, KS attended National High Technology Day, including sophomore Adriana Cervantes. The first generation in her family to consider attending college, she admits that she had thought she would focus on a career in education. After the event, she's considering a career in STEM.
"I got to hold the Galaxy 7 phone and take pictures with it before anyone else," she said. "I know about technology but I also liked seeing how people work behind the scenes."
Elva Medina, department coordinator at the high school, shares that the impact among the students was immediate and palpable: "I took 18 students to the event, when we got back to school, eight (including Cervantes) enrolled in our robotics class, increasing Latino student participation from five to 30 percent. I am really impressed with the level of commitment that HACEMOS has toward Latino youth."
Not only do participants get exposed to professions in STEM, they get to meet Latino professionals who are employed either at AT&T or another company, who can inspire them to achieve. "Every chapter has its own natural resources that they utilize as part of the day," explains Castro. "In Puerto Rico...AT&T engineers discussed their careers and the steps and achievements that led them to AT&T. By putting people of color who are technology professionals in front of these students, who might also have similar backgrounds, students begin to wonder, 'why not me?'"
In Austin, TX, students were given a tour of AT&T Labs including one stop in the Video Lab that featured 4K TVs, the highest resolution televisions available. They also met three electrical engineers, one of whom shared, "We get to work with cool technology every day!"
Jennifer Duran, president of the Austin chapter of HACEMOS, says post-event surveys also revealed that 90 percent of participants felt inspired to pursue a career in technology. "They really liked the tour and seeing what happens behind the scenes," she adds. "We plan to have a follow-up event this year that will include a larger group of students and more hands-on activities."
Serving more than 20,000 students since it began, National High Technology Day has also become international, expanding into Puerto Rico and Mexico. Meanwhile, HACEMOS membership has grown to over 10,900.
As for future development of the program, Castro and Allen reveal that HACEMOS members have begun to consider how to keep students engaged in STEM after the event. "We've sparked the interest," says Allen. "We really hope that teachers and schools can help nurture that."
By Valerie Menard