BP employees Naty Figueroa and Paul Acosta work in different parts of the U.S. and have very different jobs, the kind of jobs that reflect the diversity of BP's workforce and the scope of the company's business. But they do have a few things common, such as their Hispanic heritage and service in the U.S. military.
Acosta is an operator at the Cooper River chemical plant in South Carolina and Figueroa is the business manager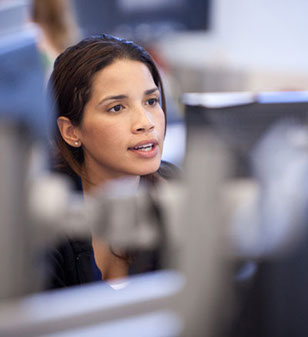 for BP's Integrated Supply and Trading group in Chicago. Acosta joined BP in 2007, when he was already part of the Army Reserve. His military duties took him to Iraq for a year in 2008 and, again, in 2013 he spent time away from his job during a 10-month tour in Afghanistan. He said his co-workers at Cooper River were aware of his military status when he came on board.
"Everyone at Cooper River was incredibly supportive," he says. "They were calling me, texting me, they were sending me packages and also sending training material so I could be up to date on what was going on the plant, just incredible support."
Acosta, a staff sergeant in a transportation unit, said he knows other reservists who don't always receive that kind of support from their employers. "I was serving side by side with guys who were worried about coming home to no job where as BP couldn't do enough for me," he said. "That gave me great peace of mind."
Figueroa, who has been with BP for 14 years, had a similar experience. "I did not have concerns about my position at BP when I needed to take time off to conduct my training, which ranged from days to weeks," she said. "I had a lot of support from my co-workers and especially from my line manager."
And, she said the experiences she gained in the U.S. Army have helped her develop the core leadership skills that can transition to the corporate world. "Overall, I learned about confidence, integrity, camaraderie and loyalty," she said. "Those traits are applicable and valuable in business and these skills have proven useful in my professional and personal life."
According to Figueroa, BP's core values are very similar to those practiced by soldiers, such as courage and being part of a team. She says her Hispanic heritage played a role in joining the National Guard. Her parents, both from Puerto Rico, instilled in her the benefits of hard work. She was the first person in her family to graduate from high school and then from college. "It was always important for me to work hard and do my best and my success is a direct result of my family's support," she said.
Acosta chose to become involved with the Army Reserve because of his parents, who emigrated to the U.S. from Colombia in the 1980s. "My father always wanted to join some branch of the military because he was very grateful for the opportunities this country gave him," Acosta said. "But by the time he became a naturalized citizen he was too old."
"That is part of the reason I did it, because it was something my father wanted to do, kind of my way of paying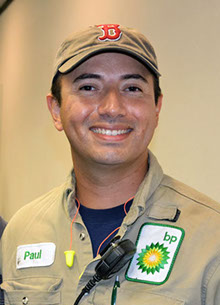 back," he said. "In my experience I have run a across a lot of Hispanics in the military, I think it has to do with our background, we are very patriotic."
Acosta says the principles of military service of teamwork, duty and safety neatly converge with working for a company such as BP. But it is not a one-way street; Acosta says the experience he has gained from working for BP in Cooper River also carries over into his army service. "I approach issues in my military life in a very systematic way, the same we solve problems at work," he says. "And, one of the main things I got from BP that I take to my military service is the intense focus on safety in everything we do."
BP offers U.S. employees differential pay and continued health care benefits during periods of qualifying military leave for up to five years. This means BP compensates military employees any difference between their military salary and the BP salary they earn, ensuring families can enjoy uninterrupted benefits while their loved one is serving, said BP's Teri Poulton, director veteran outreach.
The company's efforts in supporting employees serving in the military was recognized when BP received the 2015 Secretary of Defense Employer Support Freedom award, which is the highest honor the U.S. government gives to employers for supporting workers who serve in the Guard and Reserve. BP was one of 15 employers, out of nearly 3,000 nominated, to receive the award.
Poulton said BP leadership believes that hiring veterans is good business, because BP's values of safety, respect, excellence, courage and one team align with the armed forces' core principles. "I used to say that BP's policies toward guardsmen and reservists truly honor military service but now I realize that they actually encourage military service," she says. "Our policies make it much easier for military employees to make the decision to stay and continue to serve ---- their families are taken care of and their jobs are secure."