On Day Three of Austin City Limits Festival, Adrian Quesada roams the artist area with his wife Celeste and two daughters. The crew lands at a small table, where Quesada converses with band mates from Spanish Gold, the group he had just played with, while the girls went exploring. Depending on your vantage point, he looks like a rock star or just another Austin dad.
Quesada currently plays in six groups whose sounds range from big-band funk to psychedelic cumbia. His latest project is a collaboration with My Morning Jacket drummer Patrick Hallahan and Dante Schwebel, who both bring indie rock and country backgrounds to the table, puts Quesada in a bona-fide rock band that mixes psychedelic groove and soul with a Texas border town backdrop. Since forming less than two years ago, Spanish Gold has enjoyed a prolific album release and tour, even playing the David Letterman Show earlier this summer.
Fifteen years ago, who knew that Quesada would ever play a festival as big as ACL? Growing up in Laredo, Quesada was "of the MTV generation" as he puts it, fixated on rock and hip-hop. While determined to pursue music from an early age, playing Latin music didn't seem part of the plan until later. "In Laredo, everything from Mariachi to Norteno is all around you…growing up in a city like that, the music is ingrained in you, whether you're listening to it or not," says Quesada.
It wasn't until his time playing in various music ensembles at the University of Texas that he realized he had an affinity for Latin rhythms. "We'd play a couple of cumbias and I was like, 'man I totally know this music.' It came naturally to me. It became way more exciting. I got bored with rock music and rap music."
Quesada first gained musical notoriety with the celebrated 10-piece band Grupo Fantasma, formed in Austin with fellow border town transplants Greg Gonzalez and Beto Martinez. They dove deep into Latin music, citing 1960s big-band cumbia as a key influence. The group went on to pack rock venues, win a Grammy and even get recruited by Prince to be his backing band.
"We didn't have the finesse or the tightness that a lot of the salsa bands [in Austin] had, but that wasn't the vibe we wanted to bring. Sometimes you walked into those shows and it was like if you didn't know how to dance right, you weren't supposed to be in there. And that's not what we wanted. We wanted to bring that kind of raw, sweaty, punk rock dance club thing that we were coming from," says Quesada.
During Grupo's rise, Quesada and his band mates created Brownout, a funk band that made a name for itself with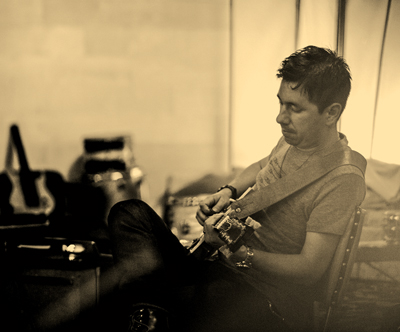 CDs like Homenaje and Oozy. It also became an outlet for experimental projects like Brownout Presents: Brown Sabbath, where they cover Black Sabbath songs with a funk twist. What started as a one-time performance project "just to mix things up" turned into a full-scale album release and wildly popular tour.
A Latin funk band covering metal hits might seem jarring at first but Quesada says that musically it fit seamlessly in rehearsals. Culturally it makes sense, too. Metal is extremely popular in the valley, where Brownout and Grupo Fantasma not only have roots but a huge fan base. Quesada recalls, "There was a lot of metal in Laredo [which] was kind of isolated, disconnected in some ways. At times it can feel bleak when you're growing up, especially if you're into music or counter culture. Music like that really speaks to kids who feel that way, who grow up in places like that."
The closest Quesada gets to a solo project is The Echocentrics, where he brings Brazil's Tita Lima and Argentina's Natalia Cavalier to sing on instrumentals he has produced. Other than some songs being in Spanish or Portuguese, there's no way to tell where this sound comes from---it's not based geographically. It's some sort of floating psychedelic groove, with hints of southern guitar twangs, and Afrobeat rhythms.
This seems to be Quesada's sound at its core, in that it doesn't fit into anything. He's just sort of groovy and you can't pinpoint where or how. His roots are Latin, both culturally and musically, but it no longer seems fitting to classify him as a 'Latin music' artist. He is someone who, like many Latinos , grew up influenced by more than one culture, which perhaps is why he's such a malleable musician.
When discussing the future of Latin music and what that classification might mean, Quesada notes a Billboard article on the upcoming album release Compass by two Mexico-based DJ/producers, Mexican Institute of Sound and Toy Selectah. The duo has ambitiously collaborated with over 80 artists all over the world. These two prolific beat makers often sample traditional Mexican corridos and cumbias to create their sounds, but like Quesada, to classify them as Latin artists wouldn't cover everything.
"One of the things that caught my attention was when Toy said something like 'This is like a PhD in global music'. And it made me think how, you know, The U..S is this big [as he puts his palms close together] and the world is this big [as he splays his arms out,]" says Quesada. "It's not like it's about being successful in Mexico and crossing over into the U.S. They're recording with people and in studios all over the world and it's inspiring. This music thing is global."
Quesada is also a member of Ocote Soul Sounds, an Afro-soul collaboration of world music artists from all over the world including Martin Perna of Antibalas, Chico Mann, and soon the internationally esteemed Quantic. "We did some Ocote Soul Sounds Songs with him," says Quesada. "He's another global person. I'm a huge fan. If I know his name is on there, I always want to hear it whether he played or produced or anything."
For Quesada, 2014 included overlapping tours with Spanish Gold and Brownout, putting out records with both groups, and remodeling his own recording studio, Level One. He says another Brownout record of original material is on the horizon. He's also writing Echocentrics songs, and might produce for others once his studio is finished. Quesada has drive, versatility, and a work ethic that can't be stopped. But he's thankful to be done touring for the remainder of the year. Jjust like his smooth transitions between genres, he seamlessly fitsback into family life at home in Austin."When I was younger, the rock star thing, the fame- it appealed to me. But now I'm like I just want to make money and raise my family and provide," he says.
Lia Camille Crockett lives in Austin, TX.