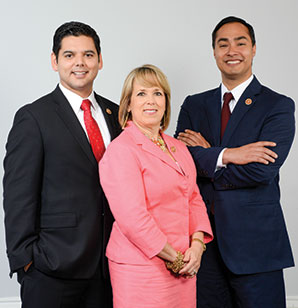 An unprecedented number of Latinos were newly elected to Congress last year. Most were political veterans at the state and local level, and a few had previously made attempts at winning a congressional seat before arriving in Washington ready to tackle the issues they had staked their campaigns on.
"I'm very excited by the enthusiasm of our incoming freshmen members," said Rep. Rubén Hinojosa, the chairman of the Congressional Hispanic Caucus (CHC) who represents the 15th district of Texas. "They electrified this past election with their contagious energy and inspiring stories."
Freshman congresswoman Michelle Luján-Grisham says her first few months as a member of Congress have been an eye opener. "The pace feels like I'm drinking from a fire hose," she told LATINO Magazine. "I had an exhausting and demanding campaign, and I assumed I would find that same environment here, but it's actually more demanding. At the same time it's incredibly exciting and very rewarding. My freshman class, they are all fine examples of incredible individuals."
Luján-Grisham serves with her cousin Rep. Ben R. Luján and is the niece of former congressman and Secretary of the Interior Manuel Luján. She calls her election a tremendous opportunity, especially considering that last year's race was her second attempt at a congressional win. "I got a second chance. I was the underdog. Who knew that very seat would come up again," said the first Latina to represent New Mexico in Congress.
Rep. Filemón Vela of Texas is the son of a longtime federal judge and as a lawyer had argued a number of key cases before running for Congress last year. Not only is Rep. Vela a freshman, but his district is also brand new. Texas gained four new congressional seats after the 2010 Census, and one of those was Vega's, which encompasses a portion of the Texas border city of Brownsville. Vela has remained largely under the radar since arriving on Capitol Hill, but he recently caused a bit of a kerfuffle recently when he resigned his membership in the CHC to protest what he said was the support his colleagues are giving to the Senate's version of the comprehensive immigration reform bill and what he says is the legislation's over-emphasis on border security.
"I grew up on the border, and until recently, border towns in Mexico and the United States shared a common economic and cultural vitality. Now we have border fences, and they don't work," he said. "Opponents of serious immigration reform are extracting a pound of flesh in this process by conditioning a pathway to citizenship on the construction of more ineffective border fences. For some legislators it is easy to give up the pound of flesh when it's not their flesh." For the record, the CHC didn't officially endorse the legislation and most members say they don't support enhanced border security.
Another member in a newly created district is Miami Democrat Joe García, who represents the Florida Keys and a portion of the rapidly growing Miami-Dade County, an area with a 64 percent Latino population. García is a former executive director of the Cuban American National Foundation and is a former director of the Department of Energy's Office of Minority Economic Impact and Diversity.
For García, the third time's the charm as far as a winning a seat in Congress. In 2008 he lost to incumbent Mario Díaz-Balart, and in 2010 lost to Florida state representative David Rivera. Last year, García won in a rematch against Rivera, who had been mired in several political scandals. García made history by becoming the first Cuban American Democrat to represent south Florida in Congress and the first non-African American Democrat in 20 years to represent a large portion of Miami.
Another new kid in town is California Democrat Raúl Ruiz, a medical doctor who graduated from Harvard and is the son of former migrant workers. As a first-time candidate, Ruiz was considered a long shot when he ran against Republican incumbent Mary Bono Mack, but political observers considered that his attacks against her for not doing enough for the district's growing Latino community were effective in putting him over the top, and he became the first Democrat in more than 40 years to represent the Coachella Valley. Ruiz recalls that he had a different expectation when he arrived in Washington.
"I knew that gridlock was a problem in Washington, but I didn't realize how bad it was until I got to Congress. Rather than focusing on solutions that will benefit the American people and move our country forward, too many in Congress are focused on partisan gamesmanship," he said. "I have been disappointed that Congress has only passed 13 bills into law in seven months and that so many members have not been able to put political differences aside to tackle the many issues facing our nation." Ruiz joined the "No Labels Problem Solvers," a bipartisan group of legislators that meet regularly to try to find common ground on a variety of legislative issues.
"It has also been difficult dealing with partisan extremists on both sides of the aisle," he says. "As an emergency room doctor, I have always been focused on working with all people as a team to solve problems. It has been challenging to work with people who are more focused on scoring political points than finding solutions." Ruiz adds that he focuses as much as possible on constituent services, mirroring what his freshman colleagues say.
"I'm proud to say that so far we've recovered $400,000 in veteran's and Social Security benefits. I focus on helping my constituents," said Rep. Joaquín Castro. "It's been incredible. The pace is very quick and we're very busy." The twin brother of San Antonio Mayor Julian Castro, he came to Congress from the same district that the political dynasty of Henry B. González and son Charles represented, and feels a sense of history being a member of Congress. The Stanford and Harvard-educated legislator was elected president of the freshman class of the 113th Congress and offers that years as a Texas state representative have helped him navigate Washington. Serving as a Latino member gives him a sense of deep pride. "Latinos are part of the American family and we love this country," he said.
Freshman Pete Gallego arrived in Congress after defeating former congressman Ciro Rodríguez in the Democratic primary and then defeating incumbent Francisco "Quico" Canseco in a real tight race where it took several days to determine the winner. Gallego is an attorney and a former member of the Texas House of Representatives and is a member of the Blue Dog Coalition, a group of legislators who consider themselves either moderate or conservative Democrats.
Former Los Angeles City Councilmember Tony Cárdenas is another freshman from California, the state with the most new legislators and with the largest number of Hispanic members of Congress. One of 11 children of Mexican immigrants, Cárdenas is an electrical engineer by training and a strong proponent of "green" energy programs.
Gloria Negrete McLeod, also from California, is a former state senator and previously served in the state Assembly. Congresswoman Negrete McLeod arrived in Washington after defeating former CHC chair Joe Baca.
Like Negrete McLeod, Rep. Juan Vargas is a former California state assemblyman and senator. A former law school classmate of President Obama, he nearly became a Catholic priest. Like several of his freshman colleagues, Vargas had previously attempted a congressional run, losing in 1992, 1996 and 2006. But his persistence paid off.
"We have an unprecedented number of Latinos in Congress representing our diverse Latino population," said Rep. Hinojosa. "All together they bring decades of experience, new ideas, passion and commitment."