Rejection. We've all experienced it, but for writers, it's alarmingly common. J.K. Rowling, author of the Harry Potter series, was rejected twelve times and Robert M. Pirsig, author of Zen & the Art of Motorcycle Maintenance, holds the record, according to Guinness World Records, for 121 rejections, more than any other best-seller. So when Cecilia Velástegui took the leap to become a published author, after years of writing novels on the side, she didn't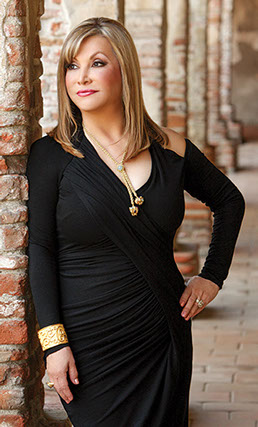 waste time with publishing houses. In 2011, she partnered with investors to create Libros Publishing.
"I didn't have to go through the trials and tribulations of working with a mainstream publisher, fortunately I had the means to do it differently," she shares. "It could have taken years and years to get published pursuing mainstream publishers."
Four books later, and with three on the way, it would seem that Cecilia, formerly a family and marriage counselor, is on her way. Born in Quito, Ecuador, Cecilia came to the U.S. with her family at age eleven when her father, an engineer, was relocated to Southern California. One of three children, Cecilia remembers being encouraged at a young age by her parents, Marcos and Ines, to read. No encouragement was necessary, however, for this voracious reader.
"Reading is like breathing for me," she says. Her father bought her books and magazines, eventually subscribing to the book of the month club. "I got four books a month for my very own," she remembers. "They didn't' censor what I read so I may have read a few that were a little adult for me at the time, but it didn't matter. I just loved reading."
She was also encouraged to be multilingual, reading in Spaniswh, English, and French. Her mother would engage her daughter by asking Cecilia to tell her about the books and articles she read.
In college, she continued to receive encouragement from professors to pursue a career as a writer, "but it just didn't seem sensible," she admits. Instead, she studied education and counseling and graduated from the University of Southern California with a master's degree. She would devote herself to this profession for twelve years, while continuing to write. "I was working on my magnum opus, 1000 pages long," she says.
She also took creative writing classes to hone her skills but by the time she was ready to move forward, she had written what amounted to four novels. The theme for the first came while she was traveling with her husband through Spain. In Madrid, she noticed indigenous-looking girls dressed provocatively and loitering about a plaza. She could tell from their accents that they were from Ecuador. Upon her return to the U.S., she looked into it and discovered a human trafficking ring operating out of a small village in Ecuador. Young women there are recruited with the promise of work as maids or caregivers, shipped to Europe, and once there, are isolated from their families and forced into the sex trade.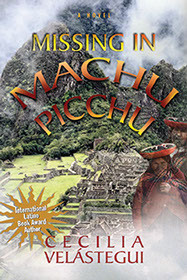 Her research also lead her to the story of three Latinas who struggled against California society in the 1880s. One of them was Modesta Avila, the first recorded felon in Orange County. She was forced into prison, where she eventually died, because she protested the railroad coming through her property.
"These women were striving to advance themselves," explains Cecilia. "Therefore, the connections between Modesta and the present-day victims of human trafficking are innocence and failed dreams." Cecilia contributes a portion of the sales of this novel to support the Orange County Human Trafficking Taskforce.
In 2011, her first novel, Gathering the Indigo Maidens, was published. Over the next three years, she would publish two more, Traces of Bliss and Missing in Machu Picchu. Her fourth novel in the mystery thriller genre, Parisian Promises, will be published next year.
"The reason I took so long is that I'm a perfectionist," explains Cecilia. "As a therapist, I know that's not a good trait. I kept on perfecting this and that on the books. Finally, I decided to hire professional editors to help me on the content of the books. Once I decided with the editors, who also conducted focus groups, that the books were really good, I worked with investors to form Libros Publishing."
Getting published was one hurdle, but getting noticed was quite another. Mainstream publishing houses don't devote a lot of dollars to marketing untested writers. And a book's success may well hinge on that all-important review from the New York Times. But getting reviewed by that newspaper is next to impossible, especially for an unknown Latina writer.
Ever the researcher, Velástegui looked for alternatives for getting her books read and reviewed. While searching online, she happened upon the National Latino Book Club, a partnership between Las Comadres, an online network of Latinas based in Austin, and the Association of American Publishers. She submitted her second effort, Traces of Bliss, for consideration and, "They loved it!" Once she was selected, the accolades followed. Cecilia has been named an International Latino Book Award Winner since 2012.
Established in 2008 by Nora de Hoyos Comstock, founder of Las Comadres, the National Latino Book Club currently has 1500 members. The Association and Las Comadres review books, and if successful, they are offered to book club members for purchase. According to Comstock, the partnership evolved in response to the lack of media venues for Latino writers to get exposure for their work. "I gifted some books to an intern on year and I remember her response, 'Hmm, I've never heard of this writer.' It dawned on me that neither had I," she says. "Many U.S Latino writers were not being included in curriculums, book reviews, or libraries. I thought I had to do something about that."
"I'm so grateful to Nora and the National Latino Book Club," asserts Cecilia. "Nobody knew I was in my casita writing away. They discovered me.'"
Not content to be known just as a writer of historical novels, she also took a moment to focus on children's books and a new persona as the "Fabulous Fableist." Her first effort, published this year, is a bilingual book, Olinguito Speaks Up. Inspired by the discovery of a new mammalian species in the cloud forest of Ecuador, the olinguito, Cecilia created a character that speaks to young children. The book is also set against the backdrop of the endangered and ever-shrinking tropical rainforests. It has been endorsed by the Smithsonian Institution-National Museum of Natural History, where Cecilia will present her fables on October 4, 2014. Her next books, Lalo Loves to Help, featuring a parrot, and Howl of the Mission Owl, will be published later this year. All her children's books are sold with a stuffed toy featuring the main character.
For would-be authors, Cecilia's advice is to seek a writing group to get feedback, and if possible, hire a professional editor before submitting the book to a publisher. "Everyone's a writer," she says. "You just have to decide if you want to publish or not."
By Valerie Menard