Some say that small businesses are the engine that's pulling the nation out of the recession. But there's evidence it's tough for many Latino-owned startups to find financing, the lifeblood of a successful entrepreneur.
"The No. 1 challenge for our businesses is that they are not getting the small business loans they need," said Ramiro Cavazos, president and chief executive officer of the San Antonio Hispanic Chamber of Commerce. "It's really made it very, very difficult."
Business experts cite various reasons Hispanic entrepreneurs have such a hard time accessing cash to start or grow their businesses. Some say the amount of loans sought are often too modest. "Banks don't like to do lending if the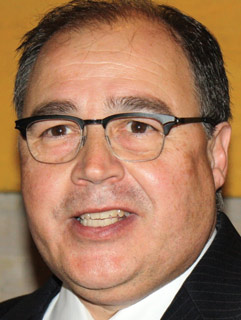 amount is too low," Cavazos said.
Others say Latinos often don't have a family background in business, or contacts in the financial community. There's also evidence discrimination plays a part in the Latino credit freeze. Glenn Christensen, an associate professor of marketing at Utah's Brigham Young University has anecdotal evidence prejudice exists in the banking system.
In a recent study, Christensen had nine researchers act as "mystery shoppers" seeking loans. The researchers posed as three black, three Hispanic and three white small-business owners. The would-be entrepreneurs wore the same clothes, asked for identical $60,000 loans to expand identical businesses and had nearly identical backgrounds. The researchers were told they were evaluating customer service. The minority loan-seekers were given less information on loan terms, were asked more questions about their personal finances, and offered less application help---and business cards---by loan officers.
"There is a general belief among Americans that we're the land of opportunity and that anyone can pull themselves up by their bootstraps," Christensen said. "It is a land of opportunity, but that opportunity is not always equally accessible."
In the second part of the Brigham Young University study, researchers carried out in-depth interviews with 39 small business owners—16 white, 13 Hispanic and 10 black—about their experiences seeking funding. They found denial, rejection and restricted access to loans for minorities led to self-questioning and diminished self-worth and self-esteem.
"My self-esteem and confidence are strong, and yet I'm being denied, so it makes me feel bad about myself, bad about my business," a minority businessman said. "You're made to feel like I'm just not competent or capable. I feel very, very insecure."
A Small Business Administration (SBA) study based on several years of data from the Survey of Small Business Finances also showed a pattern of discrimination."Even after controlling for other factors, such as credit score, legal form, etc., the minority group made up of black and Hispanic business owners was significantly less likely to have their loan applications approved, compared with their white counterparts," the study concluded.
And when a Latino business is granted a loan, there's evidence they have to pay more for it. In 2012, information from the Federal Reserve revealed that minority business owners were paying interest rates that were 32 percent higher than what whites paid for similar loans.
Javier Palomarez is president and CEO of the U.S. Hispanic Chamber of Commerce (USHCC), which will hold it's 35th annual national convention this September 21-23 in Salt Lake City. He dismissed the impact of discrimination in the financial world: "We're not a civil rights organization. Attacking the banks is neither practical nor useful."
Palomarez said a larger obstacle for Latino entrepreneurs is the lack of business acumen. "Often they did not go to business school, they did not go to Wharton, so they didn't learn the fundamentals of how to build credit," he said. "A Latino businessman may be an immigrant, he does not have five or six generations before him in this country to teach him how to build a business. That makes it much harder for a loan officer to give him a loan."
There's another problem. The SBA study showed black and Hispanic business owners were almost half as likely to have high credit scores (7.2 percent) than their white non-Hispanic counterparts (13.7 percent) and more likely to have a low credit score (39.5 percent) than white non-Hispanic entrepreneurs (30.1 percent).
While the credit crunch may hurt minority businesspeople more than others, it's affected all entrepreneurs. The collapse of the housing bubble and the abuses by mortgage lenders that led to that collapse,  prompting Congress to impose new regulations on Wall Street, especially with the Dodd-Frank Act. There are now higher bank liquidity requirements, which put a curb on some types of lending. There has also been a contraction in the numbers of banks through failures and mergers. At the end of last year, for the first time since 1934, the number of federally insured institutions nationwide have fallen below 7,000, Federal Deposit Insurance Corporation data shows. The contraction is expected to continue, especially among smaller, community based banks.
And that's bad news for small businesses. Community banks provide more than 48 percent of small-business loans issued by U.S. banks, meaning almost $1 out of every $2 lent to small firms comes from small banks. Palomarez believes "there is a credit crunch and it has stubbornly persisted." But he's optimistic things are loosening up. "What's encouraging for us…is we are happy to see the tide is beginning to turn," he said.
Wells Fargo is the corporate chair sponsor of the USHCC convention. Since 2001, it has provided nearly $2.1 million in support to the USHCC for programs, scholarships and sponsorships.Wells Fargo is the founding sponsor of the USHCC Foundation's Chamber Training Institute (CTI), which was created and launched 6-years ago in partnership with the University of Notre Dame Mendoza School of Business to provide leadership training to Hispanic Chamber board members and Hispanic Chamber staff to foster the growth and development of Hispanic business leaders and entrepreneurs.
According Lisa Stevens, Wells Fargo head of Small Business, "Working with small business owners is one of the most important things we do at Wells Fargo, and we're approving every loan we can to creditworthy small business owners. We want to place an even greater emphasis on supporting small businesses across America, and to demonstrate our commitment, Wells Fargo has set a new five-year goal to extend $100 billion in new small business loans by 2018. We also recently launched Wells Fargo Works for Small Business to deliver the wide range of products, resources, and guidance that will help small businesses take the next step towards their goals. "
Yet for Palomarez, the "most egregious problem" facing the Latino business community is the federal government's failure to give Hispanic entrepreneurs lucrative contracts. "While the small business community has received a lot of benefits from this administration," Palomarez said, citing tax cuts and other help, distributions of contracts "is where it's really bad. It's not only about providing credit, it's about providing contracts," he said.
In 2012, the federal government distributed about $98 billion worth of contracts to the nation's small businesses, but only about 8 percent of those contracts went to Hispanic businesses. Meanwhile, Latino businesses account for 17 percent of all U.S. small businesses---and their numbers are growing. The lack of government support is especially galling since there are three Latino startups for every one non-Latino new small business, Palomarez said. "It's these little businesses that proved the basis for climbing out of the recession."
Cavazos says the lack of enough federal contracts hurts the ability of Latino businesses to thrive and grow. But he also blames banks for being unwilling to loan money. "I think it's tougher [for Latinos] because many of these banks don't have Hispanics on their boards of directors." Being shut out by Wall Street and community lenders, Hispanic entrepreneurs often turn to their relatives and personal bank accounts or max out their credit cards to raise cash, Cavazos said.
The SBA study bears this out. It found that minority entrepreneurs rely disproportionately on personal capital. That places limitations on how fast a business can grow and increases chances of failure, which are already pretty high. Hector Barreto, the SBA administrator during the Bush administration, said 50 percent of all new small businesses will fail in their first four years of operation. In some sectors, the failure rate is even higher. Restaurants, for example, have a 90 percent failure rate. But to Barreto, "nobody owes a small business a loan."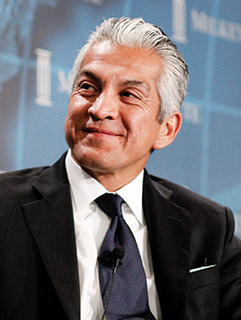 "Capital does not take a risk. That's what's happening right now and that's why the economic recovery is so slow," he said.
Barreto said many banks prefer to deal in other financial products and say "we found another way to make money and it's not by making small business loans." To survive in the current credit climate, Latino entrepreneurs should simply try harder: "I would tell small business owners to go to their local SBA office and find out which lender is making loans to businesses like mine." Barreto also said Latinos should make use of non-conventional lending companies, such as Biz2Credit, an online company that shops a loan application to a number of lenders.
Then there's the agency Barreto once headed. Created in 1953 by President Eisenhower, the SBA is intended to help small businesses obtain capital. Over the years, it's survived various Republican attempts to dismantle it, most recently by President Bush. But President Obama has been generally supportive and in 2012 raised the SBA to the Cabinet, as it had been under the Clinton Administration.
But the SBA does not provide grants or loans directly. Instead, the SBA guarantees against default certain portions of business loans made by banks and other lenders that conform to its guidelines. So in a sense, the SBA protects lenders rather than entrepreneurs. The Cato Institute has argued that "SBA subsidies represent a form of corporate welfare for the banking industry." The failure rate of all SBA loans from 2001 to 2010 was 19.4 percent, a cost to taxpayers of $6.2 billion in 2011.
Moreover, white non-Hispanic  businesses receive a disproportionate amount of those loan guarantees. Last year, Latinos were awarded about $870 million in 7(a) loans. The SBA's most common loan guarantee program, it's designed to help small entrepreneurs start or expand their businesses. That was just about 8 percent of the $10.5 billion loaned last year  to white, non-Hispanic business owners.
Applying for an SBA loan can be laborious and time consuming. First, a business owner must first find a private lender. Then he or she must fill out an SBA "borrower information form," and also provide a number of other documents, including tax forms, financial statements---both personal and business, resume and lease information.
And SBA loan guarantees, in numbers and total amounts, has been dropping over the past few years. Latinos received fewer 7(a) loans ( 3,373)  in 2013 than they did in 2007, just before the recession hit. Latino business owners received nearly three times as many loans (9,410) that year.
Another aspect of the SBA's mission is to provide advice and expertise to entrepreneurs. This is done through local SBA offices (at least one in each state); through grants to over 900 Small Business Development Centers, often located at universities; and SCORE, a corps of retired business executives with over 350 chapters. But due to a lack of outreach, many Latinos simply don't know of these services
President Obama has tapped Maria Contreras-Sweet, 59, to become the latest SBA Administrator, and only Latina in the Cabinet (joining Labor secretary Thomas Perez and newly-confirmed HUD secretary Julian Castro.) Confirmed to the post in April, Contreras-Sweet likes to talk about her rags-to-riches success story. Born in Guadalajara, Mexico, she came to the United States with her mother, Guadalupe Contreras, and five siblings after her parents divorced. She was 5 years old.
The family eventually settled in Baldwin Park, Calif., near Los Angeles. Although her family had owned pharmacies in Mexico, in California Contreras-Sweet's mother worked cleaning houses and in a poultry-processing plant to support her children. "I'm an immigrant and I marvel at this country's ability to promote social mobility," she told LATINO Magazine. As far as working in the monument-bedecked nation's capital, Contreras-Sweet said "I still get goose bumps when I drive into work in the morning."
Hers is a sort of Cinderella story. While she was still in high school, working in a jewelry store, she met the office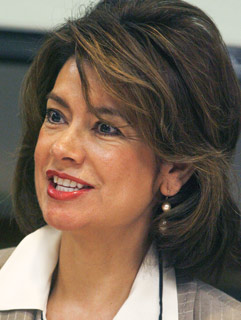 manager for the speaker of the California Assembly, who asked her if she wanted to work for his boss. She got a first-hand look at government and politics and enrolled as a political science major at California State University. After graduation, Westinghouse hired her to handle government affairs, and she went on to launch the Contreras-Sweet Company, a consulting firm whose clients included Coca-Cola.
Contreras-Sweet later founded the first Latino-formed commercial bank in California in more than 35 years. At the bank, she focused on providing access to capital and counseling to small- and mid-size businesses in Los Angeles. Contreras-Sweet was also the first Latina to hold a state cabinet post in California, running the Department of Business, Transportation and Housing, an agency with a $14 billion budget.
Upon taking charge at the SBA, Contreras-Sweet said her mission is to "expand the middle class" by promoting entrepreneurship. She says the SBA is "at record lending levels," but worries about how best to use social media to get the word out on her initiatives.
"I tweeted on my first day on the job," she said. "It's so hard in today's times to get a conventional message out."
Contreras-Sweet has proposed several reforms. "We want to make sure everyone has access to the SBA," she said. One change implemented by Contreras-Sweet is the streamlining of applications and speeding up of approvals for loans $350,000 or less.
She believes that will help minority-owned businesses in particular, because 80 percent of SBA loan applications from black and Hispanic business owners are for $150,000 or less. Contreras-Sweet also said the SBA will rely more heavily on credit-scoring processes that the agency has been developing for more than a decade. The new credit-scoring process would take into consideration a businessman's personal and business credit score. That will help Latinos who "self-sacrifice" by maxing out the credit cards and cutting their salaries to help their companies, Contreras-Sweet said. "Many times their personal [credit scores] would suffer."
The SBA has also eliminated all application fees for loans that are $150,000 or less and instituted SBA One, an online lending platform that will save banks hours of processing time and thousands of dollars on each 7(a) loan through automated document uploads, forms generation and electronic signatures. "What we are trying to do is build a capital pipeline," Contreras-Sweet said.
But the SBA can only back a fraction of the loans needed by fast-growing Hispanic-owned businesses. And since the SBA does not actually make the loans, it all comes down to the banks. And as the Brigham Young Uniuversity study reveals, they're just not lending to Latinos. "We're making a major push to open new business channels for our entrepreneurs – whether that's entering the federal supply chain, corporate supply chains, or international export supply chains. I'm also placing a greater emphasis on culturally competent and bilingual services to make sure Hispanic entrepreneurs have the support they need. Just this month we launched twice-monthly Spanish webinars to help business owners navigate the Affordable Care Act," said Contreras-Sweet.
Cavazos of the San Antonio Chamber of Commerce said Contreras-Sweet is a "not a political appointee but someone who can get things done. The good news for Latino businesses is she has a background in micro-business," Cavazos said. "We just need more access to capital."
By Ana Radelat