The digital revolution has given rise to a multimedia onslaught that challenges us to either keep up with technology or get out of the way. Traditional print media has been hit hard, with many daily papers and magazines folding or staying alive with just digital versions. Latino media and journalists have had to adjust with the times.
Many Spanish-language newspapers have either ceased publication or else been sold, like El Diario and La Prensa,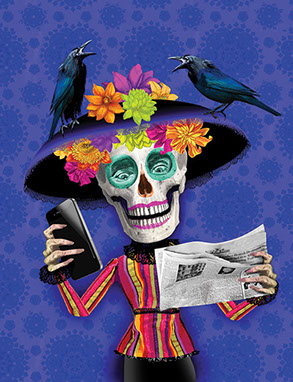 formerly owned by the Lozano family. Magazines have been hit especially hard. Founded in 1987, Hispanic was shuttered in 2012, and its former rivals Hispanic Business and Poder stopped publishing and went online. While some Latino journalists have risen up the ranks of of mainstream outlets, others have decamped to become entrepreneurs, launching blogs and websites with varying success.
Advocating for both camps, the National Association of Hispanic Journalists (NAHJ) and the National Association of Hispanic Publications (NAHP) have also had to make tough choices, repositioning themselves and reorganizing to better meet the needs of their constituents. Like many institutions, they have had their share of critics. Some wonder whom they serve and to what purpose. Is it Dia de los Muertos for Latino media?
"Our mission is to champion the fair and accurate coverage of Latinos in media. That is to ensure that media does not fall into generalizations that ultimately are riddled with stereotypes that reinforce bias and discrimination," says Hugo Balta, current NAHJ president. "When we look at these newsrooms, when they make mistakes, I ask, who are the decision makers? More often than not, mistakes happen because people around the editorial table are not diverse. You cannot champion diversity if your team is not diverse."
According to Eddie Escobedo, Jr. current president of the NAHP, "Our number one call is to support Hispanic publishers. Our editorial binds our community. We have a voice, we are activists, we're on the forefront and that's what makes us viable to advertisers who know what we're about."
It's all in the family, since the two organizations are not-so-distant cousins. The concept for both was hatched in 1981 when the California Chicano News Media Association held its first national conference at the University of California at Los Angeles. Attendees agreed to establish two national organizations, one for Hispanic journalists and one for Hispanic publishers. The seed money to start both came from Frank Gomez, then an executive with Philip Morris.
One year later, the first national Hispanic media convention was held, spawning the two organizations. Gerald Garcia was named founding president of the NAHJ and Kirk Whisler became founding president of the NAHP. "When we originally started, Hispanic print had less than two million combined circulation and ad revenues of less than $50 million, it was a very small marketplace," shares Whisler, now the president of Western Publication Research. "I saw the need of getting together and working together to attract national attention and advertisers, and that certainly worked."
Initially, the groups did work together, co-hosting national media conventions from 1982 to 1989 as well as separate conferences for each group. They also brought on a third partner, the Hispanic Association of Media Arts and Sciences, that later evolved into the National Association of Latino Independent Producers (NALIP). Attendance grew to nearly 2,000 under the leadership of NAHJ executive director Frank Cota-Robles Newton, assisted by a star-studded roster of participants like Edward James Olmos and Cheech Marin.
While each group organized panels and workshops to meet the needs of their members, leaders at the NAHJ began to feel uncomfortable with the conference's glitz and glamour. "Some felt that the Hollywood component was detracting from the focus on issues and journalism. There was also concern over how the sponsorship revenues were shared," remembers Ivan Roman, NAHJ member since 1986 and former executive director, 2003–2011. In 1989, the groups decided to host separate conferences.
"In the beginning, our conferences were pretty amazing. Frank [Cota-Robles Newton] did such an amazing job of making them look easy," offers Whisler. "[But] we wound up separating, which was sad."
The NAHP forged ahead after the split, focusing on helping its members grow and attracting national advertising. Beginning with a handful of newspapers, the organization has grown to represent publications in in 39 states, the District of Columbia and Puerto Rico, with a combined circulation of over 23 million. While advertising in Latino media in the 1980s made up about 2 percent of the total, it has grown to 15–20 percent, according to Whisler.
Early in its history, the NAHP partnered with Coors Brewing (remember the slogan "Decade of the Hispanic"?) to conduct the first Hispanic Readership Study in 1985 and that same year, started a group advertising buy program, creating a five-year plan that brought national advertising to its members. Many leaders stepped up to guide the organization, including Eddie Escobedo, publisher of El Mundo newspaper in Las Vegas. His son, Eddie Escobedo, Jr., hopes to build on his late father's legacy.
The growth of digital media has had an impact on NAHP members but Escobedo, Jr. asserts that Latino newspapers are thriving, though many are also being bought by media conglomerates like Gannett and the Washington Post. While this represents an economic opportunity for entrepreneurs, the loss of Latino ownership can eliminate a trusted source for news and information for the Latino community.
For example, in 2003 the two biggest Spanish-language dailies in the U.S., La Opinion and El Diario, merged to form Impremedia. The CEO was Monica Lozano, granddaugher of La Opinion's founder, Ignacio Lozano. But a buying spree of other newspapers, such as Chicago's La Raza, generated a heavy debt load, and a sharp drop in advertising revenue left the company tottering on a financial cliff. In March 2014 it was sold to the Argentine newspaper La Nacion. According to the website Poder360, the Lozano family, which owned La Opinion for 85 years, is no longer a shareholder.
One unfortunate corollary for Latinocorollary is that many mainstream media companies have Latino puboications themselves. For example, Time Warner has People en Espanol, and Meredith publishes Siempre Mujer. Funded with corporate deep pockets, these publications often take advertising away from Latino-owned media.
"Last October we elected a new board made up of second generation publishers," continues Escobedo, Jr. "We have a different outlook. We understand technology, the importance of maintaining websites and social media. We offer workshops to help our members take advantage of this growing medium."
The group also revised its bylaws to add a corporate member to its board.
Continuing to monitor the health of Latino media, Whisler reports that the peak period for Latino print media was the mid-1990s to mid-2000s, when circulation and ad revenue grew by 20-30 percent annually. The setback in general market media began between 2005-2006, but while Latino media continued to thrive, they did not effectively distinguish themselves from the mainstream so that advertisers and their agencies assumed they were being negatively affected as well. More and more advertising dollars have been directed to digital outlets where Latino media are less competitive. Ironically, Whisler says, Latinos represent "such a solid community for reading, spending $580 million on books annually for themselves and their kids, it's unfortunate that leaders at that time did not effectively separate on the advertising front."
According to media experts, Latino newspapers and magazines are faced with a seachange in the world of advertising. Many companies that once supported print, such as Coca-Cola and Anheuser-Busch, have abandoned it altogether. Many Latino publications have reacted by creating events and other programs to connect advertisers with their readers. Some have been successful in generating new revenue streams, but the role of editorial has become devalued, since most content is free on the internet. Others have done away with print editions in favor of websites, but found them even more difficult to monetize. Generating sufficient internet traffic to attract advertisers is often an insurmountable obstacle, and many of these ventures have floundered.
Last year was a particularly challenging year for the NAHP. Two months before its annual conference, longtime NAHP president Zeke Montes passed away. The loss of Montes was compounded by the departure of much of the NAHP's Washington, D.C. staff, including the executive director. Struggling through the conference without the guidance of a veteran leader like Montes was a challenge but by January, Escobedo, Jr. says the NAHP started to regain its equilibrium. "Our main focus after that turbulent year was to reorganize and try to reconnect with the members that we lost and put our financial house in order. We've initiated a membership drive to get new publications and restrenghthen our membership by highlighting what we have to offer, such as webinars on how to use technology, guest speakers to supply our members with useful information and tactics they can use to increase readership and revenue."
The group advertising buy for NAHP is still active, managed by the Refuel Agency. Acccording to executive vice president of sales Greg Anthony, the client list for the NAHP is healthy, growing both in activity and dollars. Not every NAHP member, however, receives an ad. That depends on the advertiser. The media buy makes advertising easier by offering one-stop shopping.
"If you ask a client if they want to advertise in community papers or USA Today, they'd probably prefer community papers but finding them and purchasing ads one-by-one is too much trouble," asserts Anthony. "It's much easier this way."
Anthony admits that there was a drop in revenue between 2009–11, a period he describes as "the death of newspapers." But like Whisler, he feels that Latino community newspapers suffered as a result of the misperception that all newspapers were failing when that was not true of Latino papers.
Cathy Vasquez-Revilla, publisher of La Prensa in Austin, said she never received any ads from the group buy. She joined the NAHP in 1989, but only maintained her membership for a few years. While she enjoyed the conferences, the cost of attending them, plus the membership and the audit, proved too costly. "Basically, if I had received any benefit from being a member, I would still be one," she asserts.
Free to focus exclusively on its mission of advocating for Latino journalists and the portrayal of Latinos in mainstream media, the NAHJ published its first Brownout Report in 1996, exposing the lack of representation by Latinos in newsrooms and editorial boards. Not only is representation important as it relates to employment opportunities, explains Roman, it also affects the kind of stories and the manner in which Latinos are reflected by the mainstream media.
Ten years later, the group assessed the progress since its initial report. Over this period, networks aired an estimated 140,000 stories but only 1,201 stories, or .85 percent, were about Latinos. Of those stories, 36 percent focused on immigration and crime.
"We always had advocacy as a mission, to increase Latinos in newsrooms and get more of our stories told," asserts Roman. "We focused on covering the community fairly, creating awareness among mainstream and our own journalists who didn't see the connection between how you're portrayed in media and how you're treated in society. Today, the media and our community understand that the manner you're covered has an impact on how you're respected amongst society in general."
The NAHJ engaged in the controversy over how to refer to recent arrivals, from the most offensive, "illegal alien" to the least, "undocumented immigrant." CNN's Lou Dobbs was the worst offender and Roman says the NAHJ met with CNN's executives on a couple of occasions. While the network eventually agreed to adopt the use of undocumented immigrant, Dobbs remained obstinate, until he resigned, under pressure, in 2009.
Roman says the NAHJ, through its conferences and scholarship programs, has distributed more than $1.3 million in scholarships since 1988 and helped find employment for Latino journalists through internships, job fairs, job banks, and professional development activities. But one of the NAHJ's best accomplishments was the change in attitude it developed among Latino journalists. "It's important to understand biases and that being Latino is part of who you are," he says. "Your experiences are an asset that you bring to a newsroom, and it's okay to bring it to the table. Who you are makes you a better journalist."
But like the NAHP, the NAHJ has had to adapt to the changing media environment. Restructuring began two years ago under the leadership of Balta, a producer for ESPN. The previous board instigated sharp cuts to accommodate budget shortfalls and while Balta agrees that some cuts were necessary, others were extreme. As a result, the NAHJ experienced a backlash from members and sponsors who felt that their needs were not being met or that they were being ignored. Membership also dropped substantially, down to 800 in 2012. Membership has rebounded somewhat, growing to 1200 to date and is expected to climb to 1800 by the end of the year.
"We suffered credibility and image problems with our members and sponsors," Balta admits. "Going in, I felt that despite the fact that the organization was undergoing great adversity, it was also an opportunity for change," he said. "According to the U.S. Census, Latinos led the country's population growth, with $1.2 trillion buying power. We're an important voice politically, so we really needed to invest in the growth of the association. I looked at a budget that spoke to bringing back some of the staff to conduct regular business. I traveled across the country to meet with members and local chapters and sponsors to nurture and build new relationships. I wanted to get a better understanding of what the business goals were and how to meet them, keeping in line with the mission of the NAHJ."
Would the NAHJ ever nip at the hands that feed it? Some of these relationships are with multinational media conglomerates such as Time Warner and Disney. Currently, the NAHJ.org website lists sponsors such as Scripps, Cox, Hearst and Gannett. This is potentially a conflict of interest, given NAHJ's role as an advocate for Latinos in big media. But Balta counters: "NAHJ is sponsored by companies [media and non-media] as well as the members of NAHJ. The relationship we have with sponsors has never hampered the association's ability to defend the rights of journalists and the Latino community. In fact, the open and transparent relationship NAHJ has with sponsors has proven very productive in paramount situations."
In order to mend feelings of isolation and a perception that the NAHJ board had made decisions unilaterally, Balta began to develop the organization's regional chapters, expanding into new locations like Atlanta and supporting five regional events a year. "One of the first things I did was produce a weekly president's message to inform members and sponsors about what we're doing," he adds. "If I've been successful at anything, it's producing consistent communication through various vehicles."
Iconoclastic columnist Ruben Navarrette, himself an NAHJ member, reported on one controversy that took place at the the NAHJ's annual convention in Anaheim last year. On the agenda was a panel moderated by Eva Longoria that included Hector Barajas, a Republican political strategist. According to Navarrette, the NAHJ buckled under pressure from Democratic California Assembly Speaker John Perez and ousted Barajas from the panel. Fueling the fire, Navarrete charged that NAHJ executives had "strayed from the princiuples and practices that form the underpinnings of the profession." Balta took it all in stride, accusing Navarette of harassment and "pompous journalism."
Another recurring criticism directed toward the NAHJ is that the organization only supports Latinos working in mainstream print, television and radio, often looking down upon journalists employed by Latino-owned media, as well as ignoring the role of community media in shaping the Latino narrative. Latino-owned media, which often serves as an advocate for our community, has been derided by NAHJ leaders for ignoring the concept of "church and state," a strict division between advertising and editorial content, professed by mainstream media. Balta is mindful of that issue and points to his efforts to offer more programs directed at Latinos in Spanish-language media, including producing the first style manual for them, and helping Latino journalists who were displaced by the economic recession and the contracting size of newsrooms.
"For our association to grow, we must continue to be more relevant to the landscape of media professionals today," agrees Balta. "Speaking for myself and the association, we value the work smaller media outlets do because they're locally focused, without them, our stories would not be told. Some transcend the local audience and can get picked up by mainstream media. The problem we see from a mainstream perspective is a lack of understanding about how to reach Latinos."
But Latinos and non-Latinos alike are increasingly getting their news from Facebook posts and Google searches rather than daily newspapers or network television. Content sponsored by advertisers, euphemistically referred to as "native advertising," appears alongside legitimate articles with nothing to distinguish church from state. Whether the traditional role of the journalist is still relevant today remains an unanswered question.
Both groups celebrate their thirtieth anniversaries this year. NAHJ held its annual convention August 7–9 in San Antonio, TX while the NAHP will gather September 24-27 in Oak Brook, IL. While it's unlikely that the two will ever reunite, they still have a role to play, perhaps now more than ever.
By Valerie Menard