Telemundo is on a mission to redefine Hispanic media. And if recent historic ratings successes over rival Univision are an indication, the NBCUniversal-owned broadcast network is well poised to succeed. For more than a year, Telemundo had been the #1 Spanish-language network at 10 p.m. But for more than a month this summer, it topped Univision in the entire Monday through Friday primetime among adults 18-49, according to Nielsen. The ratings surge included a #2 ranking among broadcast and cable networks regardless of language in the key 18-34 demo, ahead of CBS, ABC, Fox and Univision.
"We are pleased that our investments are starting to pay off as we see more and more viewers prefer to consume the NBCUniversal Telemundo Enterprises platforms," said Cesar Conde, Chairman of NBCUniversal International Group and NBCUniversal Telemundo Enterprises.
Telemundo's competitiveness is fueled by a primetime programming strategy at 10pm that has evolved the conventional telenovela formats into more compelling Telemundo Super Series™ that run multiple seasons and are built on storylines that resonate with U.S. Latinos. Telemundo produces or co-produces most of its primetime content. A case in point is the historic ratings win for the network built on the recent primetime premieres of three original productions on the same night. In a play on the Spanish words for Tuesday and the number three, Martres on July 19 featured three hours and three premieres of Silvana Sin Lana; Sin Senos Sí Hay Paraiso (sequel to the hit Sin Senos No Hay Paraiso); and the third season of Señora Acero 3, La Coyote.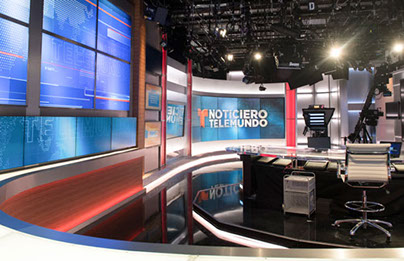 Thanks to its NBCUniversal parent, the media and entertainment subsidiary of Comcast (NBCUniversal acquired the Spanish-language network 15 years ago) Telemundo has invested heavily in premium programming content and new formats, while growing its cross-company digital platforms. The network features original scripted dramas from Telemundo Studios, the top producer of primetime content in Spanish in the U.S., plus specials, theatrical motion pictures, news and sports, reaching 94% of U.S. Hispanic viewers in 210 markets through its 17 owned stations and 54 broadcast affiliates.
At last May's upfront presentation for advertisers, Telemundo unveiled a robust 2016-2017 season lineup of 1,100 hours of new multi-platform programming which includes spin-off and original Super Series, including a fictional story inspired by Venezuela's Hugo Chávez, a bio-musical based on the life of Jenni Rivera, a new mini-series about boxing idol Julio César Chávez, a Sunday night block hosted by the legendary Don Francisco comprising a kid's talent show, and a late show featuring celebrity interviews.
On the sports side, team coverage of the Rio Olympics was leveraged by the behemoth that is NBC Sports. Telemundo Deportes offered 100 more hours of Olympic coverage than it did for London 2012 and digital features that allowed viewers to follow their favorite athletes in Spanish. The company is also launching new digital content vehicles focused on the countdown to the 2018 FIFA World Cup Russia and CONCACAF qualifiers. Telemundo and NBC Universo own the prized Spanish-language U.S. video rights for the FIFA World Cup through 2026.
Conde, who joined NBCUniversal barely three years ago as Executive Vice President of NBCUniversal, is now the Chairman of NBCUniversal International Group and NBCUniversal Telemundo Enterprises. The NBCUniversal Telemundo Enterprises portfolio includes Telemundo Network, NBC UNIVERSO cable channel, Telemundo Studios, Telemundo International and its Digital & Emerging Media units. He also serves on the Executive Committee of NBCUniversal and reports to NBCUniversal CEO Steve Burke.
A Miami native, Conde graduated from Harvard and earned an MBA from Wharton. He served as a White House Fellow for Secretary of State Colin L. Powell before joining Univision in 2003 and being named its President in 2009. Guided by the belief that the U.S. Hispanic market is the biggest growth opportunity for any business, Conde foresees "tectonic changes" in Hispanic media in the near term and has pledged to redefine the industry by continuing to invest heavily in innovative content, state-of-the-art operations, and the best talent in front and behind the cameras. In early 2016, NBCUniversal Telemundo Enterprises announced a $250 million investment for the construction of a new global headquarters in Miami-Dade County to bring all of the company's offices, broadcast, production, distribution, cable and digital media operations under one roof. With a completion date in 2018, the technologically advanced facility with expanded original content production capabilities will drive more integration across the company's broadcast, cable and digital properties.
NBCU Hispanics Plus, the cross-company digital platform, already delivers the largest digital footprint among U.S. Spanish-language broadcast networks, reaching nearly 31 million Hispanics online, according to comScore. Yet Conde sees vast opportunities to create more immersive experiences across multiple screens. "Latinos over-index on the use of digital and social media," he explained. "We are looking to collaborations with industry-leading content creators to learn and grow our digital business." Last May, the company announced digital partnerships with Mashable, Tastemade, Buzzfeed and Vox to reach the coveted Generation M—mobile, multicultural millenials—with original content tailored to their cultural interests.
Social and community initiatives are at the core of Conde's business approach. And so Telemundo's path to conquering the hearts and loyalty of Hispanic audiences has included empowering the community to improve their lives in ways that matter most. "We have the privilege of collectively serving millions of Latinos through our owned-and-operated platforms," he explained. "With that privilege comes a great responsibility to not only inform and entertain, but to also empower the community that continues to support us."
Last June, NBCUniversal Telemundo Enterprises launched the EL PODER EN TI campaign targeting Hispanic education, health, and finance in collaboration with numerous Hispanic organizations including NCLR, LULAC, and ASPIRA, as well as national health focused organizations including the American Cancer Society, the American Heart Association, the American Diabetes Association and Susan G. Komen, among other non-profits. Helmed by Rocky Egusquiza, VP of Community Affairs, EL PODER EN TI is focused on empowering Latinos. It is supported by a dedicated website (www.elpoderenti.com), digital tools, downloadable resources, and inspirational stories, as well as a series of public service announcements starring network talent such as Don Francisco, María Celeste Arrarás, José Diaz-Balart, Dr. Ana María Polo and Raúl González. On-the-ground events in owned-and-operated station markets are expected to reach more than 7 million Latinos across the country.
Egusquiza explains that a big differentiator between English and Spanish-language media is "our commitment to the community and how they rely on us and the work we do in this space for information and resources." Thus, the campaign's content and educational resources target four areas where Hispanics are markedly underrepresented: student achievement (Tu Educación); health and disease prevention (Tu Salud); financial literacy (Tu Dinero); and civic engagement. And the community has responded enthusiastically, reports Egusquiza, looking at digital metrics across the various EL PODER EN TI touch points: "Engagement on our Facebook page has been growing at the rate of 18% month to month. We have exceeded 60 million impressions and our goal is to reach a million page views on our website."
Telemundo's commitment extends to civic engagement in the 2016 elections and getting young Latino voters to the polls. The network's #YODECIDO cross-company effort centered on the political campaign season was born out of the importance of Hispanic participation in the upcoming national elections. Besides grass-roots partnerships across the country, Telemundo will launch an experiential millennial vote challenge to "engage young Latinos and help them understand the importance of their participation in the polls come November," Egusquiza said.
Working closely with NBC News, Noticias Telemundo 2016 election coverage is another component of #YODECIDO. Executive Vice President of News Luis Fernández explained that the network's team coverage of the Democratic and Republican conventions, anchored by José Díaz Balart, offered fresh on-the-ground perspective and stories that played well on digital and social channels. Users had access to the day's top speeches and original content under the hashtag #YODECIDO, and constant updates via the Telemundo News mobile app, its website at www.noticiastelemundo.com, and Telemundo News' Facebook, Instagram and Snapchat properties.
It is worth noting that Telemundo is the only U.S. Spanish-language network to have hosted an official Republican debate and forums with the two leading Democratic candidates during this election cycle. It produced six special programs to cover the most important moments of the presidential nominating conventions. And Fernández has big plans for comprehensive coverage of the presidential debates. "It has been a very busy election season with all hands on deck," he said. María Celeste Arrarás and Díaz-Balart, who does double duty as host of the Saturday NBC Nightly News, will lead the reporting team which includes Lori Montenegro, Rogelio Mora-Tagle, Rebeka Smyth, Rubén Pereida and Edgar Muñoz.
As Election Day and the fall entertainment season approaches, Telemundo stands ready to reprise the historic ratings surge it scored this summer. Given its increased investment in original content focused on the U.S. Hispanic experience, its deep community roots and civic engagement, innovative programming strategies, expanded digital properties, and inspired leadership, Telemundo may well be poised to topple Univision as the top-rated Spanish-language broadcast TV network.
Stay tuned.
By Rosemary Ravinal