SPRING 2013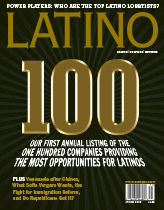 FEATURES
Who supports the Latino community? Find out in our first annual listing
of the top 100 companies providing
the most opportunities for Latinos in areas such as education, hiring, philanthropy, and others.

Though much maligned,
lobbyists advocate for many
important causes. Meet some of
the saviest political samurai in
our nation's capital.
By Patricia Guadalupe.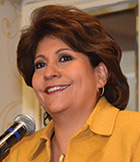 The second annual NO MAS HAMBRE Summit took place on December 7, 2012 in Washington D.C.  Presented by LATINO Magazine, the Summit addressed the issue of hunger in the Latino community. According to some,  it was a good thing the event took place before the end of the Mayan calendar.
By Evelyn Castillo

Republicans took a drubbing in
the last election, with over 71% of
Latinos voting for Obama over
Romney. Have they learned
their lesson?
Maybe, maybe not.
By Ruben Navarrette, Jr.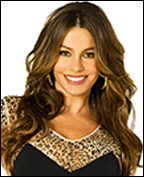 Everything. And she's going
to get it. Television's highest
paid actress is a keen businesswoman
who's worked very hard to succeed.
Here's how she made it.
By Bel Hernandez Castillo

For all the talk of diversity in the administration, they can't walk the walk. The percentage of Latinos in the government remains dismally low.
What can be done?
By Ana Radelat
Juan Nevarez came to Paso Robles
with a dream. Now it's come true,
in 80 acres of postcard-perfect
vineyards overlooking the
Salinas River.
By Pedro de Avila