This winter, net neutrality has snowballed into the tech battle of the decade, and most Americans are just starting to take notice. But the implications could be significant, and impact anyone who goes online.
Just what is net neutrality, anyway? The benign-sounding term was coined by technology expert Tim Wu to describe the principle that the Internet should remain open and free. Practically speaking, this means that Internet service providers (ISPs) such as Verizon should not discriminate against different kinds of users and content providers. No one should have to pay more to either send or receive content online. Otherwise, it wouldn't be a level playing field, which is supposedly what the Internet is all about.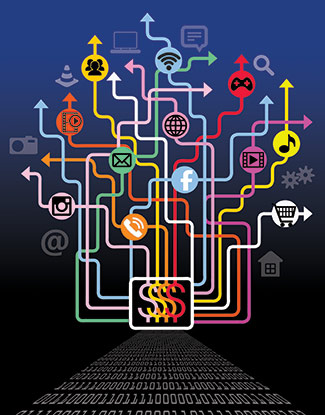 What could be wrong with that? The ISPs who own the information superhighway argue that Web traffic needs to be managed like an actual superhighway. Since the early days of the Internet, file sizes have exploded, creating massive traffic jams. For example, why shouldn't ISPs be able to charge more to hugely profitable Google, which owns YouTube, or Netflix, which accounts for nearly one third of peak internet traffic in the U.S., or Facebook, the largest content provider of all? Someone has to pay for increased bandwidth, and shouldn't it be these high-flying companies rather than consumers?
Both sides would agree that it's all about money. But it remains to be seen how this battle between corporate giants over telephone bills affects Latinos. Do we have a dog in this fight?
A bit of legal background might be helpful. In January, the U.S. Court of Appeals for the District of Columbia struck down the Federal Communications Commission's (FCC) net neutrality rule, a regulatory attempt from 2010 (which didn't apply to mobile traffic) to bar ISPs from blocking or "unreasonably discriminating" against web content. Verizon filed the suit against the rules on the narrow grounds that the FCC had no jurisdiction to set such regulation.
Reaction to the ruling has been mixed. While the Court of Appreals effectively nixed the rules, it would still allow the FCC to create new ones under Section 706 of the Telecommunications Act, which deals with broadband adoption. And that's exactly what Tom Wheeler, Chairman of the FCC, intends to do. Wheeler is already collecting public comments as the agency heads back to the drawing board to come up with new regulations.
Still, opponents of net neutrality rules say the regulations are a solution to a problem that does not exist and will be harmful to future innovation. Verizon declined to comment for this article, but referred LATINO to Dr. Everett Ehrlich. "At some point you've got to stop presuming that there will be harm because it's choking off innovation and investment and I think that's part of the cost of neutrality that we don't talk about," he said.
Ehrlich served in the Clinton Administration as Under Secretary of Commerce for Economic Affairs and founded a consulting firm, ESC Company, in Washington D.C. The firm counts Verizon as a client. Ehrlich says it's the threat to innovation that makes net neutrality counterproductive to decreasing the digital divide, a top concern among Latinos in this battle.
"What I don't get is how any of this neutrality stuff is going to get us to closing the digital divide," he said. "When we talk about the divide we can't separate it from the fact that we have a very pluralistic Internet with many different technological approaches that are competing and that is an advantage for the U.S. I think that's the best way to expand it and the best way to keep it competitive and for the communities that are underserved and are on the wrong side of the digital divide."
Another company that declined to comment is Google, which in recent years has agressively pitched its products and services to Latinos. For example, at the recent SXSW Interactive Festival in Austin, Google promoted an event with the local Hispanic chamber of commerce: "Join us as we show you how to create a Google+ page in minutes right from your mobile device! Increase your SEO optimization with your Google+ page. Learn directly from Google experts."
Google leads the pack among tech companies attempting to influence politics, having shelled out $14 million to lobbyists in 2013, according to figures complied by Consumer Watchdog. It's in Google's interest that content like YouTube videos be streamed to consumers without interference from ISPs. But through its new Google Fiber program, Google is also becoming an ISP, which may explain its silence on the issue. Recently, Google has been lobbying state lawmakers who would ban wearing Google Glass headsets while driving. New York state assemblyman Felix Ortiz called them "extremely dangerous technology."
AT&T, who supported the original rules, has said it will continue to work with the FCC moving forward and as it defines its authority. "AT&T has built its broadband business, both wired and wireless, on the principal of Internet openness.  That is what our customers rightly expect, and it is what our company will continue to deliver.  That is also why we endorsed the FCC's original rule on net neutrality, and is why we pledged to adhere to openness principles even after the recent court decision," said Jim Cicconi, AT&T Senior Executive Vice President of External and Legislative Affairs.
But proponents of net neutrality say the regulations have nothing to do with stifling innovation, but rather competition. For example, since many ISPs are also content providers, they might try to block a competing website. "It's especially dangerous for communities that already have limited to poor access to reliable broadband and it just creates an additional barrier for those communities. It 's creating just another barrier to getting our voice out there and participating in media and online," said Clarissa Ramon, Government Affairs and Outreach Associate for Public Knowledge, an advocacy non-profit organization that seeks to preserve the openness of the Internet. "Do we really need to add another layer of complication when it when it comes to things like prioritized access to content that they want to view? It's creating just another barrier to getting our voice out there and participating in media and online."
While some Latino leaders reacted with a shrug to the ruling, others took action. Presente.org and the National Hispanic Media Coalition (NHMC) joined a coalition that included Free Press, ColorofChange, the ACLU, Sierra Club and others in collecting petitions urging the FCC to protect net neutrality.
"We demand that the Obama Administration stop corporate control of the internet," said Arturo Carmona, Executive Director of Presente.org, which contributed 16,000 signatures from its members. "Latinos are among the fastest-growing group of internet users. ... At a time when communications technology is ubiquitous, Internet freedom is fundamental to basic freedom."
"Without open internet protections, the biggest phone and cable companies are now free to fundamentally change how the internet works for their customers in order to further pad their already astronomical profits," said Jessica González, NHMC's Executive Vice President & General Counsel. "For Latinos and other traditionally disadvantaged Americans who have used the internet to push back against discrimination and to make a living, the consequences of facing yet another gatekeeper are particularly dire."
A number of Latino organizations had previously lobbied against net neutrality. A LULAC press release from December 2010 stated: "As we have long maintained, Americans on the wrong side of the Digital Divide---as well as those who stretch their thin budgets to subscribe today---can ill afford to shoulder the $350 billion price tag for deploying the next generation of high-speed pipes throughout the nation. LULAC had early expressed concern to the FCC that if net neutrality rules barred innovative partnerships between content providers and internet service providers, consumers would be left to pick up the entire tab of the broadband build out to the homes—a prospect that we find unacceptable."
NCLR had joined the fray as well, along with the National Urban League, and the Asian American Justice Center, noting in a letter to the FCC that: "If the history of civil rights in America teaches us anything, it is that facially neutral laws and regulations are not always applied neutrally to the constituencies we represent. We certainly don't want that to happen to internet regulation too, and we're very concerned that, despite your very best intentions, some aspects of net neutrality might not turn out to be neutral as applied to our constituencies."
Both sides apprear to be making the same argument over net neutrality, that internet access will become more expensive and therefore broaden the digital divide for Latinos. Anything but neutral, each side has attempted to demonize the other, with accusations of greed and anti-competitive practices. There are compelling arguments for either position. Many content providers have sidestepped the issue by directly cutting deals with ISPs or in the case of Google, becoming an ISP itself. And neither side applies net neutrality in the developing world, where much of the growth will come in the future and the cost to access the Internet is significantly higher than in the U.S.
But if Latinos are to take sides, then it's hardly a level playing field. ISPs such as AT&T, Verizon and Comcast have a long history of support for the Latino community, particularly when it comes to education, and a cadre of top Latino executives such as Ralph de la Vega, president and CEO of AT&T Mobility. Content providers like Google, Netflix, and Facebook are new kids on the block, with no Latinos in the C-suite. In comparison, they fall short as corporate citizens, with only token support for Latino organizations. Whom should we trust?
Martin Chavez is the Senior Advisor for the Hispanic Technology and Telecommunications Partnership, a coalition of 20 Latino organizations, describing itself as the "national Latino voice on technology and telecommunications." He concludes that:
"Net neutrality rules ... affect Latinos in a number of important ways. ...[They] have the potential of slowing down investment as well as increasing costs for both providers and consumers. More importantly, these rules could decelerate the incorporation of broadband-enabled Internet and mobile applications in key areas such as health care, education, where the community still faces many challenges."
But according to Michael Scurato, Policy Director of the NHMC: "The Internet has been an incredibly important platform for Latinos. ... Without strong, enforceable rules protecting Internet freedom, there is a very real risk that the large corporations that own the pipes will try to increase their already astronomical profits by discriminating against or prioritizing certain content, or blocking websites that refuse to pay new tolls. The opportunities that so many take advantage of today will be limited to only those that can pay the most in the future and communities that have been shut out of the conversation for so long will be shut out once again."
And so the debate over net neutrality will continue, which is a good thing for Latinos.
By Evelyn Castillo