You may never have heard of him, but Oscar Isaac has had a most interesting year. He won a Golden Globe nomination for his breakout role as Llewyn Davis in the Coen Brothers' film Inside Llewyn Davis, which skyrocketed him to the top of the Holllywood A-list of leading men. Soon he will be seen in two of Hollywood's biggest franchises, Star Wars: The Force Awakens and X-Men: Apocalypse. So if you don't yet know who Oscar Isaac is, don't worry. Soon his name will be as familiar to you as Al Pacino.
Isaac was born in Guatemala to Maria Eugenia Estrada Nicolle and Oscar Gonzalo Hernandez-Cano, who hails from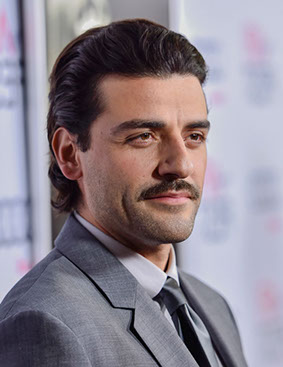 Cuba. The family moved to Miami when Isaac was only five months old and it was there he grew up. His love of music began when he learned to play guitar from his dad. That would lead lead him to form his own ska/punk band, The Blinking Underdogs, in which he did lead vocals, played the guitar and wrote songs. His second love was acting, and in between gigs he appeared in productions at the Coconut Grove Playhouse and the Area Stage in Miami Beach. These experiences would serve him well for the future roles he was destined to play.
You see, Oscar Isaac believes in destiny. Early on, he decided to drop his surname to avoid being type-cast as a "Latino gangster" and because, "Being called Oscar Hernandez in Miami is like being called John Smith---there 15 pages of us in the phone book." He opted to use his middle name Isaac instead.
Another decision that would put Isaac on track was to apply to the Julliard School for the Performing Arts. As he walked past the school while in New York. he recalled how one of the assistant directors at the Coconut Grove playhouse had once joked that none of the actors there were good enough to get into Julliard. He had to prove him wrong, so he auditioned and got in.
Now classically trained, Isaac was prepared to tackle any role. Upon graduating from Julliard in 2005, Isaac was cast in New York Public Theater's Two Gentlemen of Verona, in a role that the late Raul Julia had done in the 60's. He received rave reviews for his performance as Romeo in Romeo and Juliet, and starred in Pulitzer Prize winning playwright Nilo Cruz's Beauty of the Father.
In 2006, he was cast in his first film role in the Romanian film
Pu-239 and he hasn't had time to look back since. He went on to play Orestes in director Alejandro Amenabar's Agora, and was awarded the Australian Film Institute Award for Best Supporting Actor for his role as Jose Ramos-Horta, a young revolutionary leader in Balibo. In 2010 he portrayed Prince John in Robin Hood, directed by Ridley Scott, and worked alongside Russell Crowe, Cate Blanchett and William Hurt.
Fast forward to 2013 and Isaac's world was about to change. "It was destiny," Isaac said of landing the title role in Academy Award winners Ethan and Joel Coen film Inside Llewyn Davis. After months of auditioning, the Coen Brothers were ready to put their project on hold. They still hadn't found the right actor, who had to be a singer and guitar player as well. Then they met Isaac. "It's amazing how life prepares you for the thing that you really want," Isaac said in a recent interview. "To be able to work with the Coen Brothers in particular and be able to use music was incredible."
When you star in your first major lead role alongside a star like Justin Timberlake and no one seems to remember he was in it, you know you've made your mark. Isaac's portrayal of Llewyn Davis, a young, talented but unsuccessful singer who navigates the Greenwich Village folk scene during the early 60's, garnered him a Golden Globe nomination, a Best Actor nod from The National Society of Film Critics, and a ticket to stardom.
This year, Isaac delivered a nuanced and powerful performance in A Most Violent Year as Abel Morales, a New York business man running a heating oil business in the early 80's. Despite mounting pressure, he refuses to lose his moral compass while reaching for the American dream. But Morales is not all business. He shows a softer side, flawlessly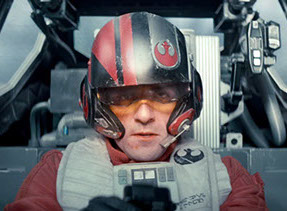 changing gears and language while trying to help a troubled employee. Comparisons by film critics and audiences to "vintage Al Pacino" for Isaac's performance and his movie star looks were inevitable. Both Isaac and Jessica Chastain, who plays his wife, were awarded Best Actor and Best Supporting Actress awards from the National Board of Review, respectively.
But if Isaac's body of work to date has seen him build a solid reputation, his upcoming projects will cement his international stardom. We are talking big budget studio film franchises, a space where few Latinos have gone before.
In Disney's Star Wars: The Force Awakens, he plays Poe Dameron, an X-wing pilot. starring alongside returning original cast members Harrison Ford, Carrie Fisher, and Mark Hamill. This seventh installment in the Star Wars film series was directed by J.J. Abrams ( Star Trek Into Darkness). It has been slated for a release date of December 18, 2015, and will add possibly another $400 million in box office revenue to a franchise that has collectively made upwards of $4.8 billion dollars worldwide and still going strong.
Isaacs is currently in Canada filming X-Men: Apocalypse, the follow-up to 2014's X-Men: Days of Future Past. While big budget films always seem to be shrouded in secrecy, we can say that the budget will be about $200 million, and we now know Isaac will play Apocalypse, the most dangerous villain the X-men have faced. This film will not be ready for release until May 27, 2016 but it is highly anticipated.
In between these blockbusters, Isaacs recently finished filming his most ambitious role for TV, the lead in HBO's Show Me A Hero, a six-episode limited series. He plays Yonkers Mayor Nicholas Wasicsko, who finds himself in the middle of a racial controversy in 1993 when a federal court orders him to build low-income housing units in the white neighborhood of Yonkers, NY.
Not since Hollywood's Golden Era, when you had stars like Anthony Quinn and Ricardo Montalban, has there been a Latino leading man of Isaac's caliber. You may not know who he is yet, but soon it will be impossible to forget him.
By Bel Hernadez-Castillo