International politics eclipsed Wilfredo Lam's art for decades. American museums, however, have forged ahead of diplomats and let the Cuban master shine again for their visitors.
Wilfedo Lam: Imaging New Worlds, an exhibition organized by the McMullen Museum of Art at Boston College, surveyed Lam's career when it was displayed there in 2014. The High Museum of Atlanta will be presenting the show through June, paired with exhibits by two contemporary artists—Cuban American José Parlá and Atlanta-based Fahamu Pecou--who were influenced by Lam's work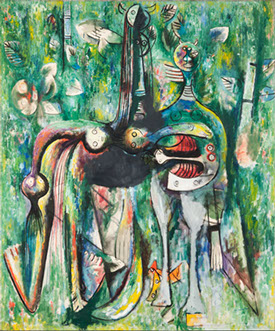 Lam (1902-1982) was born in Cuba to a Chinese father and a mother of African and Spanish descent. He developed a hybrid style of painting that blended surrealism, modernism and postmodernism, reflecting his multiracial, multicultural ancestry and his long stays in Spain and France.
Elizabeth Goizueta, an adjunct curator at the McMullen Museum, who curated the exhibition, notes that Lam has long been recognized by foreign museums as a leading twentieth-century painter. "This exhibition is an opportunity," she says, "to re-educate North American visitors, and bring this great modernist to their attention."
The exhibition begins with the academic work Lam made while studying painting in Madrid. One notable focus of the retrospective, as befits Goizueta's other professional role as a lecturer in Boston College's Department of Romance Languages and Literature, is Lam's relationship with surrealist poets and painters during his residence in Spain from 1923 to 1938.
Many historians ignore that influence, she says, focusing instead on Lam's 1938 meeting with Picasso that triggered his mature style. Much as Picasso had appropriated African masks, Lam incorporated images drawn from Afro-Cuban religions into his paintings. Those mid-century paintings soon entered major collections, such as New York's Museum of Modern Art.
Lam's signature works created from the 1940s onward are among the nearly seventy paintings, prints and drawings that comprise the exhibition and are recognizable by anyone familiar with modern Latin American art. Much less widely known and a highlight of the show are his paintings from the 1920s and 1930s, when the artist was learning his craft, absorbing the currents of modern art and transforming them into his own visual vocabulary.
Although Lam did visit the U.S., he never lived here for any extended period, explains Goizueta, first because his Chinese ancestry made it difficult for him to comply with the visa quota, and later because of his ties to the Castro regime. That may explain, at least in part, why he has been much better represented in European collections.
The exhibition opened in Boston a couple of months before the recent thaw in U.S.-Cuban relations, so there were limitations to how far the museum could go in bringing the political gap. Despite half a dozen visits to Cuba's Museo Nacional de Bellas Artes, where she was able to study its extensive holdings of Lam's work, the curator was unable to borrow them. Nonetheless, Roberto Cobas Amate, curator of the Lam collection at the Havana museum, did contribute an essay to the show's catalog.
Both museums that hosted the Lam exhibition have also been showing other Latin American artists. The High Museum recently displayed The Universe Next Door, featuring the Cuban American photographer Abelardo Morell, as well as Passion, Politics and Painting, showcasing two iconic Mexican modernists, Frida Kahlo and Diego Rivera. Previously, Goizueta curated Making the Invisible Visible, showcasing the great Chilean surrealist Roberto Matta. Her next exhibition at the McMullen Museum will focus on Rafael Soriano, the venerable Cuban painter now in Miami.
Lam himself will get more exposure when major European museums, including Madrid's Reina Sofia, Paris's Pompidou and London's Tate Modern show his work in upcoming years. A 2008 Lam exhibition, organized by the Haggerty Museum of Art in Milwaukee, was also shown at the Miami Art Museum and the Dalí Museum in St. Petersburg, FL.
By John Coppola