A Most Violent Year, J.C. Chandor's third film, takes viewers back to a New York that is far removed from the gentrified post-Giuliani metropolis visitors can comfortably vacation in today.
The tense and moody drama instead offers its audience a stark urban world where opportunity for advancement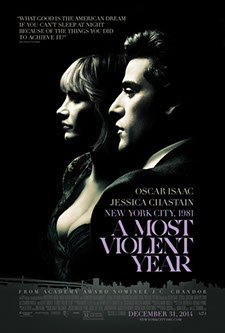 exists but only at a potentially deadly cost.
Set in a dank and soot-spotted 1981, a year after NYC saw 1,814 homicides, the film focuses on the rise of a young businessman played with a steady and smoldering determination by Oscar Isaac, of Cuban and Guatemalan descent. Marshaling a steely stare with measured utterances that recall the nuance of an early Al Pacino, Isaac is formidable as Abel Morales, the owner of Standard Oil who has worked his way up from a position as a delivery driver to that of a man now encountering a level of entrepreneurial power wherein he has become an actual threat to the petroleum insiders that have worked the city for generations.
As a young man, dapper in a camel hair coat, negotiating a deal to purchase a fuel oil terminal on the East River, Morales is on the cusp of enterprising greatness.Every move he has ever made has led him to this moment, and he is now ready to play with the big boys. And that is when the trouble starts.
People are stealing his oil and attacking his drivers right on the road.  A prowler comes around his newly purchased dream home in the middle of the night, running off after a snow chase and leaving a gun for Abel's little girls to find and play with in the morning. An Assistant District Attorney with political aspirations and a bit of a vendetta wants to investigate Morales. And, unbeknownst to himself, it turns out the oil man is not entirely clean.
Morales has everything before him: a beautiful wife, two young children, the love and loyalty of his workers, and, as he maneuvers to keep his burgeoning company afloat, he has even earned a healthy fear from his competition.It is here, within this capitalist vulnerability, where the movie makes its sound pronouncements about the limits of the American Dream.  For, as an immigrant who has done very well for himself and his family, Morales is not at all confronted with any kind of race-based hostility. His antagonism is mounted from a group of his peers comprised of Jewish and Italian families that have prospered as immigrants in this county.  And they stand in his way precisely because, in the world of business, Morales has swiftly shown himself to be their equal.
Aside from hard work, he brings a code of manners and good-natured ignorance to the game. He believes that if he plays by the rules he will succeed. But the people around him know much better. And those closest to him seem to know the hard truth the best. His wife, played with vibrant animosity and brute venality by Jessica Chastain, comes from a mob background, cooks the books for a rainy day, and hides a gun from her husband.His lawyer, portrayed with a nervous concern by Albert Brooks, thinks it prudent to hide incriminating info from his boss while wondering aloud why the man really wants all his power.  And a young immigrant who drives trucks for Morales, even after being beaten by thugs, shows his boss that he would rather become a suicidal fugitive than face an American justice he is no way prepared for.
At its core, A Most Violent Year is a morality tale about not mixing business with pleasure. The joy that must be sacrificed here is the sense of home, safety, and serenity: a dream that in this America is harder than wealth to maintain.
By Roberto Ontiveros

Many a woman has wanted to test her boyfriend's fidelity. Maria Laura, an aspiring actress, (played by Aislinn Derbez---daughter of well known actor, producer, writer, Eugenio Derbez) is recruited by Kika, her best friend, (Papile Aurora) to do just this, which launches a lucrative side career. I'm sure that her nickname of Mala (mean in Spanish), fits her well after many fall prey to her charms, proving their unworthiness to the women that contract her. Along the way comes an assignment that brings her to the one she falls head over stiletto heels for. And if that sounds cute but formulaic, it is. And it isn't only flaw.
The movie starts up well enough presenting us with visually pleasing images and a bit of intrigue. It offers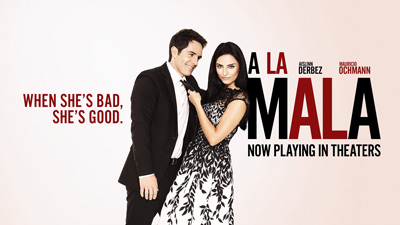 beautiful close ups of Aislinn Derbez and Mauricio Ochmann (an American-born actor who was raised in Mexico) in the role of Santiago, the tequila mogul that Maria Laura is hired to make fall in love with her so that she then can drop him and make him suffer (or return) to his ex-lover. All is complicated by the fact that the woman that hired her, a producer, offers Maria Laura the role of her life. Surprisingly, for the actors date in real life, not much chemistry shows through on screen. However, Ms. Derbez does the best of a rom-com screenplay that fails to be funny and is predictable in every way.
Even if you suspend disbelief, it's hard to find more clichéd characters than Santiago's very flamboyant gay assistant and Kika's deadbeat friend. Little things took me completely out of the movie, such as the Rachmaninoff soundtrack and two shiny perfect hard hats when Maria Laura is taken to survey Santiago's philanthropic new project. A scene of Maria Laura stuck in traffic trying reach her beloved before he jets off to Canada seems to be inserted because thought that a car/danger/race-against-time scene should exist in every film. The actors are better than this script. Ultimately A La Mala left me wishing it would have been a lot more buena.
By Lidia Pires

Spare Parts is one of three Latino "teen champs" movies to be released this year, and it is setting the bar pretty high.  George Lopez not only stars as the mentor of the robotics team of four "dreamers", he is also one of the producers. This marks the first film under Lopez's film and TV deal with Pantelion Films (the venture between Lionsgate and Mexico media conglomerate Televisa) he recently signed.
Based on a true story from an article written by Joshua Davis for Wired in 2004, and also the subject opf the documentary Underwater Dreams, the film revolves around a group of high school students who compete in an underwater robotics competition, with their Home Depot supplies-made robot, beating out the MIT team. The team is played by Carlos Pena Vega (Big Time Rush), Jose Julian (A Better Life), David Del Rio (Pitch Perfect), and Oscar Gutierrez in what is his first foray into acting. He pulls it off beautifully, bringing a quiet charm to the role.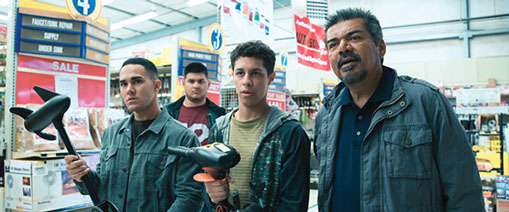 However, all the performances are solid, with a touch of familiarity and a truthfulness.
Jaime Lee Curtis is delightful as the stern principal of Carl Hayden High School where the students came together under the watchful eye of their teacher Freddy Cameron (Lopez). Marisa Tomei plays the love/non-love interest to Cameron, and between them is just the right amount of chemistry to not pull focus on the triumphant story of the Dreamers who beat MIT.
With enough marketing, this kind of film is a shoe-in to fill the theater with the audiences cheering after the film, as they did at the advance screenings across the country. Names like George Lopez, Jamie Lee Curtis and Marisa Tomei should be enough to get seats filled in the theater, the supporting cast with fan favorites like Esai Morales is sure to sweeten the deal. So, go ahead – see the movie and allow yourself feel good, take the family and enjoy watching the little robotics team that could…and did!
By Bel Hernandez