Although the political and trade relationships between Cuba and the U.S. have been trapped in a Cold War-era limbo for over half a century, the island nation's prodigious output of world-class music has continued to flower. Whether Cuban musicians have chosen exile or those who've been content to stay home, their level of creative output has remained high and the global appetite for a wide range of Cuba-grounded sounds is today as strong as ever.
The father and son example of saxophonist Manuel Valera Sr. and pianist-composer Manuel Valera offers telling stylistic perspectives on the Cuba of yesteryear and the Cuba of tomorrow.
Although Valera Sr.'s long career has included performing with the Orquesta Cubana de Música Moderna (the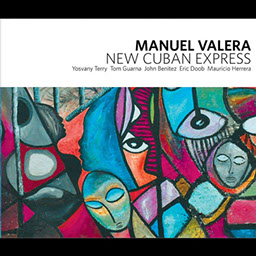 revolutionary group that spawned the famous fusion band Irakere), Machito, vocalist Beny Moré and many other Latin music luminaries, he had never produced an album of his own. Thanks to the encouragement of his son, Valera Sr. recorded Recuerdos (Mavo Records), a tribute to his country's hallowed bolero tradition. The saxophonist wisely selected tunes that, with the exception of several standards, have not been overexposed. His son did the arrangements, which ingeniously transform the vintage boleros into fresh-sounding performances that sport a thoroughly contemporary personality. The pianist and his rhythm section provide the instrumental backing, and Valera Sr.'s improvisations on soprano and alto saxophones soar majestically over the timeless melodies. Recuerdos is a lovingly-rendered masterpiece.
For his own new release, In Motion (Criss Cross Jazz), Valera Jr. and his seven-piece New Cuban Express serve up rhythmically-energetic, compositionally-sophisticated performances that provide a perfect illustration of how Cuban music is evolving. Because he was raised and educated in the U.S., Valera believes his approach to the idiom is more harmonically-informed than it would be if he had stayed in his homeland. Key tracks include the melodically-effervescent charmer "Para Emiliano," a tribute to the late Cuban pianist Emiliano Salvador, and "Descargando," a fiery update on the classic Cuban jam session.
Pianist and composer Omar Sosa represents yet another approach to Afro-Cuban traditions. Perhaps more than any of his peers, the Barcelona-based musician has long blended disparate regional styles into his rootsy Cuban-based sound, creating bracing new stylistic hybrids. Ilé (Otá Records), featuring his Quarteto AfroCubano, is plush with Cuban and international talent. Among the Cubanos on board are percussionist Pedrito Martinez, saxophonist Yosvany Terry and his celebrated father Don Pancho Terry, maestro of chekere (an Afro-Cuban percussion instrument) rhythms. The program also spotlights Spanish flamenco artists and an African vocalist. On tunes like "Dame la Luz," Sosa demonstrates that he is the master of understatement. His forte, crafting luminous chords to frame his cerebral melodies, makes Ilé an entrancing aural escape.
Many will fondly recall the explosion of interest in traditional Cuban music that erupted when the Buena Vista Social Club came on the scene. It may seem like yesterday, but two decades have flown by since this cadre of aging Cuban musicians first captured the hearts of Latin music aficionados around the world. Lost and Found (World Circuit Records) reprises the collective's sound via 13 previously unreleased tracks by vocalists Compay Segundo and Omara Portuondo, pianist Rubén González, and other BVSC vets. Of particular interest are three live performances by singer Ibrahim Ferrer and a big band. "Bruco Manigua," a tune from the 1930s, captures a ballroom-in-the-moonlight kind of tropical mood.
Afro-Cuban rhythms are the central focus of the latest recording by Miami's Federico Britos, one of planet's premier Latin jazz violinists. This native of Uruguay, however, has found a unique way to put a new – or, in this case, old – spin on the genre. Hot Club of the Americas (3 Knocks Entertainment) is subtitled "When Grappelli meets Latin America." The premise is: How would Stéphane Grappelli, the famous French violinist who came into prominence in the 1930s, have adapted his Continental "Gypsy Jazz" style and the standards he helped make famous decades ago to Latin American rhythms?
Britos responds by delivering an eminently enjoyable session that includes such celebrated guests as Cuban pianist Gonzalo Rubalcaba and, on several tracks, a string section. This elegant and tuneful program includes a mesmerizing version of the Parisian hit "La Vie en Rose," sung in both French and English versions by Cecile McLorin Salvant.
By Mark Holston