Texas summers may be brutal, but winters in New Jersey can be worse. That was certainly true for Linda Irizarry Crockett, who transferred in 1981 to UT Austin from Rutgers to escape the weather.
"This was before the Internet so I couldn't just Google Texas to find out about it," she admits. "I asked around and heard some good things so I took the leap. I couldn't stand one more winter!"
Crockett acclimated quickly, and not just to the weather. Today, she works as a media marketing and events coordinator at the centerpiece of Mexican American culture in Central Texas, the Emma S. Barrientos Mexican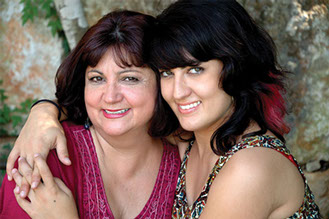 American Cultural Center (ESB-MACC). "I may be Puertoriqueña but I also recognize that I'm not in New Jersey anymore," she shares. "The region you're in has a lot to do with how you proceed organically. I appreciate and respect Texas history and its connection to Mexico."
Born in Denver, Crockett grew up in Puerto Rico but her family moved to New Jersey when her father was hired as an accountant for Goya Foods. She recalls the company sponsored an annual summer picnic for all its employees that included entertainers like Celia Cruz, Tito Puente, and Bobby Capó. Crockett also worked for Goya as a teenager, participating in marketing campaigns and riding on Goya's float in the Puerto Rican Day Parade in New York City.
A trained ballet dancer, Crockett also participated in community theater. She chose to pursue a career in theater arts at Rutgers, working behind the scenes building sets and designing costumes. But when she came to Austin, her major changed to radio, television and film. "I decided I wanted to know what goes on behind the camera," she explains.
While completing her studies, she took on an internship at KLRU, the local PBS channel. At the staff Christmas party, she says she was shocked to hear someone speaking with a Spanish accent. Thrilled to finally meet another Latina, she zeroed in on the voice, which led her to the kitchen and Cora Cardona. "I asked her, 'Who are you and what do you do?' She said, 'I'm an actress,' and I said, 'I am too,'" Crockett recalls. Director of Los Actores de Austin, Cardona was working on the play Maggie Magalita, written by Wendy Kesselman at the Dougherty Arts Center. Upon meeting Crockett, Cardona enthused, "I have the perfect part for you!"
This encounter would reignite Crockett's passion for theater as well as introduce her to local actors, directors, and playwrights like Amparo Garcia and Rupert Reyes, part of a budding Latino theater movement. She also met Alice Wilson, director of Zachary Scott Theater, who eventually hired her as the company's business manager and to help identify Latino projects for the theater. These would include Our Lady of the Tortilla, The Lady from Havana, and Dolores Huerta, starring Crockett in the lead role.
Over the years, Crockett's contact with Latino artists would make her part of a decades-long project that many hoped to see realized—a Mexican American cultural center. "At the time I thought I'd really like to work at a place like that," she remembers. "I've had so much experience in theater and the arts, and I know so much about the culture of other countries, that I felt I could share my knowledge."
Austin voters approved a $10.9 million bond package to build it in 1998. Several years later, Crockett received a call from Garcia who had been hired as the manager at the ESB-MACC. Garcia recalls, "We were harvesting the seeds planted by many before us. I knew Linda had a great background with diverse experience, and that she would get behind good ideas with enthusiasm."
One of several staff members who has worked at the ESB-MACC since it opened in 2007, Crockett admits there have been challenges, particularly with only one construction phase out of three completed. "I've seen the center grow from the beginning, when it was basically a shell and we had to create a cultural center," she admits. "From the first day the doors opened, people were pouring into the center. I've seen more than 100,000 people come through these doors and I still love that a-ha moment when Latinos walk in. That never gets old."
Her daughter, Lia, is continuing the family tradition with a degree in communications and journalism, and working at the Pachanga Music Festival, Austin's Latino music showcase taking place on May 16th.
Valerie Menard