The drive from San Francisco to Napa is only 46 miles. If I don't get lost, which I am notorious for doing, it will take about an hour. From there it's just ten-minute ride to Palmaz Vineyards, our destination.
I am not a wine connoisseur, yet good wine and I seem to find each other. What I have heard from people who are is that I will not be disappointed. That the winery is a family business owned by a wealthy Argentine doctor, Julio Palmaz, has me intrigued.
Not surprisingly for this area, the afternoon seems undecided whether it will let the fog prevail, or allow the sun to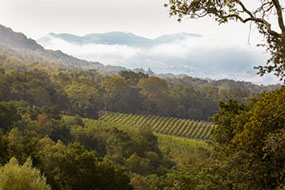 brighten our path. As we drive on sleepy Hagen Road, time is wound back. But, like the fog, the feeling dissipates when we approach the entrance to Palmaz Vineyards and we are directed to park on Level 3 of the ultra-modern winery. From here, the magnificent view of the 600 acres owned by the family places me in the calmest of moods.
Dr. Julio Palmaz, who holds a place in the Inventors Hall of Fame for his Intravascular Expandable Stent, always had a great love of wine. They had setteld in Texas but when his wife Amalia heard of an abandoned winery at the foot of Mount George just east of Napa, she saw its potential and an opportunity to keep the family together. And so Palmaz Vineyards was born. The land was previously home to Cedar Knoll Vineyards, and the Palmaz' have resurrected the name as their second label in homage to the Hagen family who owned it. The old winery survived the phylloxera infestation in the 1890's but not Prohibition. For almost 90 years, the land lay fallow and the house fell in disrepair, giving the new owners much to work on. Now it's the Palmaz residence, a splendidly restored mansion overlooking the vineyards.
We are met by Florencia Palmaz, Director of Marketing & Public Relations, and daughter of Amalia and Julio, with an explanation that they are in the midst of preparing for their father's birthday. Her brother Christian, the winery's president, will be meeting us at the end of the tour. She makes us feel welcome as she explains that only 55 acres are planted. The vines are grown in an environmentally conscious way maintaining the contour of the mountain at varied elevations ranging from 400 to 1400 feet above sea level. Given their Argentinian heritage, I am curious if they plant Malbec and am told that they do, using it primarily for blending. It seems that the Malbec grape produces a low yield. As we'll find out, the soul of this winery is their Cabernet Sauvignon.
Yet the Argentina is present. There in the middle of it all is an estaca (a stake used to grill meat). It is here where members of the Brasas Society Wine Club, named for the embers used to cook asados (Argentinian barbecue), have an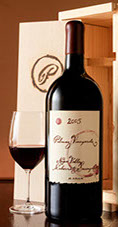 opportunity to not only meet and savor a great meal but do so while tasting the Brasas, a Cabernet-Malbec blend with a distinct leather label. A facón, a personal steak knife, encased in embossed alpaca silver and steel, comes with membership. Where can I sign up?
The winery is built into the mountain, and its fermentation dome is part of a system of four connected caves. Yet, from the outside it is difficult to grasp that within lies 100,000 sq. ft. of winemaking space, its entrance framed beautifully by the rock obtained from digging. The first section is where workers de-stem and sort the grapes, which are picked at midnight so that they remain cool, experiencing no dramatic temperature change as well as protecting them from insects. At the end of the tunnel are 24 stainless steel tanks on a gigantic carousel, one for each parcel planted.
With a brief tap of a finger on her iPhone, Florencia lights up the walls above with a projection of what is actually happening inside each tank. Christian, who is into technology, developed the tank monitoring and data projection system. I suppose that makes it fitting that the best lots of Cabernet --and the most expensive-- bear his name: Gaston Cabernet Sauvignon. Each projection (one per tank) shows where the hot spots are, so that adjustments can be made. If it weren't for Florencia's delightful manner I would have thought I entered a hi-tech facility at NASA, not Napa.
This is gravity flow winemaking to the nth degree. It's a process that Dr. Palmaz heard from a friend and fellow vintner who later became a consultant on the project. Basically, it involves treating the fruit with gentleness. No pumping is used, reducing frothing and lowering the oxygen level so that the wine has a longer life. Florencia mentions that you can wait 10 years to pop the cork of their wines for a special occasion as well as enjoy it upon purchase.
We take the elevator down to where the must is dropped into tanks from above. Here we are told that after the blending they "take the wine to dinner," a concept I find charming, almost like taking a child out to see how well he behaves. That is, in fact, the purpose. Florencia likes to see how the blend performs in a real world context of a restaurant before it is bottled.
We soon walk to the "girl's room." It's referred to as such because it's where they make Amalia's namesake wine, a Chardonnay developed by the girls in the family and done without Dr. Palmaz's knowledge. Can't imagine how they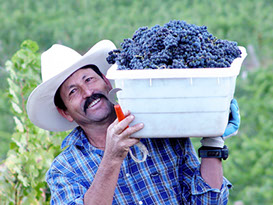 were able to hide it from him but I heard it involved camouflaging bottles. Regardless, it now holds his seal of approval.
Somewhat thirsty by then, we are led to the wine tasting room, and joined by Christian. A 2010 and a 2011 Cabernet Sauvignon and a Muscat "Florencia" are neatly lined up along with an enticing plate of hors d'oeuvres. Christian describes their philosophy of "Love the land, know the grape, and make a wine that honors both." They are custodians of the land, of the grapes that go into their wine, and they take that responsibility very seriously. This reverence for the land, combined with a passion for technology and an abiding sense of family, is the Palmaz Way.
How does Florencia describe her wines? "A fairly restrained indulgence." I'm too busy savoring my first sip of the 2011 Cabernet Sauvignon to even make a comment. It leads me to want another slow sip. Isn't that what good wine should entice you to do? I'm certainly enjoying it. As Florencia had mentioned, it's very drinkable (that's for sure!) yet suitable for a celebration. My companion, who does understand wine, or at least drinks a great deal of it, tells me that it's lush yet with a strong structure, with generous fruit yet flinty tannins, ideal for both steak and pasta. He has tasted both the 2010 and the 2011 by now and orders a few bottles for his cellar. Maybe he'll let me have one, if I'm nice. I intend to be.
We pry ourselves from the Cab and go to the Muscat. It's a wine I am not usually very fond of, but it turns out to be the perfect way to end our visit. Not too sweet, and Florencia's description of a fruit salad is just right. In fact, Florencia is always right.
While we say our goodbyes, it gets darker outside. The two hours spent visiting Palmaz Vineyards flew by, and I can't wait to return. Or at least have some more wine.
By Lidia Pires