SUMMER 2011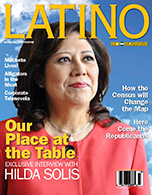 FEATURES
The first Latina to serve in the U.S. Cabinet describes the challenges she faces and the opportunities that lie ahead for the Latino community. An exclusive LATINO Interview with Secretary of Labor Hilda Solis.
By Ana Radelat

Republicans from Newt Gingrich to Jeb Bush are actively courting Latino voters. But there are deep divisions within the GOP over how to do so. Will the message get through?
By Ruben Navarrette, Jr.

The explosive growth of the Latino population revealed in the 2010 Census has changed the political map of the country. So what's the catch? Redistricting won't necessarily lead to more political power unless we know our rights.
By Ana Radelat
Danny Trejo has a face you can't forget,
and you'll see it more often after the success of Machete. But he hasn't forgotten where he came from, and his greatest success is with kids.

By Bel Hernandez

The Hispanic Association on Corporate Responsibility (HACR) just celebrated its 25th anniversary. Its success is a measure of its vision as well as its leadership, past and present.
By Kathy Adams
Finding it hard to get away?
Then lose yourself in Lisbon,
from where Magellan sailed
and an empire began.
By Christopher Heaney

What Does it Mean
to be Hispanic?
Or Latino, for that matter? That's the subject of a verbal fencing match between two intellectuals who may never agree. An excerpt from What is Hispanidad?
By Ilan Stavans and Ivan Jaksic