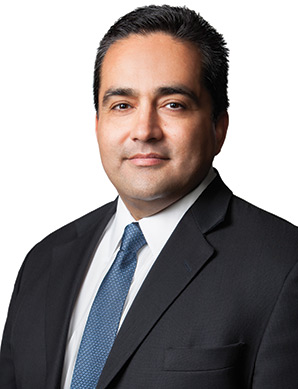 It's all about the numbers. Fidel Vargas, the recently appointed President and CEO of the Hispanic Scholarship Fund (HSF), describes his mission and the recent transformation of the organization in terms of algorithms and data analysis.
And when it comes to data, Vargas knows more than a thing or two, since his background is in finance. Prior to taking the helm of the HSF, Vargas was a partner at a private equity firm. He served on the HSF board for three years, but his roots with the organization go back further than this. A first generation Mexican American, Vargas is the oldest of eight kids and grew up in southern California in the town of Baldwin Park. He was the first in his family to go to college and attended Harvard. Vargas credits the HSF with helping him succeed in college.
"Each of those years I was an HSF scholar. So my connection and commitment and passion for HSF goes all the way back to my freshman year in college when I received a scholarship," Vargas said. "I remember vividly how it made a huge difference. When I was in school, funds were pretty limited and my parents weren't able to contribute anything to my expenses. Fortunately, I was able to get a full ride to go to school but it didn't cover a lot of the incidentals. So the scholarship actually allowed for me to go home for Christmas. I was able to literally buy my plane ticket with the funds that came from the scholarship."
After completing his undergraduate studies at Harvard, Vargas returned to Baldwin Park, where he became the youngest elected mayor of a major city in the U.S. "I believed what I was told about the American Dream," he said. "If you work hard and do your best then anything is possible."
After two terms, Vargas was ready to retire from politics, but this meant anything but slowing down. He hit the accelerator on his ambitious career goals by returning to Harvard, this time on the other side of the Charles River. During the two years he was at Harvard Business School, he was also a HSF scholar.
"As I did in college, I recommitted to wanting to give back in any opportunity that I could and specifically to HSF," Vargas said. "I knew that I wanted to do something with HSF for all of the help that I've been given throughout the years."
After earning his MBA, he went on to a career in private equity, managing a little over a billion dollars in assets at the last firm he was at. In the process, he made his way to the board of the HSF and last year took part in helping to try and identify someone who would be the new CEO. It was at that moment that Vargas says he really thought long and hard about what he wanted to do next. Ultimately, he decided to take a sabbatical from his work in private equity and take the position himself.
His broad work experience, including previously being certified as a high school teacher, serve him well in what the organization is calling the "HSF 2.0" transformation. "My interest and my understanding of the nonprofit world and having been on the board of HSF was a good foundation and I think the skill set that I have is a little different and unique, but I also think that my focus on investment and finance helps me have a different perspective that adds a lot to what we're doing," Vargas said. "The kinds of things that I focused on at my firm were very analytical and data driven so all of the decisions that we made on where to invest capital were reviewed extensively and through analytical filters and that is what we're doing now here today."
The objective is to more efficiently match up available scholarships with their respective applicant pools. "We're literally building algorithms that will optimize the internship and career opportunities that are being offered by our partners to the existing scholar pool of students that are in college or graduate school today," said Vargas.
Some of those things include gathering data on applicants, understanding who are the prospects that are most important to target for fundraising, and understanding how to better match scholars to the scholarships that the organization has available. For existing scholars who are already in college, this means better understanding how to match them with internship and career opportunities or finding how to better serve alumni.
"All of those things are driven by data," Vargas said. "So the team that we've built and the things that we've done here reflect those data analytics."
Vargas took charge at one of the most critical points in the organization's history since it was founded in 1975. His predecessor, Frank Alvarez, completed the merger of the HSF with another organization, the Washington, DC-based Hispanic College Fund. Alvarez also moved HSF headquarters from San Francisco to Los Angeles with the support of longtime corporate partner Toyota.
These changes came at a crucial time because the Latino population is expanding exponentially, says Vargas. This in itself has created one of the greatest challenges, since the number of Latinos entering college now is surpassing that of other groups and it's hard to keep up with their needs. The HSF has set a goal of raising $100 million a year, and counts among its supporters nearly half of the Fortune 500 companies.
"Our board is comprised of some of the country's leading companies including Wells Fargo, Wal-Mart, Procter and Gamble, Time Warner, Toyota, Target, and Univision," said Vargas. "We've been approached by organizations and companies alike that are understanding the importance of the Hispanic marketplace and the Hispanic consumer and most importantly Hispanic students that are looking to pursue higher education."
HSF recently announced groundbreaking partnerships with two major corporate sponsors. The support of Wells Fargo and Target will allow the organization to continue its HSF 2.0 technology build out. As part of this project, the organization rolled out a new state-of-the-art website that makes it easy for today's students, parents, and donors, as well as HSF Scholars and Alumni, to get information, submit information, and complete various critical tasks online.
"Wells Fargo has had a strong and enduring partnership with the Hispanic Scholarship Fund because it's been such a powerful source of support for students in the Latino and Hispanic communities," said Tim Hanlon, head of Philanthropy for Wells Fargo.
"Our strong partnership with the Hispanic Scholarship Fund demonstrates Target's commitment to the Latino communities we serve, and our shared goal of ensuring that all students have the resources they need to reach their full potential,"said Laysha Ward, President, Community Relations, Target. "This initiative underscores the importance of collaboration in providing all students with a quality education and a pathway to economic opportunity."
But the HSF is also reaching out to individual donors, similar to what some political campaigns have done recently, notably the Obama campaign. They have raised hundreds of millions of dollars through small recurring individual contributions.
"By the time this article comes out we will have publicly launched our 8.33 campaign and it's very simple. The reason that it's 8.33 is simple becasue that's $100 divided by 12, so we've made it simple for you to donate a $100 a year," explained Vargas. "$8.33 a month is a latte and a muffin, a ticket to the movies or one lunch a month. That is what we're going to be asking anybody, starting with our community to help fund the existing gap of need with students that are already in college. If you get 9 friends to give 8.33 a month, we're talking about a $1000 scholarship that we're able to give out every year. "
Georgette Dixon, Sr. V.P. and Director of National Partnerships at Wells Fargo, says, "The platform is game-changing. [Vargas] is working to diversify the fund base using social media." Donors will be able to contribute online or through a text to pledge on their phone. The organization is targeting a donor base of about 100,000.
"With 52 million Latinos in this country, with over 3.6 million Latinos with college degrees, with over 3.3 million Hispanic owned businesses, with over 57,000 HSF alumni, we believe that getting to 100,00 and ultimately getting to a million recurring donors over the next 5 years is attainable," concludes Vargas.