Dr. Gladys Brignoni is on a mission. The affable Puerto Rico native has an impressive professional title and the responsibility to go with it, but the Deputy Commander of Force Readiness Command at the U.S. Coast Guard is making it part of her calling to tell as many Latinos and Latinas as possible that the Coast Guard is a great place for them.
Brignoni arrived at the Coast Guard after a bit of a circuitous route, but it all started when her family moved from Ponce, Puerto Rico, to a small town in Indiana when she was 13. "My father was a psychiatrist and he had a great opportunity to work at the state hospital in Indiana. My mother was a teacher, and they both thought it would open many more doors for their children. My father said he wanted us to fit in and assimilate, and Logansport, Indiana seemed like a good place."
It was difficult at first, she says, especially since her English was limited at first, "But in retrospect, it was the best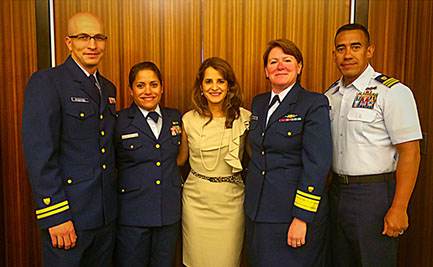 decision that my parents made," says Brignoni. Like many Hispanic parents, her mother and father stressed the importance of education, and Brignoni went to Purdue University for her BA, then to Indiana University for an MA and Ph.D. "At first I wanted to be a doctor like my father, but once I got to college, I realized I wanted to be a teacher instead. I wanted to give back. I knew how difficult it had been for me to assimilate and learn, and I wanted to be able to help out others from other cultures."
She spent some time doing just that, as a professor at Old Dominion University in Virginia, responsible for teacher education and second language proficiency programs. "I loved it. That was my passion." From there, she went on to a Language and Cross Cultural Training Staff Specialist position at the Peace Corps, and then on to the U.S. Navy in a variety of senior-level capacities, including Executive Director at the Navy Warfare Development Command, overseeing all contracts and training programs, and as Executive Director at the Center for Naval Intelligence. Along the way she even earned a Black Belt. Brignoni arrived at her current position with the Coast Guard in 2011.
"I was pretty naïve about the Coast Guard. Most people don't know a lot about us. The Coast Guard has 11 missions, and I'm the Deputy Commander and Chief Learning Officer for the Coast Guard. That means I'm responsible for preparing the workforce, which is all the training of the personnel of the service and its auxiliary volunteers," she tells LATINO Magazine. "My responsibility is basically how to we take care of our workforce – civilian, enlisted, officer, auxiliary, and I thought this position was a great match for my background and my passion. I didn't know about the Coast Guard's 11 missions, just about the rescues. But on a daily basis we are supporting the American public in all that we do. Every day the Coast Guard provides maritime governance that ensures the safe, secure, and environmentally sound approaches to our maritime nation, and we train and help people develop to their full potential."
Brignoni says the fact that the Coast Guard is the smallest branch of the U.S. Armed Forces is a distinct advantage."What better way to make a difference on a daily basis that the Coast Guard where you have those opportunities you wouldn't have in the sister services." And for Latinas especially, it's certainly a path to consider, particularly compared to the other branches, adds Brignoni:"Every single position in the Coast Guard is open to women, all positions, unlike any of the other services. The women can do any of them."
Brignoni says that her only regret is not knowing sooner about the Coast Guard and all it offered. "I wish I would have known when I was at Purdue that I could have gone to the Coast Guard Academy and become a commissioned officer, and they would have paid for my education. My education has helped me to where I am today, and it would have been great to know about all of this sooner," adding that she "no way ever imagined" that she would be in a senior position in the Coast Guard, responsible for so many people, military and civilian. "The civilian workforce of the Coast Guard plays such a critical role in the success of the Coast Guard's missions. There are over 200 different civilian career types in the Coast Guard, including professional, technical, trade, labor and administrative support."
Brignoni says the Coast Guard is one of the best jobs she's ever had and she feels it's a great opportunity for Latinos and Latinas. "If you are considering doing something for your country, look into the Coast Guard," she says. "We're small so we all know each other. The Coast Guard shares a lot of the values that the Latino community has: family, education, helping others; and the fact that we are small means that there are more opportunities to be in control and take charge. It's full of opportunities. It's a wonderful place."
By Patricia Guadalupe