Stephanie Diaz recently finished her freshman year at MIT. Before that, she graduated as valedictorian from Ysleta High School in El Paso, Texas. She says she owes it all to the support of her teachers and parents.
"I don't think I would be the person that I am today without my family," she said. "They constantly push me to be better and, most importantly, they have faith in me."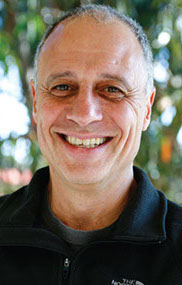 Diaz, who received an ExxonMobil/LNESC scholarship, says she's one of the lucky ones. Some of her classmates weren't able to go on to college because of financial hardship. Other students didn't believe in themselves enough to apply.
"A lot of them felt like they weren't good enough," Diaz said. "They had dreams when they were kids. Then they would grow and those dreams would slowly be pushed in the back of their brains. A lot of them didn't have a person to push them."
Diaz's story, like the story of so many young people across America, illustrates just how important consistent, meaningful, supportive relationships – with parents, teachers, friends and others – are to a young person's success.
This year, the U.S. achieved the highest ever on-time national high school graduation rate, at 81.4 percent.
Latino students – the nation's fastest growing student population – have been major drivers of this progress. The graduation rate for Latino students has improved 15 percentage points over the past several years. Today, 75 percent of Latino students are graduating on time.
In 2002, more than a third of Latino students attended "drop out factories," or high schools where fewer than 60 percent of students graduated on time. By 2013, these numbers were more than cut in half, with only 15 percent of Latino students attending schools with very high dropout rates.
It took a lot of people working together to make this progress happen. For the past decade, parents, teachers, education reformers, governments, businesses, philanthropists, nonprofits and whole communities have come together to help all young people get their diplomas and with it, a shot at their own American dream.
While this progress is notable and encouraging, Latino students continue to graduate at lower rates than their white peers, lagging behind the national average.
The recent Building a Grad Nation report found that Latino students face a number of critical challenges in the classroom. Language is a barrier for many students and their families, and too many students don't have access to rigorous coursework. For instance, a quarter of high schools with the highest percentages of Latino and Black students do not offer Algebra II, and a third don't offer chemistry.
Last year, researchers at the Center for Promise, our research institute housed at Boston University, interviewed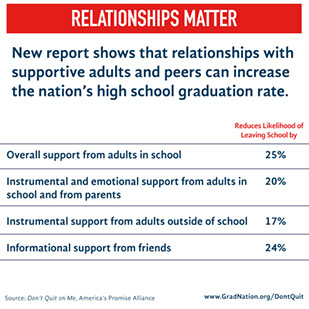 hundreds of young people who left school before graduating for the study, Don't Call Them Dropouts. Young people told us that what they experienced outside the classroom – family obligations, hunger, violence, abuse, neglect and homelessness – kept them from succeeding inside the classroom.
For students growing up in challenging circumstances, stronger curriculum and more rigorous coursework aren't enough. These students need something that should be readily available to all: consistent, meaningful relationships with caring adults – inside and outside of the school building - who can help them navigate the challenges they are facing.
In our new report, Don't Quit on Me, we explored the role that relationships play in a young person's decision to stay in, leave and return to high school. In more than 120 interviews with young people and surveys of nearly 3,000 more, we found that too many young people who don't graduate experience a kind of relationship poverty – not a lack of love or family, but a lack of access to additional sources of support that can lead to a more promising future.
When young people find anchoring relationships that provide stability and resources – a ride to school, a meal, a job – they are often able to access a broader web of supportive relationships that can help them to stay on track to graduation. Here's what 24-year-old Freddy (a pseudonym) had to say about the adults who helped him through some tough times: "They went beyond what they're supposed to and really made me feel safe," he said. "They weren't even related to me. They weren't blood or nothing, but they cared."
Freddy's experience, and the experience of so many of the young people we interviewed, offer an important and timely reminder: All young people need strong, stable relationships with caring adults to help them succeed in school and in life.
This year, more than 4 million young people started high school. Many of them are students like Stephanie Diaz, who have a strong network of support behind them.
Unfortunately, too many will need the kind of support that hard-working parents and teachers alone can't provide. It will be up to us to be the caring adults these young people need to help them on the path toward graduation and beyond.
John Gomperts is President and CEO of America's Promise Alliance, a national nonprofit organization dedicated to making the promise of America real for every child and leader of the GradNation campaign to reach a 90 percent on-time high school graduation rate by 2020. To learn more visit www.AmericasPromise.org. To search for opportunities to become a mentor, go to https://mentor.linkedin.com.

With world leaders recently gathering to discuss climate change in Paris, carbon emissions and their lasting effects on our planet were appropriately on the world stage. A critical element in addressing this issue however, is one that is often not at the forefront: Energy Efficiency.
While making efficiency upgrades may not seem as exciting as developing wind, water and solar power, using less energy in our day-to-day lives is just as important as finding new ways to generate more. In fact, according to the International Energy Agency, approximately 40% of the emissions reductions required to keep global warming to below 2 degrees would potentially come from energy efficiency.
For better or worse, the opportunities for energy efficiency improvements remain massive in the US and globally, with dropping costs for high-efficiency products and incentive programs making upgrades more accessible than ever.
According to the US Environmental Protection Agency's (EPA) Energy Star Program, the average commercial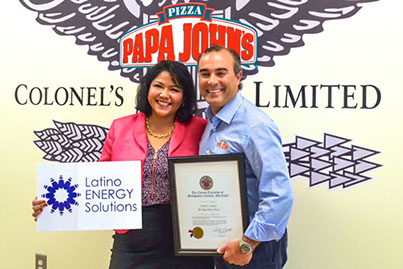 building wastes 30% of the energy it consumes. To put this into context, in 2011 commercial buildings consumed approximately 5 million gigawatt hours of energy, emitting 1 billion tons of carbon dioxide into the atmosphere.
To address this critical need and opportunity, in 2013 I started Latino Energy Solutions (LES), a minority- and woman-owned small business focused on implementing technologies and protocols that dramatically improve the energy efficiency of commercial and industrial facilities.
LES services include energy efficiency auditing, comprehensive planning for efficiency upgrades that maximize energy and cost savings, managing facility retrofits and the installation of high-efficiency equipment and systems, and benchmarking and monitoring customer energy usage for performance tracking as well as national competitions and certifications. LES has served clients in the food services industry, K-12 educational facilities, industrial warehouses, commercial showrooms, and auto dealerships, among others.
As an example of our work, this past fall LES converted a network of Papa John's facilities in the Mid-Atlantic region operated by Colonel's Limited (Vienna, VA) to LED lighting, significantly reducing its lighting-based energy load. Working with the local utility, LES also assisted Colonel's to access cash rebates that covered over 50% of the capital costs to make these upgrades. LES also benchmarked the energy usage at various sites in the Colonel's network as part of the US EPA's 'Battle of the Buildings' competition and to meet local regulations. Based on these efforts, in September 2015 Maryland's Montgomery County Department of Environmental Protection recognized Colonel's Limited as an 'Early Bird Benchmarker', highlighting its trailblazing efforts on energy efficiency in the region.
LES also seeks to improve efficiency among the 360,000 facilities managed by the largest energy consumer in the US – the federal government. Towards this end, we are currently in the process of becoming a US Small Business Administration (SBA)-certified minority 8(a) contractor with preferences for government contracts at both the federal and state levels. LES is also certified for commercial business by the National Minority Supplier Development Council (NMSDC) and the Women's Business Enterprise National Council (WBENC), and is an Energy Star Service & Product Provider partner.
While climate change is clearly a problem for our global community, I was also drawn to the issue based on the impact I felt I could have as a Latina. As a Latina-owned business, LES is quite unique in the energy field, representing minorities in terms of both gender and ethnicity. And while we are proud to contribute to diversity in the field, we also see ourselves as only the beginning, with data showing woman- and Latino-owned businesses growing by 1.5 and 2 times national averages respectively. We look forward to this trend soon pervading the energy industry as well.
On a more personal level, born the daughter of a migrant farmworker and Texaco gas station attendant in a small South Texas town, I also felt it crucial to add my story to the fabric of leadership in the energy industry. As is the case with too many professional industries, Latinos are underrepresented in the leadership ranks of the energy industry and I hope my involvement can encourage future generations of Latinos who may have similar backgrounds as me to enter the field of energy, in leadership roles.
Lastly, while not traditionally thought of as a 'Latino' issue, climate change does unfortunately have a disproportionate effect on our community. According to the US Department of Health and Human Services, Latinos are 60% more likely to be hospitalized for asthma compared to non-Latino whites, and Latino children are 40% more likely to die from asthma as compared to non-Latino Whites. Increased levels of ozone caused by climate change will only exacerbate asthma attacks and other respiratory ailments, worsening this issue in our community.
The EPA also reports that unmitigated climate change could triple the average number of extremely hot days in the US by the year 2100, resulting in thousands of premature deaths annually, approximately two billion labor hours lost per year, and over $100 billion in annual lost wages. With Latinos accounting for 42% of construction laborers and as much as 75% of agricultural field workers in the US, our community is again particularly vulnerable to this impact of climate change.
Whether you are the owner of a 2,500 sq. ft. home or a 250,000 sq. ft. factory, there are clear and practical ways to better utilize the energy you consume every day; there has never been a better time than now to make efficiency upgrades. Doing so will not only save you energy and money, but will contribute to improved lives on the global scale and at the very local level. If we at LES can provide any support in this regard, please do not hesitate to contact me.
Dalia Almanza-Smith is CEO of Latino Energy Solutions, a certified woman- and minority-owned small business located in the Washington, DC metro area. For more information, contact Ms. Almanza-Smith at ds@latinoenergysolutions.com.