As one of the country's preeminent journalists, Soledad O'Brien has a busy schedule. Her groundbreaking career, whether as a producer, reporter, anchor or documentary filmmaker, includes stints at NBC, MSNBC, CNN and now Al Jazeera America. In 2013 she even founded her own integrated media production company, Starfish Media Group, which produces original documentaries, digital content and live events. Plus there's her husband, investment banker Brad Raymond, and her four children. But lately, Soledad's frequent flyer miles have been getting some extended usage courtesy of her latest endeavor: hosting the "I am Latino in America" tour.
This year, over 4,000 college students joined local and national Latino leaders for the first three stops along the tour. The first tour event took place in Miami at Florida International University in September to coincide with Hispanic Heritage Month. The other two cities that the tour visited were Edinburg, Texas (the University of Texas in the Rio Grande Valley) and Los Angeles (Occidental College).
It seems like a natural offshoot of O'Brien's popular "Latino in America" series that first aired on CNN in 2009, but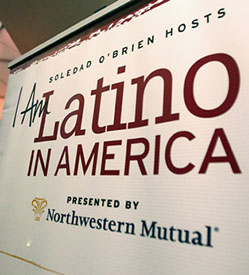 the "I am Latino in America" tour is unique in its emphasis on interaction. Attendees are encouraged to ask questions and engage on social media. Each of the tour events were broken down into segments, including education, the economy, the 2016 election and the media. Panelists have ranged from Congressman Ruben Hinojosa to comedian Cristela Alonzo. The success of the tour so far proves it has a promising future.
Indeed, the "I am Latino in America Tour" has even bigger plans for 2016. In addition to adding more cities and dates, Soledad and the tour team are scouting new markets beyond college campuses. Driving the tour's success is Ingeñuity, a Kansas-based growth agency that connects people, brands and experiences. David Chavez, co-founder of Ingeñuity along with his wife Sarah, had previously worked with O'Brien when she produced "Latino in America" at CNN.
When Soledad contacted Chavez about a potential collaboration, the timing couldn't have been any more perfect. Having worked closely with a number of organizations like LULAC and NHLI, Chavez hoped to grow Ingeñuity by expanding its services to include a speakers bureau and potential tour events. The opportunity to work with O'Brien in putting together the "I am Latino in America" tour was just what he was looking for. "What we wanted to do was do what we do best, take an event and take it to the highest level in terms of red carpet, the kind of panelists that Soledad wanted, a mixture of celebrities, community leaders and experts," said Chavez, who also helped bring in blue-chip sponsors for the tour.
A key partner is Northwestern Mutual, the 160 year old insurance company based in Milwaukee that is deeply committed to the Latino market. According to Conrad York, Vice President of Marketing, "As many of our employees and financial advisors are Latino, Northwestern Mutual has a tremendous amount of respect for this community. We believe one of the best ways to honor and celebrate Latinos is by supporting initiatives like the "I Am Latino in America" tour that create national platforms and amplify the conversation around critical issues facing Latinos and their communities today."
Looking back at the tour in 2015, Soledad really relished the discussions that occurred. She notes that those first tour stops really presented actual conversations, instead of "partisan yell-fests." Soledad is particularly proud that topics like the economy and education played a central focus. These are the number one and two topics that Latinos in the United States rate as their most important matters. Though immigration is certainly another topic that was discussed on the tour, it's not the main focus of each conversation, a deep departure from the mainstream media.
With so many college students in attendance, Soledad was very interested in steering discussions to the issue of college affordability. "College is a huge financial stretch," says Soledad. Particularly for many Latino students that might come from lower-income families, it's a practical calculation about attending college versus getting a job and contributing to the home income.
The overall demographic of the United States paints a striking picture, with the number of Hispanic students enrolled in public schools topping out at such a high percentage. "The economics are problematic for [many of] these students," notes Soledad. That apprehension certainly fueled a good portion of the tour's conversation.
Perhaps the greatest contribution from the "I am Latino in America" tour is the platform it provided attendees to talk about their own experiences, which are often ignored by the media. Soledad appreciates the idea of exploring or navigating your own story. Often, she finds that many Latinos are eager to share their narratives.
When somebody recently mentioned to Soledad that history was getting re-written to finally include minorities, she balked at that description. After all, history has always been written by minorities, though it's been ignored. She sums up that anecdote by saying, "when you get to frame history, the people who look like you tend to come out well."
Sponsoring a nuanced examination on race and ethnicity has always motivated Soledad, and her own story as the daughter of a black Cuban mother and an Australian immigrant father certainly fuels her goals of a more inclusive media landscape. "I've always felt very American because my family is that classic immigrant story," she says.
Her mother, Estela met her father, Edward, at Johns Hopkins University. At that time, interracial marriage was illegal in Maryland, so the couple married in Washington, DC. Soledad was the fifth of sixth children, all of whom graduated from Harvard University. She began her career in television as an associate producer for an NBC affiliate in Boston and joined NBC News in 1991. She moved to CNN in 2003 and was the co-anchor of CNN's flagship morning program, "American Morning." Since then, she's received countless awards for journalistic excellence, starting with the NAACP President's Award in 2007 and an Emmy in 2011 for her reporting on Haiti. Soledad joined Al Jazeera America in 2013 as part of a deal with her new production company, Starfish Media Group, which will produce hour-long documentary specials.
Despite her commitments, Soledad has always found time to mentor hundreds of girls in journalism. She and her husband created the Soledad O'Brien & Brad Raymond Foundation to provide young women with the resources to succeed in this challenging field. "This foundation is a natural evolution of that," said Brad. The initial scholarship they created has grown into over 10 scholarships for young girls across the U.S. to complete their educational pursuits.
Soledad has always been very attuned to other people's stories and their perspectives. In creating the "I am Latino in America" tour she is providing a voice to many other young people who have often felt voiceless. Social media also plays a pivotal role for the tour. As one of the savviest social media personalities, O'Brien utilizes Twitter and Facebook to rewrite what a typical media personality can be. With an audience on tour eager to provide their own opinions, the social media presence of the tour has been a boon.
As the "I am Latino in America" tour looks to the next year, Soledad is similarly poised to cultivate an even more compelling media trajectory. Developing Starfish Media Group was a personal coup that now allows O'Brien to create quality content and to produce the types of work diverse audiences crave. In many respects, Soledad is cultivating the career path of the ultimate 21st century journalist.
Throughout this changing landscape, though, Soledad feels confident in the next generation of journalists. If she could offer one piece of advice, it's quite straightforward, and gleaned from creating her own production company. "I do regret never taking an accounting class."
By Jessica Montoya Coggins