Throughout my career, I have always believed that education is the key to success. In the Rio Grande Valley of Texas (RGV), federal and state investments in education have increased high school graduation rates, spurred economic growth, lowered double digit unemployment, and improved the quality of life of South Texas residents. It is my belief that our nation must have a highly trained workforce in all areas, particularly in sectors that support the development and advancement of our nation's scientific discoveries and technological innovations – areas that increase America's global competitiveness.
When a student dreams of becoming a scientist or engineer, they may feel intimated and find the idea far-fetched. This is especially true for Latinos, African-American, and women – individuals who have been grossly underrepresented in science, technology, engineering, and mathematics (STEM) fields. As advances in science and technology continue, our nation needs greater numbers of minority students to enter these fields; yet, how do we motivate interest in STEM for students of color?
In 2001, I decided to address this issue in the 15th Congressional District of Texas. I found it was vitally important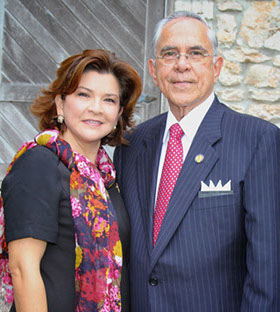 to enable greater STEM access for students, starting with America's fastest growing population, Latinos, who are over 90% of the population in the RGV.
I met with educational, business, and civic leaders in South Texas to identify how to develop the Rio Grande Valley's human capital and introduce Hispanics to STEM careers. My staff and I also began working with the University of Texas Pan American's (UTPA) Gaining Early Awareness and Readiness for Undergraduate Programs (GEAR UP), an initiative signed into law by President Clinton in 1998 and currently funded by the U.S. Department of Education. Through these meetings and discussions, UTPA developed the Hispanic, Engineering, Science, and Technology (HESTEC) initiative.
HESTEC was created to showcase opportunities in STEM through a weeklong event filled with various workshops, competitions, speaker series, and interactive activities. Unique to HESTEC are hands-on activities, such as the robotics competition, that expose students to the STEM fields each year. Teams use their creativity and imagination to create robots for HESTEC week; more than 60 high school teams have taken part in this robotics competition.
By opening the eyes and minds of young people to these fields of study and displaying the concept that "anyone can be an innovator," UTPA felt this would increase Hispanic enrollment in higher education institutions and increase graduation rates with a STEM-focused degree. Ultimately, this will create a pathway for the visionaries of tomorrow, develop a diverse workforce, and allow Hispanics and minorities to serve in more STEM leadership roles.
These are big objectives, and coordinating an event like HESTEC is no easy task. However, all are achievable through persistence and bringing the right people together. The university invited members of Congress, presidents from Fortune 500 companies, civic leaders, representatives from our Texas colleges and universities, school superintendents, school administrators, federal agencies including representatives from the National Science Foundation, NASA, U.S. Department of Education, U.S. Army, U.S. Navy, U.S. Coast Guard, U.S. Department of Energy, and of course, students and parents to participate in the Rio Grande Valley HESTEC week. The central discussions have included strategies for broadening the participation of Latinos, African Americans, Native Americans, and women in STEM.
Year after year, HESTEC attendance continues to increase. During this fall's fourteenth HESTEC initiative, approximately 85,000 people from the Rio Grande Valley participated. These attendees included over 58,000 middle and high school students; 22,000 college students; 700,000 students, educators, and community members; thousands of parents; and 45 corporate partners nationwide. Impacting over one million individuals, HESTEC has been recognized as a "Bright Spot in Hispanic Education" by the White House Initiative on Educational Excellence for Hispanics.
Due to HESTEC's success, the University of Texas Rio Grande Valley (UTRGV), created by the Texas Legislature in 2013 by combining UTPA and UT-Brownsville, is ranked 8th in the nation in the number of engineering bachelor's degrees awarded to Latinos. It also holds that 34% of the more than 2,000 engineering students that have graduated are women. The new UTRGV Medical School will be admitting its first class July 2016 to increase the number of healthcare professionals in the Rio Grande Valley. My heart swells with pride to know that South Texas has made significant progress since the founding of HESTEC.
Despite the impressive milestones in South Texas, the United States is not where it needs to be. Nationally, only 8% of Latinos are graduating with a 4-year degree in STEM and 2% of the STEM workforce is Latino, a percentage that has not increased despite immense population increases.
Given these challenges, this movement should not end when I retire from Congress at the end of 2016. I strongly encourage other regions in Texas and throughout the country to replicate models like HESTEC at UTRGV. Institutions of higher education, particularly our Hispanic Serving Institutions (HSIs), must continue to build strong strategic partnerships with diverse entities and stakeholders to leverage resources and promote the value of STEM education.
Creating access to quality education and new forms of study in STEM for Latinos, Latinas, and under-represented communities are key steps for creating a more diverse workforce, new leadership, and increasing America's global competitiveness. It is only through education that our community can move forward and create higher standards for improving the quality of life for the future of our nation. Will you be the next change-maker?
Congressman Rubén Hinojosa is the ranking member of the Subcommittee on Higher Education and a member of the Committee on Financial Services. He will be retiring at the end of 2016 after serving 10 terms in the U.S. Congress.