Many of the most revered Latin music idioms have been refined by decades, if not centuries, of adherence to ironclad tradition. Resistant to change, those who have dared to tinker with hallowed forms have risked scorn and alienation. As with any art form, however, change is always in the air and sometimes the jolt of a fresh perspective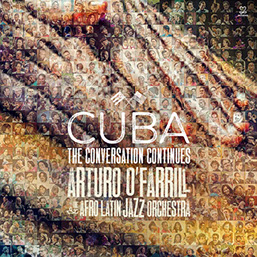 results in truly revolutionary advances. Witness the examples of Argentina's Ástor Piazzolla, Cuba's Dámaso Pérez Prado and Brazil's Antônio Carlos Jobim to cite just three whose innovations resulted in something truly original.
Pianist, composer, arranger and bandleader Arturo O'Farrill may not be part of that elite company yet, but he is well on his way. His late father was Arturo "Chico" O'Farrill, the Havana-born maestro whose trend-setting collaborations in the late 1940s with the Machito Orchestra and such jazz stars as saxophonist Charlie "Bird" Parker became the stylistic foundation of what would become known as "Latin jazz." On Cuba: The Conversation Continues (Motéma Music), a double CD release, O'Farrill Jr. explores with unrestrained passion and focused brilliance the past, present and future of this glorious strain of Latin music. Recorded in Havana, the session features the leader's New York City-based Afro Latin Jazz Orchestra, a legion of Cuban guest musicians, and a host of others, including his two musician sons, trumpet-playing Adam and Zach, a drummer.
 The production's centerpiece is the "Afro Latin Jazz Suite," an ambitious four movement arrangement conceived to mark the 65th anniversary of O'Farrill Sr.'s seminal 1950 "Afro Cuban Jazz Suite." As its title suggests, Cuba: The Conversation Continues represents the latest installment in a dialogue that's been reshaping and revitalizing Afro-Cuban forms for decades, not the advent of something radically new. That said, O'Farrill Jr. has created one of the year's most rewarding recordings, full of complex and muscular orchestrations and surging polyrhythms – a true masterpiece.
 The music of Alfredo da Rocha Viana, Jr., the legendary Brazilian choro composer and woodwind player who is best known by his nickname, Pixinguinha, is celebrated by mandolin virtuoso Hamilton de Holanda on The World of Pixinguinha (Adventure Music). A century old style that combines the formality of chamber music with delicate improvisation, choro is elegant and gently swinging. De Holanda's formula for shedding new light on this hallowed repertoire is to showcase a dozen Pixinguinha works in duo settings involving nine high profile guests, among them Cuban pianists Jesús "Chucho" Valdés and Omar Sosa and North American trumpet player Wynton Marsalis. The performances are relaxed and revealing as on "Carinhoso," the composer's best known work, enhanced here by the presence of saxophonist Carlos Malta.
 Costa Rica native Luis Muñoz, a drummer and composer long based in California, has emerged as one of the most distinctive creative forces in Latin music today. On his stylistically rich Voz (Pelín Music) Muñoz showcases three vocal talents -- Chilena Claudia Acuña, Brazil's Téka Penderiche, and Magos Herrera of Mexico. Even when his arrangements place a strong emphasis on rhythms, as on "Manantial," featuring Penderiche, the overall vibe is one that's orchestrally luminescent, allowing his evocative melodies to flower via the solos of trumpeter Jonathan Dane, pianist Adam Asarnow and other bandmates. The breathy-voiced Herrera is spellbinding on "Argentina," a hauntingly lovely Muñoz gem by that underscores his genius for penning harmonically entrancing and melodically riveting tunes that make a lasting impression.
 Far beyond the joyous salsa-accented Latin jazz he and his group Aguankó generate on Invisible (Aguankó Music), Alberto Nacif is a fascinating cat. Born into Mexico's influential Lebanese community (think Carlos Slim), for decades he has balanced maintaining a Michigan-based medical practice with pursuing his love of Afro-Cuban music. Nacif has made the pilgrimage to Cuban many times to study percussion with the island's masters and has performed with a long list of giants, from Arturo Sandoval to Dizzy Gillespie. Fronting his own group and writing his own songs, the good doctor's music prescription is a hearty diet of cha-cha-chas and mambos, rhythmically spiced by his roots-grounded conga playing. Nacif and Aguankó may be from the heartland, but the it is the heart of authentic Afro-Cuban grooves that beats throughout this satisfying set.
Mark Holston