"Those who tell the stories rule the world," says a Hopi proverb. In the age of Facebook and Twitter, that couldn't be more true or more dangerous. For too long, the Latino narrative has been driven by English-speaking mass media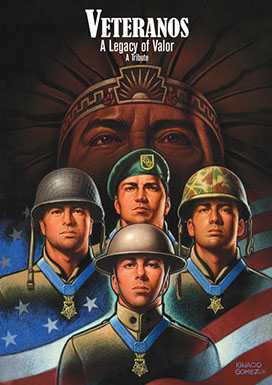 influentials, with a skewed view of our community. It's clear that in order to change this, we must tell our own stories. And it has become the mission of some Latinos to utilize whatever means necessary to do just that, using any and all platforms available.
One of these storytellers is Enrique Castillo, presenting the previously untold stories of Latinos who have fought in America's defense. His play, Veteranos: A Legacy of Valor is the only theatrical production in the country about Latino Medal of Honor recipients. His film script, Yo Solo, is based on the life of Bernardo de Galvez, a hero of the American Revolution; and in his soon to be published book, The Dead of Summer, he writes about a different kind of hero, a Latino sheriff working the southern border in Imperial Valley, California.
Enrique Castillo is an actor/writer/director who has worked in Hollywood for decades. He began his acting career working with Luis Valdez's El Teatro Campesino, the mecca of the Chicano storyteller. Upon moving to Hollywood, Castillo worked in numerous plays, TV shows, and films, among them El Norte, Blood in Blood Out, Mi Familia, and Deja Vu. On TV he has guest starred in many shows. However, with the exception of his role as S gt. Eddie Ramirez, a World War II veteran, which he played on the The Waltons, there were not many Latino heroes being written about in Hollywood. After years of waiting for these roles, it became evident to Castillo that if he was going to see these stories, it was up to him. That is how Castillo came to write his play Veteranos: A Legacy of Valor in the late 90's.
"A tribute play," is how Castillo describes it, and it's dedicated to the countless Latinos who have fought and died in America's defense, recipients of the highest military honor bestowed upon a U.S. soldier, the Congressional Medal of Honor. To date, there are 60 Latinos who have been awarded this medal, given for bravery in combat, above and beyond the call of duty. Not one of these stories has been told, not in Steven Spielberg's Saving Private Ryan, not on HBO's Band of Brothers, not anywhere in mainstream media.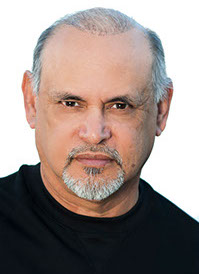 Veteranos weaves together the lives of four American heroes, Medal of Honor recipients David Barkley Cantu (WWI), Macario Garcia (WWII), Eugene A. Obregon (Korea), and Roy Benavidez (Vietnam) in a two-act play, narrated by a Pre-Colombian Warrior. The stories are told bilingually, including live music, dance and drama, and complimented by slides and military archival video projections. The music and dances reflect four historical eras of the Latino experience, revealing the spiraling human drama of American lives impacted by world events. This one-of-a-kind production instantly hit a nerve in the Latino community.
The Purple Heart Foundation recognized its importance when they signed on as the title sponsor for the touring production. Then-producer Danny Haro was key in bringing the Purple Heart Foundation on board. "The Purple Heart Foundation in Washington D.C. gave us a six-figure grant with the hope/expectation that we could bring a better national awareness to the enormous number of Purple Heart recipients who happened to be Latino," Haro recounts. "I was told by them that historically, a third were Latino. However, not many Latinos were registered within the Purple Heart Foundation and their hope was that this play could also be used to help establish chapters within the cities we were able to perform in."
As a result of a performance in Washington, DC, the Arlington, Virginia chapter grew in size. The sponsorship helped the Purple Heart Foundation reach Latino awardees who, for some reason or other, had not received their medals and increase the number of Latino members within the organization.
Veteranos has had two national tours, playing in major cities across the country to sold out houses and standing ovations. In 2003, Castillo received the Imagen Award for Best Live Theatrical Production. The play travels with a 1,500 square foot living-history exhibit consisting of photos, personal artifacts and memorabilia from all Latino Congressional Medal of Honor recipients displayed in the theater lobbies. In addition, neighboring middle and high school students are bused in for a special matinee performance, then participate in a Q&A with the 15 member cast, musicians, and Castillo himself.
In Washington DC, the performances of Veteranos were hosted by the Smithsonian National Museum of American History. While there, a "Special Congressional Recognition" was presented to Castillo and the production at a special reception arranged by then-Congresswoman Hilda Solis, who having seen the production in Los Angeles recognized the power of the medium in teaching a history not learned in schools.
Since the last tour of Veteranos in 2003, the stories of these American heroes in the media have virtually disappeared. With President Obama awarding the Medal of Honor to seventeen more Latinos last year, there are even more stories to tell. Castillo's production company, LatinHeat Media, is currently in talks with several universities, cultural centers and sponsors across the country about a new Veteranos tour. In preparation, LatinHeat Media presented a condensed version of the play this past Memorial Day at the Plaza de la Raza cultural center in Los Angeles. The audience reception to the production didn't skip a beat from a decade ago, with standing ovations and with audience members asking, "When can we see the full version?"
"There are moments in the play that are a reflection of my own life experience," Richard Valdez, PSC and Legislative Director of the Department of Disabled American Veterans of California commented after watching the performance that day. "The play brought back those memorable moments that were not only of me but of my brothers when they left for World War II and the Korean War."
The response was so overwhelming that LatinHeat Media will once again present the play in Los Angeles on November 11th, Veteran's Day. Depending on the funding, it could very well be the full production and the kick-off of the next national tour. Through the artistry of productions like Veteranos, Castillo's storytelling has the ability to transform perceived negative images of Latinos by telling the real life stories of American heroes.
For more information on Veteranos, e-mail LegacyofValor@latinheat.com.
By Bel Hernandez Castillo