The euphoria felt by some in the U.S. and Cuba after the two former foes re-established diplomatic relations earlier this year has dampened as both nations tentatively feel out their new relationship.
Some analysts say Cuba has been slow to take up the openings offered by President Obama –  for instance, the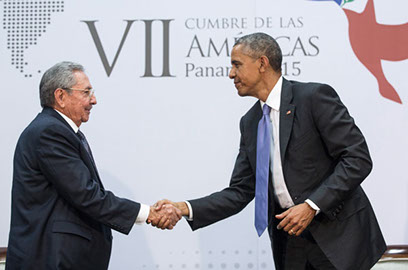 U.S. licensing of six ferry companies to make runs to Cuba has been met with a certain indifference by the Cuban government."There seems to be a number of new proposals, but everyone is watching to see how the Cubans respond," said Robert Muse, a Washington D.C. based attorney involved in Cuba issues.
Yet things are happening that could not have been imagined by anyone a year ago, and there's expectation of more changes in the New Year. The U.S. and Cuba are close to coming to an agreement on issues the countries have discussed for decades but have had little success in finding common ground.Those include the re-establishment of direct commercial flights to Cuba – which would open the way for normalized postal service.
Major League Baseball is hoping to have an exhibition game in Cuba in the spring, something that hasn't happened since 1959, and a number of major league teams, including the Mets, Yankees and Cubs, are vying for the chance to play. U.S. cabinet officials, including Secretary of Commerce Penny Pritzer and Agriculture Secretary Tom Vilsack, have visited the island, something that once was unthinkable. And visitors to Cuba can rent someone's home or apartment through Airbnb.
Perhaps most amazing is that Saul Berenthal, a U.S. entrepreneur, is working on what could be the first U.S. factory in Cuba, a facility in the Special Economic Development Zone of Mariel that would make small tractors to help private Cuban farmers boost food production. Berenthal is able to pursue his project because when President Obama eased sanctions on Cuba restrictions on the establishment of certain U.S. businesses in Cuba were lifted.
Obama is also reviewing other "options" to ease the trade and financial embargo on Cuba through executive action, State Department spokesman John Kirby said in mid-November. But the five-decade-old U.S. trade embargo, which can only be lifted by Congress, limits U.S. commerce to selling food, medicines, agricultural-related products, some telecommunications services and some travel services.
And the Cuban government has raised the issue of the embargo when pressed to move faster to take advantage of Obama's openings. Josefina Vidal, the Cuban Foreign Ministry's head of North American affairs and a chief negotiator with State Department officials, has said "we are being subject, for example, to a very harsh financial persecution which makes, for our country, very difficult to function."
Addie Bryant, director for policy at Engage Cuba, a group that seeks an end to the embargo, said "Cuba needs to look to the future, not the pre-December 17 past."
"There are certain folks who want to move forward and there are those who don't," Bryant said. She is optimistic that those in Cuba who want change will prevail.
U.S. telecommunications giant Sprint recently signed a deal with Cuba to provide direct roaming services to foreign visitors. But Cuba has largely ignored Obama's lifting of the ban on sales of U.S. telecommunications equipment and computer technology and access on the island to the Internet is difficult and costly. U.S. officials and American businesses want to see more direct dealings with Cuban entrepreneurs, but the Cuban government has not indicated they want to allow those relationships.
The Cuban government has also reduced its purchases of U.S. food, medicine and other authorized products. Cuba imported $458 million worth of U.S. goods in 2012, but as of Sept. 30 of this year,  only about $147 million, says the U.S.-Cuba Trade and Economic Council.
There's one thing the Cuban government has embraced – Obama's move to facilitate U.S. travel to Cuba and his removal of restrictions on the amount of money U.S. citizens can send to Cuba. A University of Havana economics professor estimated there were  51,000 American visitors to Cuba in the first five months of this year, up from 37,000 in the first five months of 2014. Travel to Cuba continued to increase throught the year, fueled in part by Pope Francis' visit. U.S charter companies, the only ones who currently fly to Cuba, are having trouble keeping up with demand.
Teo Babun, managing partner of Miami-based BG Consultants, said the Cubans many be slow to take advantage of openings because Cuba's centrally planned government can't absorb  changes quickly and may be overwhelmed. There's also the question of decades of mistrust. "There may be a suspicion by the Cubans that…this is just a change in strategy and the ultimate objective is the same – regime change," Babun said.
The halting pace of change has not stopped major U.S. companies, including Starwood Hotels, Chevron, Cisco Systems, Corning, Haliburton, Marriott, Shell Oil, Orbitz and Royal Caribbean, to add Cuba watching to the agenda of their registered lobbyists in Washington this year.
Ana Radelat